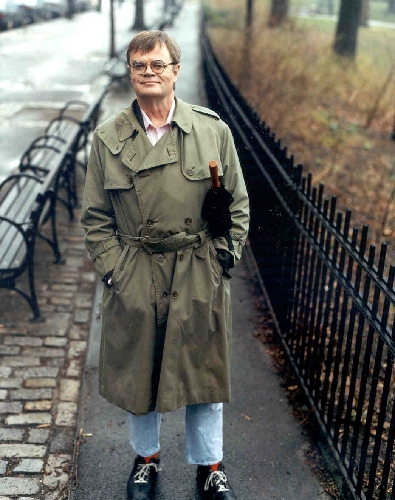 For once, the news from Lake Wobegon isn't good: KNPR-FM, 88.9, has stopped airing "A Prairie Home Companion."
Garrison Keillor's longtime public radio staple left local airwaves earlier this month, but the reason isn't exactly a case for Guy Noir, Private Eye. It basically boils down to ratings and money.
" 'Prairie Home' had seen a fairly slow but steady, very steady, decline in audience for some years now," says Dave Becker, the station's program director.
"In terms of rank, it wasn't doing all that well," he adds. Even on the weekends, "Car Talk," "This American Life," "All Things Considered" and "Wait Wait … Don't Tell Me!" all have "noticeably more listeners than 'Prairie Home' does."
Part of that could be attributed to "Prairie Home's" time slot, Becker admits, but, in the end, the show "doesn't compare well to the real superstars of our weekend."
KNPR had considered making the move for some time, Becker says, but the station pulled the trigger only when three new shows became available.
"Cabinet of Wonders," airing at 9 p.m. Saturdays, is a variety show hosted by John Wesley Harding. "Ask Me Another" (11 a.m. Sundays), hosted by Ophira Eisenberg, is a blend of puzzles, trivia, music and comedy. And "TED Radio Hour" (1 p.m. Sundays), hosted by Alison Stewart, is based on talks given at TED (Technology, Entertainment and Design) conferences.
"We make program changes like that pretty regularly," Becker says. "But this was an opportunity also to get some new programming that we think is probably going to be pretty attractive to listeners. It just seemed like this was the right time to make those changes."
The station's limited resources also drove the decision.
"It was just something where we looked at it and thought … there may be some better things that we're able to do with those dollars," Becker adds. "We owe it to our listeners to do that. Our listeners support us, and so we figured we owe it to them to make the wisest use of every programming dollar that we've got."
It's the second blow to KNPR listeners in recent days. Brothers Tom and Ray Magliozzi, better known to listeners as Click and Clack, announced last week that as of September, they'll stop making new episodes of "Car Talk." Unlike that hit, "A Prairie Home Companion" will carry on, just not on valley airwaves.
Satellite radio customers can hear the program at 3 p.m. Saturdays and 9 a.m. Sundays on SiriusXM Channel 122. A live webcast also is available on several websites, including www.prairiehome.org.
"Twenty years ago, if we did something like this, there wouldn't be any other options in the Las Vegas area," Becker says. "But today, you've got the Internet everywhere and streaming everywhere, so it's going to be possible for 'Prairie Home' fans to hear the show."
Contact Christopher Lawrence at clawrence@review journal.com or 702-380-4567.