Real estate, Gucci and Grumpy Cat
August 5, 2014 - 10:34 pm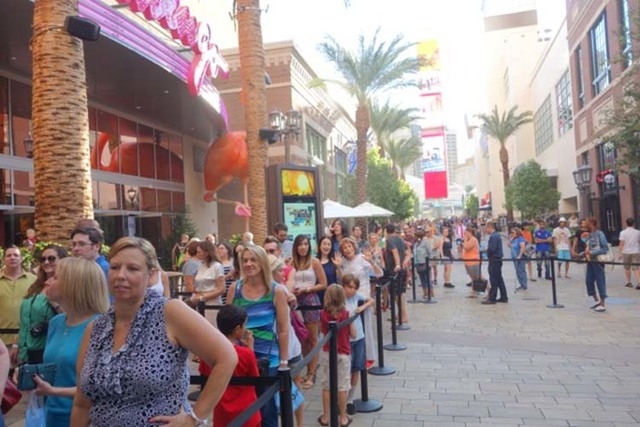 If you're a fan of the reality show franchise "Million Dollar Listing," chances are you'll soon be seeing Realtor-to-the-stars Zar Zanganeh in the Las Vegas version.
"Million Dollar Listing" has featured luxury homes in Miami, Los Angeles and New York City.
Zanganeh, who was Michael Jackson's Las Vegas real estate broker for three years, has signed a deal with World of Wonder Productions.
The company produced the hit reality series "RuPaul's Drag Race," now in season six.
Zanganeh, who was born in Marbella, Spain, has lived in Las Vegas since 1999.
He has been a broker for the royal family of Brunei, Planet Hollywood headliner Britney Spears and Holly Madison, among others.
GUCCI ROW REVISITED
The faces have changed along Gucci Row.
But the name remains a fond memory of UNLV's basketball glory years at the Thomas &Mack Center, where Team USA is being assembled for 2016.
Restaurateur Freddie Glusman of Piero's Italian Cuisine takes credit for creating the nickname.
"UNLV was playing Navy and David Robinson in a nationally televised game in late 1986," Glusman said Tuesday.
Glusman wanted to make a grand statement so he went to Gucci at Fashion Show and talked management into providing 60-some Gucci handbags.
"I had 'em filled with popcorn and had some of my employees deliver 'em to everyone in the courtside seats.
One of the TV announcers took note, exclaiming, "Oh, my God. It's Gucci Row!"
"It was great publicity," said Glusman, who still has four seats on Gucci Row.
A record crowd of 20,321 jammed the arena that night to see the top-ranked Rebels destroy 12-ranked Navy, 104-79.
Back then you would have seen Steve and Elaine Wynn, Irwin and Susan Molasky, famous boxers and many other members of the who's who club.
Times change. One of the most familiar faces now is Austin "Chumlee" Russell of "Pawn Stars" fame.
MAGIC EVENING
Some of the biggest names in magic chipped in and bought the beloved Johnny Thompson, a mentor to many, a new Cadillac for his 80th birthday last week.
The surprise party took place Thursday at the Four Seasons, with Rio headliners Penn Jillette and Raymond Teller leading the tribute. Siegfried &Roy, David Copperfield and Lance Burton also were involved.
The car was pearl white with two bikini girls in the backseat.
Stuart Beck, a member of the props team for "Love," the Cirque du Soleil-Beatles collaboration, tweeted a photo of Jillette, Siegfried Fischbacher and himself with the caption "Of course we didn't tell Johnny we only leased it."
Copperfield said Penn and Teller deserve all the credit for putting it together.
"Johnny's one of the great guys in magic history," Copperfield said.
A Polish-American from Chicago, Thompson worked the Strip for decades under the stage name "The Great Tomsoni," with his wife, Pamela Hayes. In recent years he has been working behind the scenes for Penn and Teller, Burton and Criss Angel.
Thompson was honored with a second party at the Italian American Social Club on Sunday.
THE SCENE AND HEARD
The waiting line Tuesday for Grumpy Cat's book tour stop at Kitson in The Linq stretched all the way to the Strip. Fans began arriving at noon. By 6 p.m., more than 500 were in line.
The latest dinner conversation with former Mayor Oscar Goodman is Thursday at Oscar's Beef Booze and Broads at the Plaza. Goodman's topic this time around: "Jay Sarno: King of the Goddesses." Caesars Palace, a Sarno creation, turned 48 on Tuesday. Dinner costs $120. Oscar's stories: priceless. …
In Monday's article about Miss Nevada's Outstanding Teen Amy Smith winning two awards in the Miss America Outstanding Teen pageant, her quotes were mistakenly attributed to her sister, Ellie Smith, Miss Nevada 2014.
THE PUNCH LINE
"The annual Sturgis Motorcycle Rally starts Aug. 4. But times have changed. Now even biker gangs are into recycling. When the motorcycle rally is over, the gangs go around responsibly collecting trash, bottles, and broken teeth." — Craig Ferguson
Norm Clarke's column appears Sunday, Monday, Wednesday and Friday. He can be reached at 702-383-0244 or email him at norm@reviewjournal.com. Find more online at www.normclarke.com. Follow Norm on Twitter @Norm_Clarke. "Norm Clarke's Vegas," airs Thursdays on the "Morning Blend" on KTNV-TV, Channel 13.