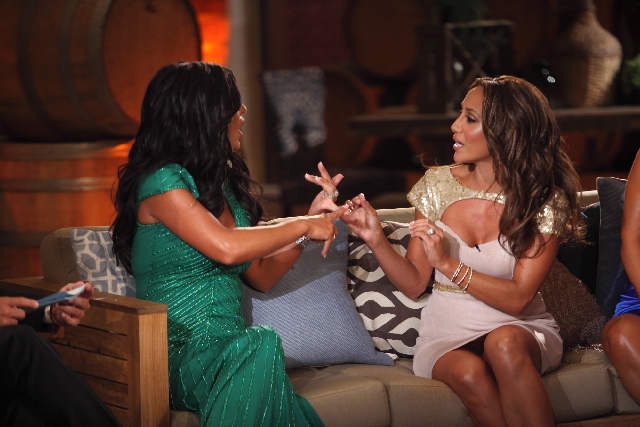 Here's my question: If you were on a reality TV show and constantly arguing with your sister-in-law on national TV, would you tell your three kids what a mess your sister-in-law is?
Here's how Melissa Gorga — the nice one on "The Real Housewives of New Jersey" — answers:
Off camera, Gorga doesn't tell her kids anything negative about problems caused by troublemaking sister-in-law Teresa Giudice.
"Never, never," Gorga says. "They just think that's their aunt Teresa. They don't know we argue."
Giudice is so dramatic, TV Guide named her one of the nastiest TV villains of all time for her fighting ways, including calling cast mates "stripper" and "psycho" and such.
But Gorga insulates her children.
"Maybe my daughter might hear things here and there, but," Gorga says, "she never asks me about it. I don't discuss it with her until I absolutely have to, or until she asks me.
"I don't let her watch the show except certain scenes, if it's her birthday party. But I don't let her watch the crazy stuff."
Unfortunately, Gorga won't answer my deeper questions about how relationships are changing for season five.
"I'm not allowed to answer many questions, because Bravo is on my ass, to be honest with you," Gorga says by phone, laughing — while a representative stays on the line with us, monitoring our call (seriously).
Gorga turned 34 on Thursday, so she is in Vegas for a birthday weekend.
She will sign autographs and take photos with fans from 1 to 3 p.m. today at Sugar Factory in Planet Hollywood Resort.
Since Bravo keeps Gorga mum, let me ask her a few lady questions that ladies wanted me to ask her.
1. What does she wear off camera? She can't possibly wear hot pants and 6-inch heels all the time, can she?
No, off camera, she often wears Uggs and a Juicy sweat suit, with no makeup, she says.
"Unless I'm made up for TV, I'm not a heavy-heavy makeup wearer. I like to be comfortable."
2. Is that gigantic bundle of hair on her head real?
"Yes, it's my real hair. It was healthier when I kept it dark. Now that I'm lightening it, it's thinning on me," she says. "But that's girl problems."
Gorga has never been to Vegas before, either alone or with husband Joe (he's known for dropping his pants on the show).
"We always go to islands" for vacations, Gorga says.
She says it's easy being the good girl on "Housewives."
"I was never a mean girl in high school," she says. "I just said, 'If I'm going to be on reality TV, I'm gonna stay true to myself and be who I am. That way I'm never chasing my tail and never chasing a lie.' "
REMINDERS
Bill Maher begins his residency at the Palms tonight. Go online and read my Thursday interview with him, where he says arguing with Donald Trump is like feuding with J.R. Ewing.
Jenna Jameson hosts tonight at Crazy Horse III strip club. Go online to read my Tuesday interview with her, where she says she withholds bedroom lovin' from husband Tito Ortiz when women post too much stuff on his social media.
And today brings one of the most fun family events of the year, the Monster Jam world finals at Sam Boyd Stadium. Go online and read my Monday interview with Summerlin's Nicole Johnson, who will be driving the new Scooby-Doo Monster Truck.
Doug Elfman's column appears Mondays, Tuesdays, Thursdays and Saturdays. He also writes for Neon on Fridays. Email him at delfman@reviewjournal.com. He blogs at reviewjournal.com/elfman.