Red Carpet Report: 2017 ACM Awards at T-Mobile Arena, Alize, Sir Elton John, 'Love Letters'
January 18, 2017 - 12:28 am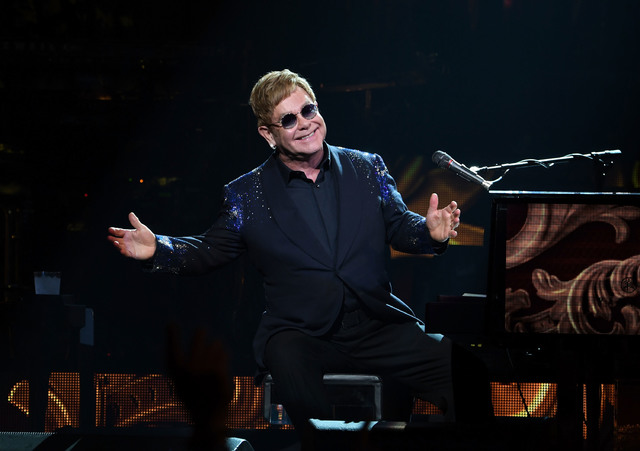 The Academy of Country Music Awards is returning to Las Vegas, and it will be broadcast from our new T-Mobile Arena. The 52nd annual awards will air on CBS live to New York at 8 p.m. ET on April 2, with an 8 p.m. delayed broadcast on the West Coast.
I'm told that a second satellite feed will be produced from another location — probably the new Park Theater at nearby Monte Carlo. A third location will be used for ACM's "Party for a Cause' during the week that Vegas Goes Country.
Performers and presenters haven't been announced yet, but it promises to be one of the most glittering events of country's calendar honoring and showcasing the biggest names and emerging talent. With R.A. Clark at the helm, you also can expect surprises.
'LOVE LETTERS'
Love is in the air with a five-day run culminating on Valentine's Day of the play "Love Letters" read by couples at The Space. Penn and Emily Jillette start readings Feb. 10, followed by Robert Torti and DeLee Lively Torti on Feb. 11, Josh Strickland and Todd DuBail on Feb. 12, Graham and Nicole Fenton on Feb. 13, and Clint Holmes and Kelly Clinton-Holmes on Feb. 14.
"Love Letters" is the story of two friends, rebellious Melissa Gardner and straight-arrow Andrew Makepeace Ladd III, who have exchanged letters for more than 50 years. From second grade through adulthood, they've discussed hopes and ambitions, dreams and disappointments and victories and defeats. Have they made the right choices, or is love only a letter away?
Kathleen Turner, Christopher Reeve, Cristopher Walken, Jason Robards, Stockard Channing, Polly Bergen, Robert Vaughn, Larry Hagman, Linda Gray, Charlton Heston, Robert Wagner, Jill St. John and Stefanie Powers are among the celebrities who have starred in "Love Letters" on Broadway and Off Broadway.
NEW CHEF
Executive chef Chris Bulen, who began his career at Alize atop The Palms, is back in the kitchen where it all started, but this time as top toque. Shortly after moving here, Chris was hired by Andre Rochat and worked his way up until he moved to Andre's at Monte Carlo. Now Andre has returned Chris to Alize:
"It's where I really started to learn and develop as a chef. It's where my career began," said Chris. As Alize's new executive chef, Chris directs all culinary efforts. "The concept of Alize is more modern than that of Andre's. Flavors and dishes will be reminiscent of what I have served in the past, but the development of plating and presentation will be elevated," he added.
Former executive chef Mark Purdy has transitioned into the role of managing partner at Stacked Hospitality, the restaurant and nightlife company that owns and operates Alize and Andre's Bistro and Bar now open on Fort Apache.
OFFICIAL PIZZA
On The Food Network's "Diners, Drive-Ins and Dives," Naked City Pizza has made a name for itself for brothers Chris and Michael Palmeri. They've grown from using grandmother's recipe at a hot dog cart in a Las Vegas parking lot to outlets across the valley. Now Naked City Pizza, which has its roots in Buffalo, New York, gets a roaring expansion.
NCP has become the official pizza of Las Vegas Motor Speedway in time for NASCAR races the weekend of March 10. The Sicilian-style pan pizzas are a hit, and a list of Naked Pizza outlets is at NakedCityLV.com.
BACK AT THE KEYS
Sir Elton John today extended his run of 2017 dates for his "The Million Dollar Piano" at The Colosseum at Caesars Palace by contracting for a run from April 25 through May 5. Tickets go on sale at noon Friday.
HISTORY
When Celine Dion returns for her new run of resident shows at The Colosseum, it was 20 years ago today that the Grammy Award-winning "My Heart Will Go On," her song from "Titanic," hit No. 1. Celine performs the megahit on a small, elevated cylindrical stage surrounded by a 360-degree curtain of rain.
SUMMER'S HERE?
Hotel mogul Steve Wynn has set a March 3 opening date for the 2017 pool party season at his Encore Beach Club. DJ A-Trak will be the opening-day spinmeister. David Guetta DJs on March 18 and five dates in April, while DJ Diplo has three dates during the first two months of EBC pool season.
DJ TOPGOLF
If you are hailed as one of the top DJs in the world and are presented with a Key to the Strip, where do you go to celebrate? For Tiesto, he decided to hit the greens and little white balls at Topgolf at MGM Grand.