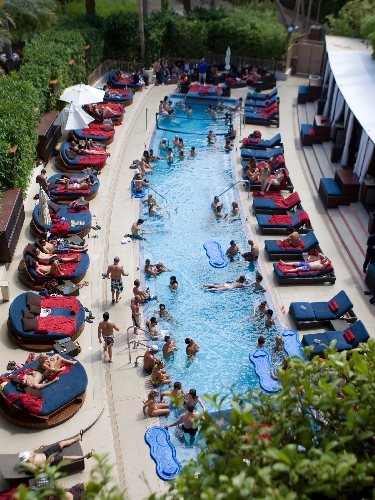 What does spending the day at the Red Rock Cabana Club feel like? Imagine, Chad Pallas says, if you had "the world's greatest backyard and you had your friends over for a party. That's pretty much it."
Pallas, executive director of nightlife development for Station Casinos, might be a tad biased in talking about the pool event at Red Rock Resort, 11011 W. Charleston Blvd.
But, he figures, the proof lies pretty much in the loyalty of a corps of regulars from all over the valley who join hotel guests in making Red Rock Cabana Club their summertime home away from home.
Red Rock Cabana Club is set in the artfully designed pool area just off of the hotel's main pool. There, guests can enjoy a pool party that's fun but without, as Pallas puts it, "the mayhem" found at a few other such events around town.
"It's a really comfortable setting, and people are all very friendly to each other," he says. "They're all looking for the same thing, which is a great day at the pool which is fun and enjoyable, but not looking for the hassle that comes with the bigger parties.
"It's very definitely, I guess, a cool vibe, almost laid-back in a sense, yet it has the party atmosphere."
Pallas describes the setting as small and intimate — capacity is 275 — and unharried. Helping to create that environment is a staff that Pallas says is determined to preserve the fun, mellow vibe of a day at the pool.
"It's a real enjoyable time, where you're out there getting the feeling that not only are you having fun and getting a nice day out of it, (but) people are catering to your needs," he says.
Staffers, he adds, "know this is your day off and you choose to come here."
DJs Dig Dug, Mika Gold and Quira play Fridays, Saturdays and Sundays, respectively, from 11 a.m. to 5 p.m., Pallas says, and the aural background "goes from a nice kind of sultry house mix and getting into a party feel and going into rock mashups. You can see a lot of movement out there."
The drink menu includes such signature cocktails as the Pineapple Delight, as well as liquid nitrogen-ed up offerings.
There's no cover charge, but guests might want to spring for a cabana, which can be reserved for a $250 food and drink minimum (a bottle is included). Cabanas include such amenities as TVs, misters, fridges stocked with juices and mixers and assorted munchies.
"It's all you really want out of a day at the pool, luxurywise and amenitywise," Pallas says.
Promotions include Sunkissed Saturdays, when the first women who arrive at the club receive complimentary gift bags, and Summerlin Sundays featuring $20 all-you-can-drink mojitos from a Bacardi mojito bar.
Guests must be 21 or over, and Red Rock Cabana Club is open Fridays, Saturdays and Sundays — as well as Mondays on Fourth of July and Labor Day weekends — from 11 a.m. to closing which, Pallas says, "can vary depending on what's going on."
For cabana or daybed reservations, call 797-7297. For general info, call 797-7777.
Contact reporter John Przybys at jprzybys@reviewjournal.com or 702-383-0280.
Las Vegas Club Scene