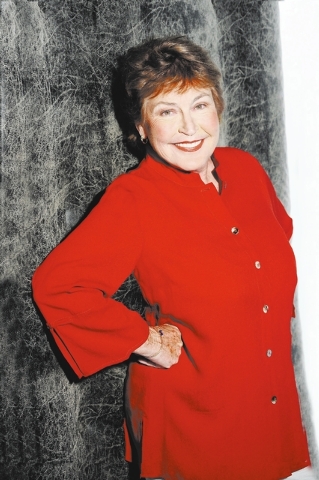 This far down her show business path, Helen Reddy doesn't really need a backup plan.
Still, Las Vegas always seems to have room for another hypnotist. And if she had to hypnotize you, she could.
The '70s pop superstar has been away from Las Vegas for at least 20 years (she's not sure if any performances came later than a 1988 stint at the late, lamented Vegas World). And Reddy was out of show business completely for 10 of those years, in which "I did a lot of other stuff," explains the singer who plays The Orleans Saturday and Sunday.
"I went back to school, got a degree in clinical hypnotherapy. … I was hypnotizing people when I was 17. I've always been very interested in it," says the singer who is now 71.
OK. So she could hypnotize you, but probably won't.
"I've seen enough stage hypnotists to know who's good and who's not. There are some very good people out there but also some people who are just doing it for laughs," she says.
"I wouldn't think of bringing somebody up from the audience and hypnotizing them and saying, 'Quack like a duck.' That's not right as far as I'm concerned. I think hypnotism is a very serious business."
And so is singing, at this point.
Reddy says one of the reasons she got out of show business was to "put enough distance between me and all those pop songs."
She still is proud of the iconic ones, such as "Delta Dawn" and her signature 1972 anthem "I Am Woman."
But there are others that time has given her the liberty to forget, or "just shove them all into a medley and hope for the best."
Our phone conversation keeps circling back to one hit in particular, the 1973 ditty "Leave Me Alone (Ruby Red Dress)."
Reddy now finds it lyrically challenged. She counted and realized she utters the title phrase "43 times in three minutes!"
"If I had to do that one more time I was going to slash my wrists," she says. "I said to myself, 'If that's what I have to do, I'd rather not do it.' "
Nowadays, she and a four-piece band dig deeper into her amazing run of 11 studio albums during the 1970s, digging up "a lot of obscure album cuts."
"Usually, the only thing that got played on the radio, and especially Top 40, was, pardon the expression, dumb-ass songs," she says. "There's so much wonderful music out there and now I've got a chance to do it. I don't have to sing stuff I don't want to sing."
Reddy's hiatus took her back to Sydney, Australia, but she returned to California two years ago to resume her live career. So far, it's limited to concerts. "My son has been nudging me a bit to do some recording, but not yet.
"I love live performing," she adds. "There's a synergy between who's onstage and who's in the audience."
Because my young memories of Reddy in her "Midnight Special" prime were inexorably tied to pint-sized singer-songwriter Paul Williams, I asked her if she had seen the surreal Grammy acceptance speech with Williams and the space cadets in Daft Punk (he contributed lyrics and vocals to the songs "Touch" and "Beyond").
No, she didn't. "I don't follow the weirdos."
Good thing Reddy lost her Top 40 appetite. She may have closed a door there.
Contact reporter Mike Weatherford at mweatherford@reviewjournal.com or 702-383-0288.