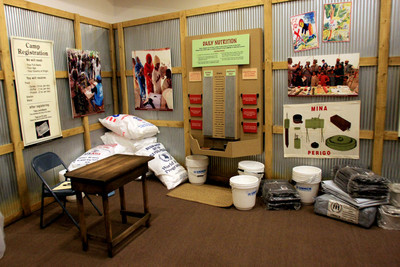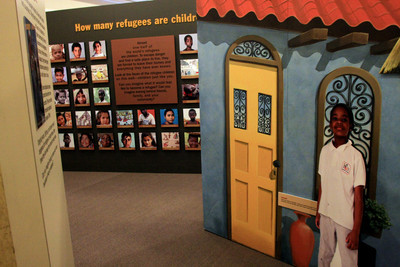 Barbed wire, simple sign, single word:
"Mines."
Not your normal backyard. But what's normal when your front door is a canvas flap and your bed is a floor?
"We want the kids to ask their parents, 'Why is that? Why do they live like that?' " says Lynn Osmera, marketing manager of the Lied Discovery Children's Museum. "They're valid questions."
IPod Nation, meet Refugee World.
"We wanted to do something that was relevant to children but is a subject not often taught to children," says Linda Quinn, the museum's executive director, of "Torn From Home: My Life as a Refugee," Lied's powerful new exhibit, opening Saturday.
"Children over the years in our isolated world haven't really been exposed to how other people have to live, so we wanted to address the subject of refugees in a way that's not political, but educational. Raise awareness in children of the issue of human rights and ask how they can help make it better."
Bypassing footage of Angelina Jolie visiting African settlements or George Clooney inveighing against Darfur genocide, the exhibit — which debuts in Vegas and commences a national tour after the local run concludes in December — is a comprehensive trip through a tough issue made understandable to 8- to 12-year-olds.
"When we started the project, we knew this was a serious subject that could be overwhelming for children, because it could be overwhelming for adults, too," says exhibit developer Stacey Mann. "We broke it down to make it digestible to kids."
Easing children into the gritty reality of refugee life, "Torn From Home" greets visitors with murals, cutouts and plaques that make cordial introductions.
"Hola! My name is Christian," reads one from a Colombian child. "Habari Rafiki!" ("Hello Friend!" in Swahili) says another from the Congo, where we meet Espoire and Patrick, who adds a recorded welcome, revealing a bit about his life. A series of short films asks, "How did I become a refugee?" and "What will happen to my family and me?" and a photo wall highlights faces of refugee children — some smiling, some not — from Pakistan, Sudan, Sri Lanka, Rwanda, Ghana, Uganda, Darfur, Angola, Azerbaijan, Liberia, Iraq and Kenya, among other regions.
"People don't realize that we have (relocated) refugees right here in Las Vegas who we might meet and not realize the circumstances that brought them here," Quinn says, noting that the museum consulted with several international organizations — including Doctors Without Borders, Save the Children and the United Nations High Commissioner for Refugees (UNHCR) — to assemble the exhibit.
"We have staff to help children understand that if you take, say, Katrina victims, it wasn't political, but people had a similar experience and had to leave their homes unexpectedly," Quinn says. "Then we'll leave it to the parents if they want to discuss it in a different way, whether it's the homeless or people dealing with the tsunami or human rights and the political realm."
Past the introductory phase, children shift from observers to participants as a refugee camp is re-created before them.
"There's some great hands-on elements that kids can interact with," Osmera says. "This is more thought-provoking than some of our other exhibits, because we want them to ask questions and build their own answers, but there's still enough fun activity that they'll have a good time."
As if arriving themselves, children are met with requirements for camp registration, wristbands and ID cards to receive food rations — 14 ounces of cereal, 1 ounce of oil and fat and 2 ounces of protein per person per day — stacked bags of faux-wheat stamped "U.S. Aid" nearby. "We'll simulate the weight so children can carry them throughout the exhibit and give them an idea that people are no longer doing this for them," Quinn says.
"We show them a basic outhouse, which some of them have never seen, and a UNHCR tent they can go in and see from a size perspective what living would be like with a family of four sleeping on the ground, with pots and pans and everything in your life stored inside. And there's a school component, because in some countries, you don't get schools, and in refugee camps, school is a reward. For children in our community, school isn't always valued as much."
Near a sign warning of cholera, malaria and measles outbreaks, children can examine a medical shack with its limited resources to treat disease. They also can make crude toys out of leftover materials — "we get away from the Xboxes and things," Quinn says, pointing out that several examples were donated by refugee children — and then there's the most intense interactive element: constructing shelter.
"When you get to a camp, they might have supplies and can give you a tent," Mann says. "But often, it's an emergency, people got there before aid agencies have arrived to set things up, and you have to build shelter, just some way to cover your head out of whatever is available."
Children are allotted the basics — wood poles, tarp, rope — with which to quickly assemble a simple, yet protective canvas abode.
"You plant this seed of awareness at an early age," Quinn says, about the hoped-for impact of "Torn From Home."
"Then when they see Angelina Jolie on TV, it starts making sense, and maybe they see they can make a difference."
Gazing around this vivid re-creation of a primitive, privacy-deprived commune, it's clear that as some schools empty out for vacation, "Torn From Home" adds a sobering new meaning to the notion of summer camp.
Contact reporter Steve Bornfeld at sbornfeld@reviewjournal.com or 702-383-0256.
what: "Torn From Home: My Life as a Refugee"
when: 10 a.m.-5 p.m. Saturdays; noon-5 p.m. Sundays; 9 a.m.-4 p.m. Tuesdays- Fridays (exhibit opens Saturday)
where: Lied Discovery Children's Museum, 833 Las Vegas Blvd. North
tickets: $7-$8 (382-3445)