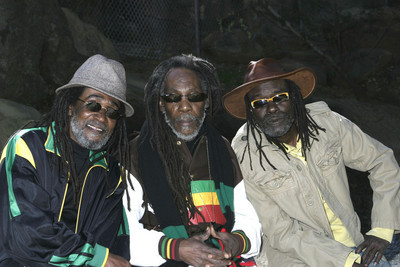 Songs can both soothe and singe the soul — in a single stride.
Listen:
"Life has always been a struggle; Distrust, fear and obstacles; Many are called, but few are chosen; Why can't we all be merciful?"
Now set the words against the gently percussive rhythm and exotic melodic flavor of Jamaica.
Reggae is not only seductively tuneful but socially trenchant, its lyrical depth often lost on casual listeners caught in its sunny tropical tease. It does, after all, float on the ear like a cool island breeze in 4/4 time.
"People are getting more conscious of the social aspect of it and appreciate it more because of that," says Lloyd "Bread" McDonald of iconic reggae band Wailing Souls, one of the headliners at Saturday's seventh annual Reggae in the Desert festival at the Clark County Government Center Amphitheater.
"Enjoy the music and dance to it, but we really wanted people to listen to the lyrics," says McDonald, alluding to such sentiments as those expressed in the above excerpt from the group's song "What a Life Worth."
So unleash your hips, engage your heart — and shop — at the festival, which garnishes a Caribbean-style all-star lineup of reggae regulars with the Islands Vendor Village, brimming with up to 25 booths featuring native crafts, souvenirs, exhibits and food.
"People thought we were crazy to start this in Las Vegas," says Brian Saliba, program administrator of the Clark County Department of Parks and Recreation. "You had occasional performers at the pools, but no bona fide festival. It didn't seem to be a reggae market, but when we did the research, we found a lot of Pacific Islanders here, a lot of reggae fans. We've got a niche now and have had a pretty successful run."
Barrington Levy, Judy Mowatt, the Mighty Diamonds, DJ Ramma and Michael Black are among the best-of-fest performers making music over which the spirit of the late Bob Marley forever hovers. "It was very easy to book acts in the beginning, but now it's more difficult because the hotels are starting to see the value of the reggae acts," Saliba says.
"This year, we're going with a very well-known roots lineup," he says, "roots" referring to spiritual reggae whose lyrics largely praise Jah (God) and touch on such themes as poverty and resistance to government oppression. "They're not so much mainstream (in America), not household names, but the acts we have are living legends. If you're a reggae connoisseur, you know our headliner, Barrington Levy (nicknamed reggae's "mellow canary") is the No. 1 act in Jamaica right now."
But Vegas scores a local in that vaunted lineup.
"You can take any type of music in this world and put it in reggae music," says Michael Black, originally from the town of Lucca in Jamaica, and a Las Vegan since 2005. He will jam with his reggae outfit, the Jah Guide Band.
"I was in New Orleans and sang, 'Never, Never,' an American tune, and people said, 'Man, that's like a Las Vegas song, like Frank Sinatra and Sammy Davis and Dean Martin.' I was doing it in a reggae style, and people were really appreciating it."
Long linked to the Rastafari religious movement (which celebrates former Ethiopian emperor Haile Selassie as God incarnate), reggae owes nearly as much to American R&B and Motown as to African and Caribbean influences. "Growing up, I listened to Gladys Knight, she was one of my favorites," Black says. "And also Sam Cooke and Otis Redding and Sam and Dave. I learn a lot listening to those types of people."
Reggae exudes an innate joy, but fans as mindful of the messages as the music are rewarded with moving pleas for human decency and social justice, as in Wailing Souls' "Nuff Suffering," which implores: "Just give dem a chance, don't underrate them; Don't underestimate the youth, they are the fruit of tomorrow; yet you abuse them and refuse them; Blame them for all that is wrong; Don't you see the youth need guidance."
A particularly potent Souls song, McDonald says, is "Jah Jah: Give Us Life to Live," whose lyrics are both upbeat ("The light struck the night and the morning come; So I've got to stay awake to meet the rising sun") and bleak ("Too much injustice is upon the land; Yet my brotherman makes no plan").
"It's the same issues and problems people have in every society, equal rights and justice and love each other as you would love yourself, look out for poor people," McDonald says, citing another tune, "Shark Attack," that addresses the resentments of the disenfranchised and anyone not born into privilege and power.
"It's about the guy who wears the suit, the ruling class, Mr. Big Man, how they tramp on smaller people, try to eat him up like a shark when they get greedy and want more things for themselves," McDonald says. "It's the truth we talk, but we try to do it intelligently."
That mission not only speaks to people worldwide, but inspires worldwide interest in his native people.
"When we play now, people want to find out more about Jamaica and come to the country and learn how the people live there in comparison to where they are from," McDonald says. "It gives people a broader outlook on life."
When reggae plays and hips sway, it's not merely the ear, but the heart that hears.
Contact reporter Steve Bornfeld at sbornfeld@reviewjournal.com or 702-383-0256.
what: Reggae in the Desert
when: 2 p.m. Saturday
where: Clark County Government Center Amphitheater, 500 S. Grand Central Parkway
tickets: $20 in advance, $25 on Saturday (455-8200)