Restaurant Week lets local diners please their palates and help feed others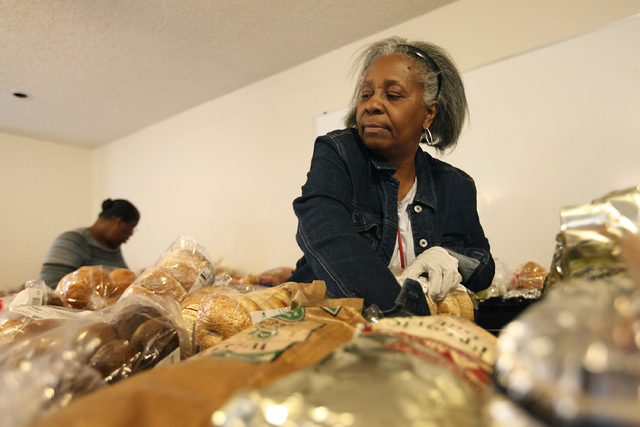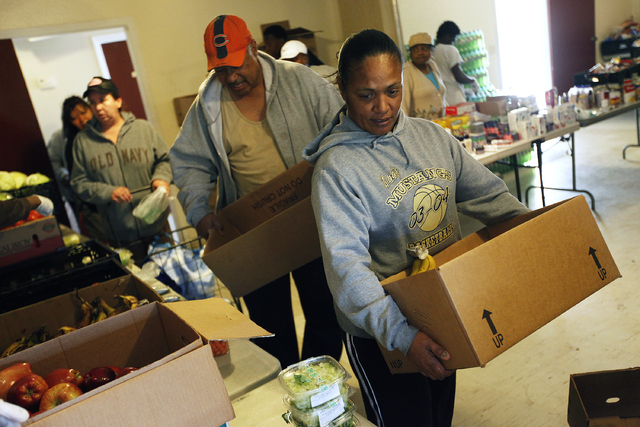 During Restaurant Week, which runs from Friday through March 14, Las Vegas residents and visitors can take advantage of special discounted menus at local dining spots and benefit Three Square food bank, which will receive a set amount for every menu sold.
While that will doubtless be rewarding for participants, it will benefit a whole bunch of other people who may never step inside the restaurants. Since Las Vegas' Restaurant Week started in 2007, it has raised more than $786,000, which works out to more than 2.3 million meals. And individual charities that are on the receiving end of the food bank's services say it's a huge help.
"We could not operate without Three Square," said Edwina Richardson, executive director of MOSES, or Macedonia Outreach Social Enrichment Services.
MOSES, which is a ministry of Macedonia Baptist Church, where Richardson's husband, Johnnie Richardson Jr., is pastor, operates a food pantry every Thursday afternoon. Edwina Richardson said they serve 225 to 250 families on a normal Thursday, but have gone as high as 300.
"The bulk of our food comes from Three Square, either through a direct purchase that we make or through the food rescue program," in which perishable items are collected from local supermarkets, she said. "In addition, we do get regular donations from Costco — their bread and pastries, mostly. And the community will donate from time to time, either food or resources."
Potential clients must register and verify the size of their families; families with children, for example, get more food than a single person.
"Once they have checked in, they go through our line and they select from what we have available," she said.
In this manner, she said, clients get only the foods that they want. It's more time-consuming for both MOSES volunteers and the clients, but Richardson said the advantages are twofold; they believe they help provide dignity by letting clients choose what they want. And from a practical standpoint, she said, the clients aren't getting something that might get thrown away because of allergies, dietary restrictions or simple aversion to a certain food.
"They basically go through and shop," Richardson said. "A single person could easily pick up 20 pounds of food, every week, between the produce and the canned goods, the meats, the breads and those kinds of products. Of course, a large family could easily get 40, 50 pounds."
Richardson said clients vary greatly.
"I can't say there is a typical client," she said. "We have a number of seniors; the seniors are generally the ones who come on a regular basis.
"We get 10 or 15 percent new clients every week. Usually they're unemployed or underemployed — that's been a continuing problem in the community — and have families. Or they're people who were unemployed for an extended period because of the situation here in Nevada who have gone back to work, but they have been in such dire circumstances for one, two or three years, they have accumulated so much debt they still need our resources, even though they're working. It's such a mix within this community."
Richardson said Three Square provides more than just food, including grants that have enabled MOSES to get freezer storage.
"Shelving, carts to push things around, computers for an intake system to keep records — all of these things have come from various grants that we've applied for from Three Square," she said.
Also, they have regular meetings, where they can meet with representatives from other food pantries to discuss problems and solutions.
"There's networking involved, there's training involved — so many things besides just sending some food out to you," she said. "Each agency has a rep. There's someone who knows you, who knows your situation."
Restaurant Week menus run from $20.14 to $50.14, depending on the restaurant, menu and meal. And for every meal purchased, a set amount is donated to Three Square. For participating restaurants, menus and prices, and the amount to be donated, visit www.helpoutdineoutlv.org.
"For us to handle 200-plus families a week, there's no way we could do it without Three Square," Richardson said.
And those clients?
"They would be looking somewhere else for food," she said. "If we didn't have Three Square, someone else wouldn't have it, either. So it would drastically hurt our entire city."
Contact reporter Heidi Knapp Rinella at hrinella@reviewjournal.com or 702-383-0474.