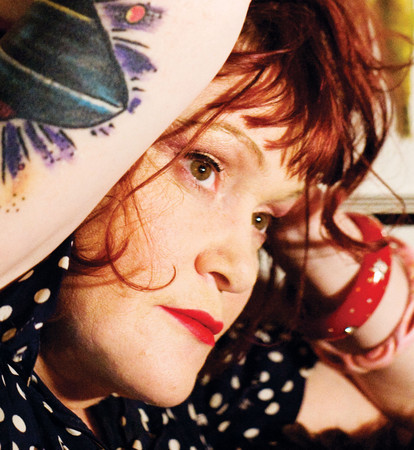 She calls them cockeyed love songs. And she's been writing them her whole life.
Exene Cervenka is a lot of things — visual artist, musician, storyteller, punk progenitor, poet, to name a few — but they're all anchored in a kind of unwavering romanticism inherent in practically all of her works, especially her tunes, even the grittiest, most life-hardened of them.
She's long chronicled the beauty in the flawed, from lost lovers to street urchins.
Cervenka's latest release, the acoustic-based solo album "Somewhere Gone," is among her most affecting discs yet, a spare, intimate-sounding record warmed by Cervenka's largely unadorned voice and soft tendrils of guitar.
It's a pastoral daydream instead of an urban nightmare, the sonic inverse of some of her more raucous jams with L.A. punk pioneers X or in fiery bands such as Auntie Christ or The Original Sinners.
"I just wanted people to hear the words. I wanted it to be pretty," Cervenka says. "I felt happy. Songs are moments, you know? They don't last forever. Fifteen minutes goes by real quick when you feel sad or scared or happy. You write that song, and then that feeling is over. You may revisit it or not, but you've got the song. They're like tattoos."
And Cervenka has amassed a sprawling array of them. She says that she's constantly writing, and she's long kept detailed journals of her thoughts, some of which she's eventually displayed to the public.
Not that she really needed to, as her songs have often bore an unmistakable, poetic stamp distinct to her.
But songwriting is just one medium Cervenka mines, as she also exhibits collages that she makes from found items.
It's a more meditative outlet for her, with less emotional bloodletting.
It's restorative for her, in a way.
"Art isn't painful. Art is really fun," Cervenka says. "You can really get lost in the process of it. It's very Zen-like when you're making a collage or something. You're just doing really tiny details and your brain kind of gets caught up in that. You don't think about other things. But when you're writing a song, you're in touch with your emotions completely. That can be a little tougher."
Cervenka has had to weather her share of tough times of late.
Last year, she was diagnosed with multiple sclerosis after feeling ill for some time.
Months later, Cervenka says that she's been able to weather the disease without it intruding too much upon her day-to-day life.
"I'm doing fine," she notes. "It hasn't really affected my ability to tour or make art or live my life, so, I'm pretty happy."
Happiness has sometimes been fleeting for Cervenka.
She had an up-and-down childhood before eventually relocating to L.A. after growing up in Chicago and Florida.
"I wanted to survive and alternately not survive," she says. "I did not have a good teenage experience. Sometimes it was good, sometimes it wasn't, but like most young people, I was pretty battered by the time I was done by the choices I made and the things that happened to me at that age, especially as a girl. I grew up at the end of the hippie thing, so there was a lot of confusion, a lot of drugs and things like that, a lot of strange people."
But those experiences served as the grist for some visceral, gripping art in the years that would follow.
Her tough times would help a generation of music fans better cope with theirs.
"If you're going to be mortally wounded," Cervenka says, "you might as well make the best of it."
Contact reporter Jason Bracelin at jbracelin@ reviewjournal.com or 702-383-0476.
Preview
Exene Cervenka
9 p.m. Saturday
The Beauty Bar, 517 Fremont St.
$10 in advance, $12 day of show
(598-1965)