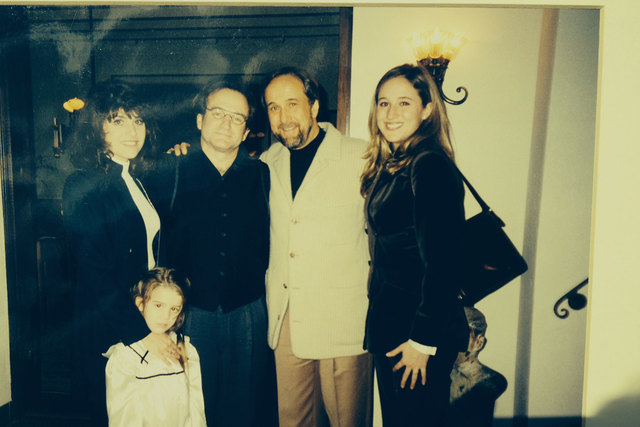 Las Vegans with close connections to the comic genius and Oscar-winning actor Robin Williams are mourning his loss Tuesday.
Williams, who died Monday of an apparent suicide at his Tiburon, Calif., home, was a regular go-to guy, helping raise millions for the major fundraising galas organized by Andre Agassi and Larry Ruvo.
Williams for years headlined at Agassi's Grand Slam for Children and Ruvo's Keep Memory Alive Power of Love benefits for the Cleveland Clinic Lou Ruvo Center for Brain Health.
"This guy changed Las Vegas not only with his great performances, but in all honesty the Lou Ruvo Cleveland Clinic wouldn't be enjoying the success we've had if we didn't have Robin Williams," said Ruvo.
Ruvo called him a "giant supporter" of Las Vegas charities, regularly donating his comedic star power.
Ruvo was at his Shakespeare ranch in Lake Tahoe, where Williams often performed at benefit dinners and stayed, when news broke of the comedian's death.
Ruvo and Williams have been close friends for 17 years. They met when Ruvo's wife, Camille, during an Agassi gala, outbid Steve and Elaine Wynn for dinner with Williams. It was a gift for Larry Ruvo's birthday.
Agassi issued a statement on Monday that read:
"Stefanie and I are saddened at the loss of our friend Robin Williams. He was one of the kindest, most generous people we have ever known. Our prayers are with his family and closest friends during this very sad and difficult time. Today the world has lost a beautiful soul."
Williams has been struggling with "severe depression of late," his publicist said. He battled alcohol and drug addiction issues for years and had checked into a Minnesota addiction center in late June.
"He was a special human being," who should also be remembered for his charitable spirit, said Ruvo, in a telephone interview.
"Sadly different people have different problems," he said. "I hope people look past all that. He was a benefactor. I hope people to remember him for all the good things he did. He liked helping people."
Las Vegas comedy legend Marty Allen celebrated his 91st birthday with Williams and another comedy giant, Mort Sahl, in March 2013 in Northern California.
Las Vegas resident Don Lewis Barnhart was the director of "Mork & Mindy," the 1978-1982 ABC-TV hit series that launched Williams' acting career as an actor. Williams played Mork, an alien from the planet Ork who spoke at warp speed.
"I was elevated to director during the latter years and experienced the most creative talent ever," said Barnhart, who was assistant director for four years. "Jonathan Winters joined the show at the fourth season and the comedic talent of the two was mind-blowing to say the least."
Williams played "Popeye" in his film debut and nearly cracked Billboard's Hot 100 with his "Popeye" song "I Yam What I Yam," topping out at No. 104.
Showing his broad range of talent, he went on to be nominated for four Oscars, including three for Best Actor ("Good Morning, Vietnam" in 1987, "Dead Poets Society" in 1989 and "The Fisher King" in 1991). He won an Oscar for Best Supporting Actor in 1989 for his portrayal of a therapist in "Good Will Hunting." He also won five Grammys for his comedy.
Ruvo told the story about the night Williams hosted the auction birthday dinner with Ruvo, his wife and daughters Nicole, then 19, and Lauren, then 5.
"We were standing outside the Rubicon restaurant in San Francisco in a light drizzle," said Ruvo. While chatting with Lauren, Williams said, 'I'll bet you don't know who I am' and then did his 'Aladdin' voice," recalled Ruvo.
Then he invited the Ruvos to his home at 11 p.m. "to meet my kids." After the introductions, Williams said he had something to show Larry Ruvo — "something I don't show people."
It was 10 painted metal replica soldiers in the battlefield representing various wars.
"He loved the military. He mentioned he and his buddy Jonathan Winters played with the soldiers," said Ruvo.
Williams grew up with a collection of 2,000 toy soldiers in his family home as the son of a Detroit auto executive.
"From that time on, whenever I called him, always for Keep Memory Alive, he never said no," said Ruvo.
Related stories
Robin Williams was always looking for the punchline in a comically tragic world