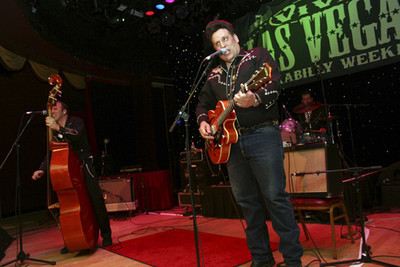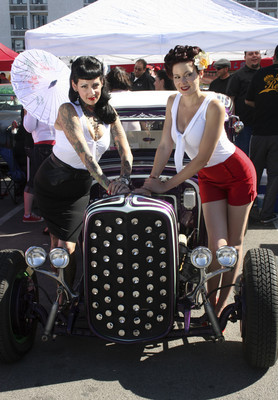 It was a Saturday afternoon, and all the hot rods choking Flamingo Road made the street rumble like a cranky fault line.
Traffic was backed up in both directions, bumper to spit-shined bumper, as some 18,000 people swarmed into the Gold Coast for one of Vegas' biggest car shows of the year.
The event was part of last year's Viva Las Vegas rockabilly weekend, an annual four-day binge of '50s-rooted sounds and styles, souped-up rides and coifs, all washed down with enough booze to rival Lake Mead if it was, in fact, filled with mead.
Now in its 12th installment, Viva Las Vegas has become one of the biggest events of its kind in the world, drawing revellers from around the globe — as far as Indonesia, this year — to partake in a celebration of what has become an all-encompassing lifestyle for many.
Most everyone at the event dresses the part.
The ladies tend to be a curvy, well-tattooed amalgamation of Betty Boop, Bettie Page and Rosie the Riveter, pinups from another era, with big curls, form-fitting dresses and flowing skirts.
The fellas often sport towering pompadours or pomade slicked hairdos — think a young Johnny Cash or Buddy Holly, two of the towering figures of the genre — accompanied by bowling shirts and black leather jackets worthy of a motorcycle gang from some old Roger Corman flick.
It's this throwback culture that the weekend trades in.
"It's not just music, it's the scene. It's clothes, it's cars, it's everything," says Viva Las Vegas founder Tom Ingram. "I think that's what keeps people interested. It's almost like a hobby. When you travel around, you meet other people who are into the same scene and you end up making friends all over the world. Not many scenes can boast that."
Ingram knows this firsthand. A British expat, he was immersed in the revival of rockabilly culture in late '70s London as a DJ and scenester in the city where the current rockabilly boom arguably began.
Eventually, Ingram would relocate to California with his wife, and before long, the rockabilly weekender was born. He chose Vegas because of the 24-hour bars and abundance of hotel rooms, deciding to hold the event around Easter because that has traditionally been among the slowest weekends of the year in Sin City.
But what started as a modest gathering of immodest dressers at the Gold Coast has evolved into a massive affair that sells out of vendor space and hotel rooms a year in advance and which moves to The Orleans this year because it outgrew its former digs.
As Viva Las Vegas has grown, so have its attractions.
More than 50 bands and DJs literally play all night long, and range from '50s era scene forebears such as Lew Williams and Johnny Powers to more contemporary acts such as the Royal Crown Revue and The Chop Tops.
In addition to the bands, there are burlesque and fashion shows, a Tiki pool party, a huge vendor area and, of course, the car show on Saturday.
It's all transformed what once was one of Vegas' sleepiest weekends into perhaps its most wide-eyed.
"When I started the weekenders, I never knew what was going to happen," Ingram says. "All I wanted to do was make sure the event was a success. I never realized that it was going to basically start a whole new scene across America."
Contact reporter Jason Bracelin at jbracelin@ reviewjournal.com or 702-383-0476.
Preview
Viva Las Vegas 12
1 p.m. today through Sunday
The Orleans, 4500 W. Tropicana Ave.
$125 for adults; $44.50 for kids 6-12; kids 5 and under free (800-595-4849)
RELATED STORY
Tiger Army an unofficial part of rockabilly gathering