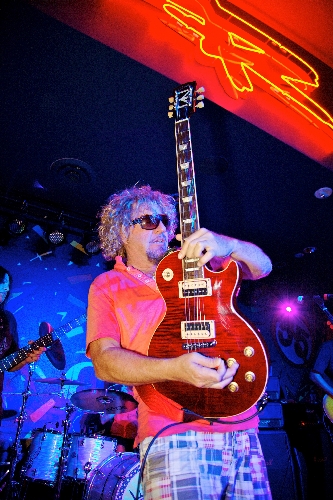 Sammy Hagar is a merchant of hard liquor — selling his own brand of tequila and running Cabo Wabo Cantinas — but he is never the troublesome alcoholic in any of his bands.
No, the troublesome alcoholic always has been someone else, like Eddie Van Halen.
"Yeah," Hagar says when I tell him that. "I drink, but I don't have the disease. Alcoholism is a disease. My father had it. My brother has it; he can't drink."
Hagar doesn't drink in the mornings. He generally doesn't drink before sundown, but sometimes he has a glass of wine with lunch. And he stops imbibing when he's buzzed, he says.
"If you own a tequila company — like if you're a drug dealer — you can't do your drug. So I just drink responsibly."
He hates the feeling of being sloppy drunk in public. And Hagar — who fronts his solo band, plus the supergroup Chickenfoot — thinks it's embarrassing when others go too far.
"I have a low tolerance for people who are out of control."
If that's true, how has he dealt with drunks in his bands?
"I tell them, 'Get out of my face, dude. Come back and see me tomorrow — sober,' " he says.
He thinks he has more fun than anyone on the planet — with his music.
"But I don't allow anybody in my band to walk onstage wasted and sloppy. I'll fire 'em.
"When I was dealing with Van Halen, we were always pretty responsible onstage. And when we went in the studio, we were, too.
"If Eddie came in trashed, I'd say, 'Show's over, I'm going home.' I'd leave the studio. And the next day, everybody would be apologizing: 'I'm really sorry.' I'd say, 'It's OK, it's cool.' I don't hold grudges.
"But I don't like trying to be creative or doing business of any kind when you're trashed, because something ain't gonna be up to standards."
Speaking of Van Halen, Hagar is writing a memoir with music writer Joel Selvin, probably for release next year. And Hagar says no one in his past should be worried about what he'll write about them.
"The Van Halen stuff — I think Valerie (Bertinelli) put Eddie's stuff 'in the street.' So I'm just telling how it happened to me."
Hagar was famously "pissed" at the way he and the band split.
"They were really bad guys at that time. And I hated them. I would have drug them through the mud."
But looking back, getting out of Van Halen was the greatest thing that ever happened to him, he says.
"If that hadn't happened, I probably would still be in that band, and I'd be going to rehab with Eddie and Steven (Tyler)."
And getting out of Van Halen led to much more success beyond the band, he says.
"You know, the Van Halen brothers were my partners at one time in the original Cabo Wabo (cantina in Cabo San Lucas). They hated Mexico. It was 'too hot.' They wouldn't leave the room.
"As soon as I got rid of those guys, the whole thing exploded."
Still, he says, everyone in Van Halen, including Hagar, made stupid mistakes which seem comical now.
Besides, it's not just famous people who annoy Hagar when they're sloppy drunk.
When trashed "knuckleheads" approach him and ask him to get trashed too, he tells them, "I don't get all drunk and come to where you work, so leave me alone!" he says, but with a laugh, not with anger.
The party routine Hagar recommends is drinking a couple of shots of tequila, then maybe a margarita, and spacing out the next drinks.
"People go, 'I can't believe you're still walking around and still functioning at 2 in the morning.' I go, 'I've only had about six shots and three margaritas over a six-hour period.' "
This means Hagar, 62, has turned down a lot of drinks in his day.
"If I had every drink that someone tried to buy me, I would be in the hospital, man."
Since he's married with kids, I tell him he must have turned down both many drinks and many ladies. He reminds me he wasn't always married.
"I haven't turned them all down," he says, laughing.
"I've had my fill of about everything, and I've probably turned down more than I've had.
"I try to maintain a family life. I'm on my second marriage. In this business, that's not too bad. My first marriage lasted 19 years. And my second marriage now, we've been together for about 17 years. I'm proud of that, man. I've got young children.
"I'm the luckiest man in the world. I've got two great bands. I do anything I want, anytime I want. It's just awesome."
Doug Elfman's column appears Sundays, Mondays, Tuesdays and Fridays. E-mail him at delfman@reviewjournal.com. He blogs at reviewjournal.com/elfman.
Preview
Aerosmith, Sammy Hagar & The Wabos
8 p.m. Saturday
MGM Grand Garden arena, 3799 Las Vegas Blvd. South
$57.75-$194.25 (891-7777)
Pre-concert party hosted by Sammy Hagar
7 p.m. today (wristbands will be handed out prior to party)
Cabo Wabo Cantina inside the Miracle Mile Shops at Planet Hollywood, 3663 Las Vegas Blvd. South
Free; space is limited and available on a first-come, first-served basis (385-2226)