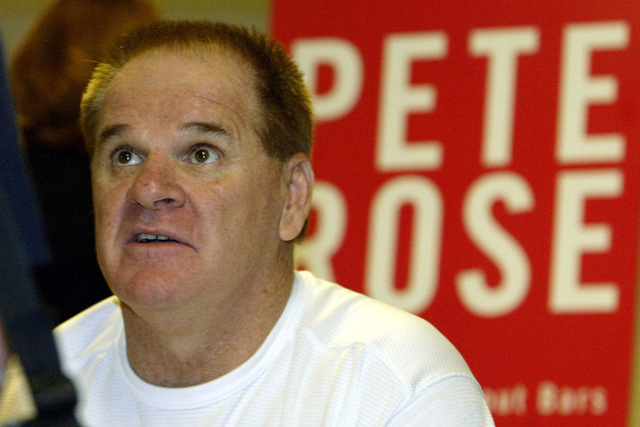 Baseball's hit king Pete Rose and his partners opened a 9,000-square foot sports bar Thursday on the Strip, confident they have a winning location in the city's highly competitive restaurant wars.
"This should be a home run," said Rose, who is making his debut as a Las Vegas restaurateur. His business partners "know what they're doing," Rose said, and "it's a great location. The foot traffic is just unbelievable."
His main partner is David Wu, co-founder of the Magic Wok franchise 30 years ago.
Rose was involved in the sports bar business in Florida before moving to tourist-rich Las Vegas more than a decade ago to tap into the lucrative sports memorabilia market in a city that attracts 40 million visitors a year.
Rose, 74, said Las Vegas "is the only place in the world where this gig works. This is like doing 15 card shows a month in one town."
The walls of Pete Rose Sports Bar & Grill feature hundreds of photos from Rose's playing days, plus three silver bats awarded to him for his trio of batting titles and jerseys.
A fiery 16-time All-Star, he helped lead the Cincinnati Reds to back-to-back world championships in 1975 and 1976.
The menu will sport a taste of Cincinnati, Rose's hometown.
"Right now we're experimenting with different chili. We got the Gold Star and Skyline (chili) recipes, and we're trying to come up with something in between," he said.
The restaurant is directly across from the multibillion-dollar Aria resort at CityCenter.
Rose, who had his long-awaited meeting with Major League Baseball commissioner Rob Manfred on Oct. 24, said he could not comment on it. Manfred said he will have a decision on Rose's reinstatement by the end of the year.
When a customer at The Art of Music at Mandalay Bay, where Rose signs autographs and sells memorabilia, asked how it looked, Rose held up his left hand and made a crossed-fingers gesture.
The Scene and Heard
Pete Vallee, who performs as Big Elvis, was hospitalized Wednesday after a "pretty bad wreck" on Blue Diamond Road, according to his manager. Vallee, who has been performing at Harrah's piano bar for about three years, is "pretty banged up," with leg lacerations and bruises, Lucille DiPietro Star said. Vallee made international headlines about five years ago when he dropped his weight from 960 pounds to 450. …
A 22-year-old Las Vegas singer has been selected by Keith Urban to perform a duet with him Saturday at the Route 91 Harvest festival at the Las Vegas Village across from Luxor. Sierra Black, the daughter of former Mesquite Gaming chief operating officer Randy Black, had entered a KVVU-TV, Channel 5, contest for the chance to sing "We Were Us," Urban's 2013 collaboration with Miranda Lambert. Black said she was "punked" into believing she hadn't been chosen and got "the greatest surprise ever" when Fox5's More Access team told her Urban had picked her. …
Dayna Roselli is returning to a morning TV anchor chair on Oct. 12. The Emmy Award-winning anchor is joining KTNV-TV, Channel 13's "Good Morning Las Vegas." Roselli spent eight years with KLAS-TV, Channel 8, and most recently co-hosted the morning show at KXNT. …
Malia Civetz, a 2012 Las Vegas Academy graduate and current senior at the University of Southern California, is going places. Tonight she sings the national anthem at Dodger Stadium then travels to Pittsburgh to sing with the Pittsburgh Symphony Orchestra on Sunday.
On this day
Oct. 2, 1980: Muhammad Ali comes out of retirement to challenge Larry Holmes at Caesars Palace for the heavyweight title. But the 38-year-old legend is no match for the younger champion, who wins by a TKO when Ali's manager, Angelo Dundee, stops the fight after 10 rounds.
The punch line
"Donald Trump is slumping in the polls. Don't leave me, Donald. Don't you understand, if you go away, I'm going to have to talk about those other boring people. I'm going to have to learn their names." — Stephen Colbert
Norm Clarke's column appears Sunday, Monday, Wednesday and Friday. He can be reached at 702-383-0244 or norm@reviewjournal.com. Find more online at www.normclarke.com. On Twitter: @Norm_Clarke.