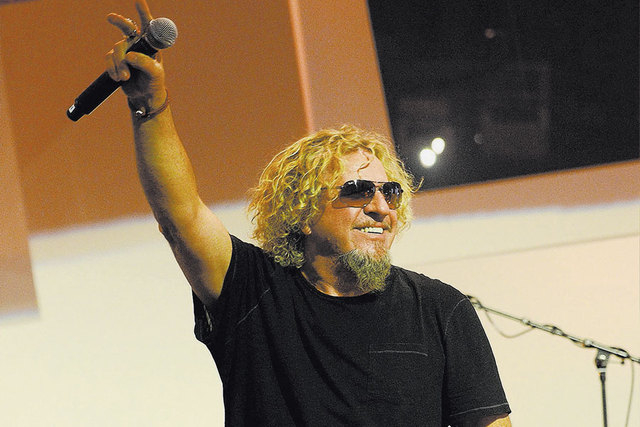 Sammy Hagar will rock a bikini-and-beach-shorts party on Wednesday night at the Hard Rock Hotel pool, and he will be joined by his "favorite party partner" from Van Halen.
"I'm bringing Michael Anthony with me so we can do a little more Van Halen (music) than I would do without him," Hagar said.
I asked Hagar how hard it is to talk Anthony into flying here for a show. Hagar said he and Anthony are so tight, Anthony just appears at Hagar concerts.
"Quite honestly," Hagar said, "all I do is make sure he hears about it, like through some website deal or through some press, and I don't even have to ask him."
Anthony is Hagar's favorite party pal for every occasion, partly because he says "yes" to everything.
"You want to go drive cars fast on the racetrack for the day? Michael Anthony. You want to go to bars and drink? Michael Anthony. You want to get tacos? Michael Anthony. You want to play music? Michael Anthony," Hagar said.
I was surprised Hagar doesn't consider chef Emeril Lagasse his favorite party buddy because I've seen the two of them on the Strip often.
But Hagar said Lagasse is "probably third."
"Toby Keith is second. Toby is another one of those guys" who says "yes" to Hagar's whims, he said.
A typical conversation between Hagar and Keith could go like this:
Hagar: "You want to go have fun?"
Keith: "Who's paying?"
Hagar: "OK, Toby, I'm paying."
Keith: "I'm in."
Some of us (me) usually think of Keith as a kooky political guy. But Hagar told me I've got Keith all wrong.
"Toby and I are kind of neutral. We're like, 'Whoever the good guy is, we're on his side,' you know what I mean?
"The guy who's belligerent about (politics) is our buddy Ted Nugent. Woof," Hagar said then joked: "I love the guy, but man, he's too belligerent. I don't know if he's left or right, because Ted's so far in one direction, I think he came around the other side."
As for Lagasse, the chef is going with Hagar to Hawaii this week to cook for five people who won a personal luau at Hagar's place in Hawaii by donating to charity.
"The cool thing about having Emeril coming to your house and cook is, after he finishes, you have food in the freezer for the rest of the year. You never have to go shopping or cook again," Hagar said.
"He cooks for the amount of people that fit in all of his restaurants. That's how chefs do. They don't know how to cook for four or five people," Hagar said.
Hagar guarantees Lagasse will cook a whole pig for five guests.
"It cracks me up," Hagar said. "I'm going, 'Emeril, how many people are coming over?' He says, 'We just have a party of five.' I go, 'Why do you have all that food?' "
Hagar told me he's "throwing a big party" tonight at his Cabo Wabo Cantina in Planet Hollywood Resort.
Then Wednesday's concert at the Hard Rock Hotel ("Sammy Hagar's All-American Beach Party," 9 p.m., $62.50) doubles as a Hagar thank-you for his other buddy, hotel executive Don Marrandino, he said.
"He's the greatest guy," Hagar said. "You can talk with Don, do a handshake, it's done. It ain't like you have to go through all this red tape."
The Hard Rock show will start on time and last a good while, Hagar said.
"It's gonna be like a Cabo Wabo birthday bash vibe with people coming up and jamming until we're dropping, and then we quit. How long is the show gonna be? I don't know. Until it's no fun anymore."
Doug Elfman's column appears Tuesdays, Thursdays and Saturdays. Email him at delfman@reviewjournal.com. He blogs at reviewjournal.com/elfman.