October 5, 2007 - 9:00 pm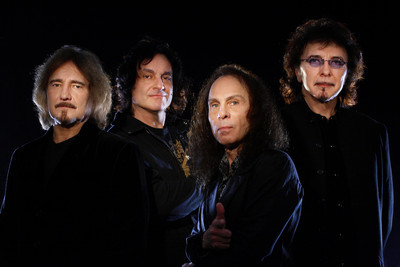 It was a warm spring night in San Diego this past April, and Geezer Butler was attacking his instrument like it owed him money. Standing in the midst of a set that looked like a medieval castle in a B-movie Dracula flick, complete with iron gates and candelabra, the Heaven & Hell bassist looked reinvigorated and fierce, a demure dude who practically grows fangs once he hits the stage.
Flanked by one of the greatest purveyors of the riff, a guy whose guitar carries the weight of a stack of anvils, and an elfin frontman fond of tunes about voodoo and warring knights, Butler was leading the way in a loud, sweaty exploration of heavy metal's gene code.
This bunch knows that DNA well, namely because it's their own.
Rounded out by guitarist Tony Iommi, singer Ronnie James Dio and drummer Vinnie Appice, Heaven & Hell is the second version of seminal longhairs Black Sabbath, with Dio replacing Ozzy Osbourne as the band's frontman (Appice has since taken over for Bill Ward behind the drum kit).
The group chose not to use its original moniker because the initial version of Black Sabbath is still together and is rumored to be touring next year.
Still, it was the nucleus of this group that helped birth the metal genre almost single-handedly.
"We didn't really notice it until later on," Butler says of his band's status as metal forebears. "It wasn't until later in the '80s when bands like Anthrax and Metallica started saying that they were influenced by Sabbath that we sort of realized that we had influenced some of these musicians. A lot of bands wouldn't admit to even liking Sabbath in the late '70s, early '80s, and when bands started admitting to being influenced by us it sort of became the in thing to say, especially for the heavier bands. It was a great surprise to us."
It shouldn't have been, since Sabbath created metal's bottom-heavy rumble almost from scratch, with Butler being one of the first bassists to de-tune in order to complement Iommi's dark, funereal riffing, which was as downcast and foreboding as the smog-choked skies of the band's native Birmingham, England.
From the furnaces of that factory town, Sabbath emerged as a bubbling cauldron of future metal trademarks: a brutish yet head-bobbing mix of sooty, slow and low power chords, occult iconography and themes of war, death, drugs and salvation.
Their tunes were simple, direct and powerful — the musical equivalent of a cannonball — with doomsday lyrics penned by Butler himself.
"I was brought up a very strict Catholic, so I knew a lot about religion, and they always say, 'Write what you know about,' " Butler says of his early lyrical approach. "And then the war part of it, my father was a military man, two of my brothers were in the military, and when your brother used to go off somewhere, you thought he might not come back. Growing up in Birmingham, which was heavily bombed in the second world war, we were brought up in a relatively poor area, there were still a lot of bomb sites all over the place and unexploded bombs and all that stuff. You learned firsthand about war."
Once Sabbath split with Ozzy, Butler relinquished the lyric-writing role to Dio, who took the band on a more fantastical, Tolkien-esque bent.
It also freed Butler up to focus on his playing, and the results were apparent on the two discs that Sabbath cut with Dio, 1980's "Heaven & Hell" and "The Mob Rules," which followed the next year.
With Dio in the fold, Sabbath became a harder driving, more technically adept group with Iommi and Butler cutting loose like never before, the former soloing for days on songs like "Turn Up the Night," while Butler turned in some of his most athletic runs up and down the fret board.
If Ozzy-era Sabbath was ominous and lumbering, the Dio-led lineup was more tightly honed and fleet-footed.
The band utilized keyboards to an increasing degree as well, leaving Butler more space in the mix to assert himself with his distinctive, lugubrious bass lines.
Too bad the promising lineup would fracture after a pair of albums (and one ill-fated live disc), with the band reuniting a decade later for 1992's "Dehumanizer" before going on hiatus again until earlier this year, when they dropped a best-of disc.
They've been on the road since, coming back with a new name and an old sound that, like the wizards and witches who populate their tunes, never seems to age.
"We're all enjoying playing together again," Butler notes. "Going out as Heaven & Hell, it's sort of like being in a brand new band in one way. We're going out and proving ourselves all over again."
JASON BRACELINMORE COLUMNS
who: Heaven & Hell
when: 8 p.m. today
where: The Pearl at the Palms, 4321 W. Flamingo Road
tickets: $65-$103 (942-7777)