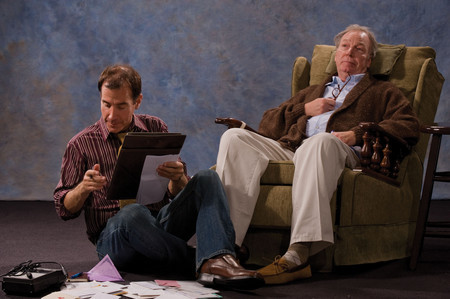 There's nothing like fall in Southern Utah, what with the cooler temperatures, crisp air and leaves beginning to change color.
But if those aren't reasons enough to head north for a bit of aesthetic nourishment, there's also this: the Utah Shakespearean Festival's fall season, which will offer something for every theatergoer, from Bard buff ("The Compete Works of William Shakespeare (abridged)") to scare-seeker ("The Woman in Black") to someone just looking for a bit of contemporary inspiration ("Tuesdays with Morrie").
This year's fall season will run from today to Oct. 17. R. Scott Phillips, the festival's executive director, says showgoers who already are familiar with Utah Shakespearean Festival's summer season likely will find the autumnal vibe a bit more low-key, with "a much more quiet, comfortable, relaxed feeling."
For cast and crew members, meanwhile, the opportunity to focus their efforts on fall's three plays, rather than summer's six, feels "almost like a luxury," adds Kathleen Conlin, the festival's associate artistic director.
Logistically speaking, the fall season also offers showgoers the chance to catch the entire cycle of plays during a single weekend, while not having to forsake the summertime touches they've come to expect.
For example, Phillips says, "in addition to the plays, we have our preplay orientation a half-hour before each show, (offering) an overview of what the play is about. And, we have morning discussions the following morning under the trees, where people can sit outside and ask questions about what they saw the day before."
Also available will be backstage tours and prop and costume seminars, all of which also are "carryovers from summertime," Phillips says.
Fall's plays offers a diversity of themes. "Tuesdays With Morrie," for example, is based on the nonfiction book about journalist Mitch Albom's reconnecting with a favorite college professor who is dying from Lou Gehrig's disease.
Phillips concedes that synopsis wouldn't seem to connote a fun afternoon at the theater. But, he says, the play — like the book and a TV adaptation starring Jack Lemmon — really is "about celebration. (Morrie Schwartz) tries to teach us how to live, rather than what it's like to die."
What's interesting, Conlin adds, is "how theatrical and how rich in comedy the play is. And when I say 'comedy,' it's comedy that really arises out of the rich human characterizations and circumstances."
"The Woman in Black" by Stephen Mallatratt, from the novel by Susan Hill, is the Utah Shakespearean Festival's first ghost story. The supernatural mystery involves an eerie house, supernatural-seeming occurrences and a ghostly woman who may or may not exist.
Phillips saw the play several years ago in London with Utah Shakespearean Festival founder Fred C. Adams who, Phillips says, laughing, "screamed out loud in the theater. It has that kind of effect on people."
"The Compete Works of William Shakespeare (abridged)" presents all 37 of Shakespeare's stories, as well as his sonnets, in the space of just under 100 minutes. In doing so, it makes ample use of irreverent humor, clowning, street theater, vaudeville, rap music and one very complicated football game.
It is, Conlin explains, "just a romp. A Shakespearean romp."
For Phillips, the play meshes with both the festival's autumnal vibe and its namesake.
"To me," he says, "the highest form of flattery is to parodize something."
Contact reporter John Przybys at jprzybys@reviewjournal.com or 702-383-0280.
Preview
The Utah Shakespearean Festival's 2009 fall season
Performances at 2 and 7:30 p.m. Tuesdays through Saturdays (through Oct. 17)
Randall L. Jones Theatre, Cedar City, Utah
$25-$52 (800-752-9849)