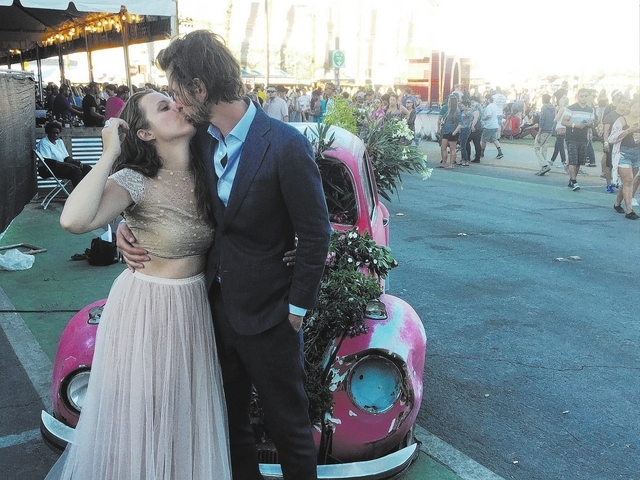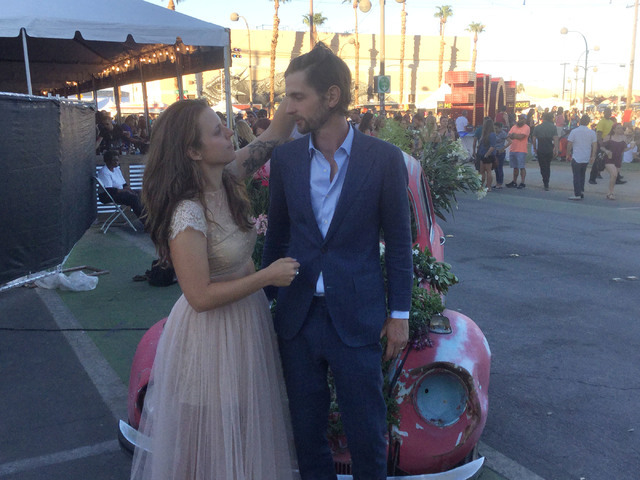 There was no wedding chapel, no aisle and no wedding bells. Andrea Kilness and Kristopher Lovett married Sunday in front of a car, to the sound of a cheering crowd at Life Is Beautiful in downtown Las Vegas.
The couple decided that Life Is Beautiful's third and final day was the perfect backdrop for tying the knot. Just after 5 p.m., they got married at Urban Seed and Flora Pop's pop-up wedding venue on North Sixth Street between East Ogden and Stewart avenues.
Kilness, 33, and Lovett, 32, both of Denver, were surrounded by music, art, food and community. They exchanged vows in front of a live art installation — a Volkswagen Beetle filled with soil and flowers — created by Urban Seed, an indoor hydroponic farming company, and Flora Pop, a traveling pop-up wedding company.
"Urban Seed is all about growing and creating something special in Las Vegas. It's about turning this city green, and our live art installation at Life Is Beautiful really embodies that," said Rachel Wenman, Urban Seed's vice president and co-founder. "Our installation and the wedding itself represents our whole concept — the concept of growing together, growing as a community, growing as two companies come together, love and two people come together."
Flora Pop owner Victoria Hogan said, "We do pop-up weddings, elopement style. They are small and intimate, not the chapel-type of wedding."
For their nuptials, Kilness and Lovett picked a location that would symbolize their bond.
"One of our biggest bonds is music, live music," Kilness said.
Furthermore, Lovett said, the couple has family here.
As Kilness and Lovett exchanged vows, Hogan, Wenman and others gathered to watch. Having exchanged rings before the ceremony, they focused on their promises to each other.
Kilness, who was wearing a peach-colored short-sleeved shirt and long skirt, teared up as she recited her vows. She told Lovett, "who you are will impress me for the rest of my life, I vow to always respect the man you are.
"I vow to forever honor our love connection and friendship," she added. "You are forever and always the hero of my heart."
In response, Lovett, who wore a navy-blue suit and a sky blue open-collared shirt, said, "I never thought I'd meet someone I could share all my days with. You're an amazing, strong, beautiful woman, who I love and respect."
He added, "I look forward to celebrating our life together. I'll forever love you."
Contact Raven Jackson at rjackson@reviewjournal.com or 702-383-0283. Follow @ravenmjackson on Twitter.
RELATED
Life Is Beautiful, but not for everyone — PHOTOS
Day 2: Life Is Beautiful offers food for thought, and actual food