Showcase will let comic Sean E. Cooper cut loose
December 12, 2013 - 6:20 pm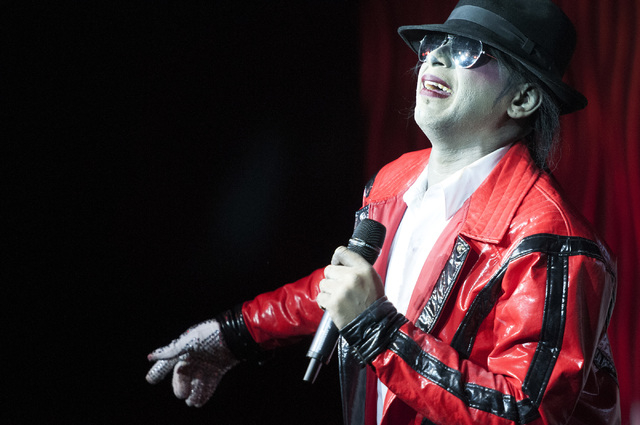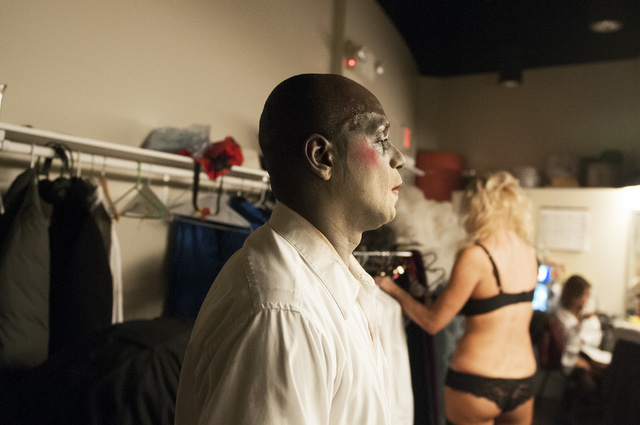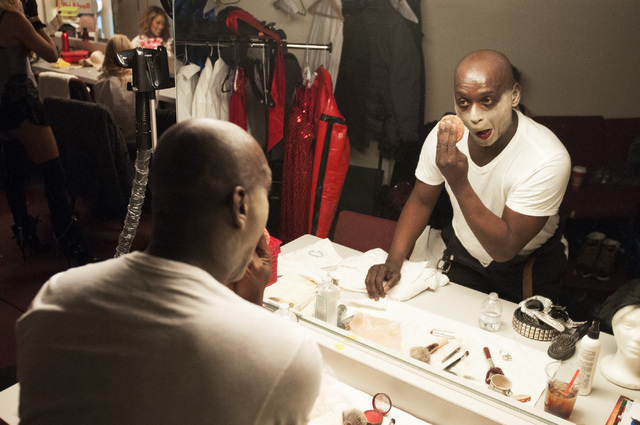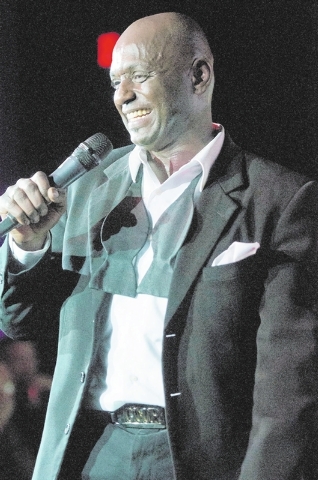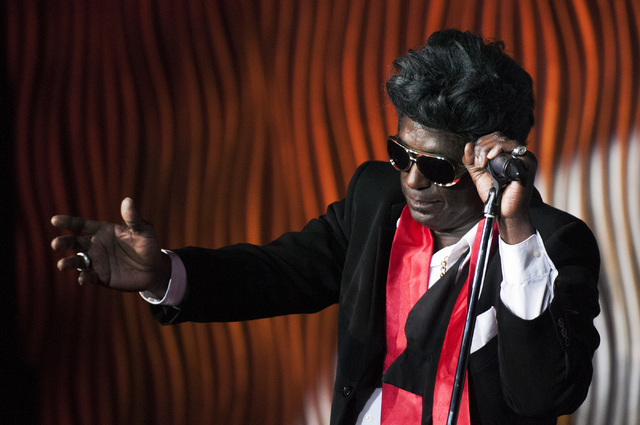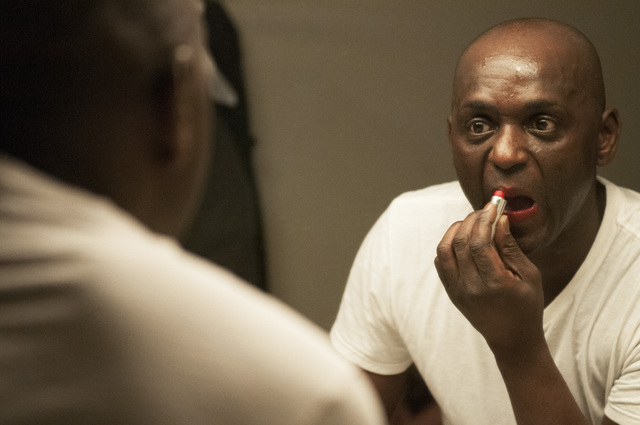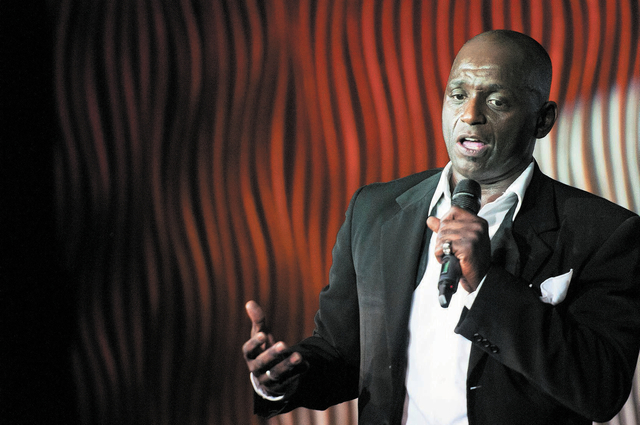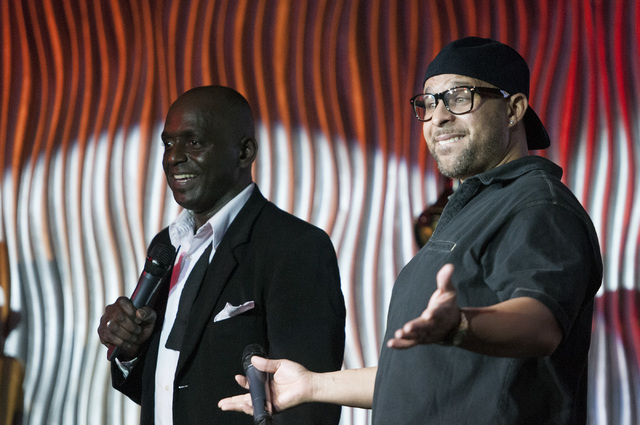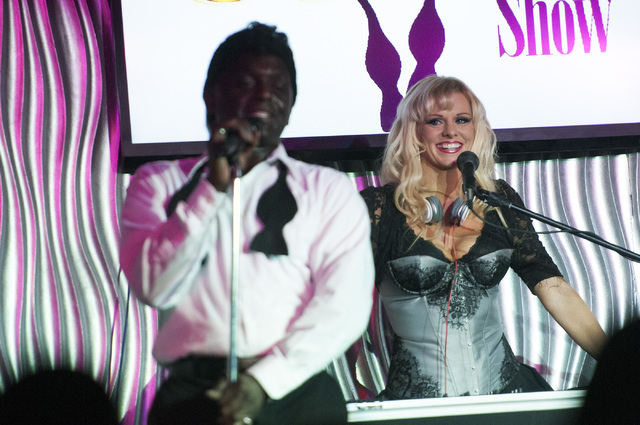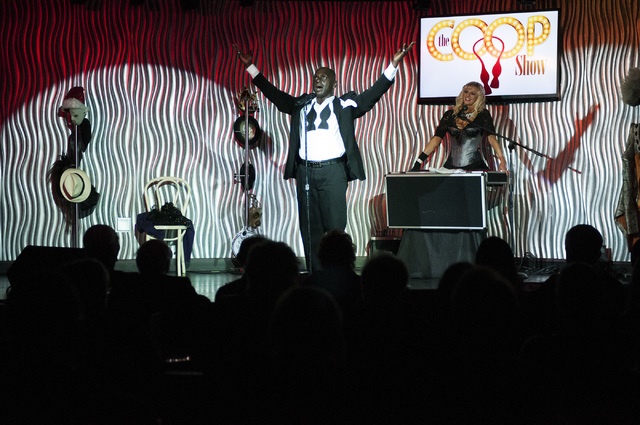 More than half of Sean E. Cooper's audience each night sees him as, well, a buzzkill.
Mention this, and his reaction is far from wounded. First, he smiles.
Then, he jumps up from a dressing table chair and imitates said audience.
"What the hell? Who da hell is this? What the (expletive)!"
"I hear it every night," he says. "'Let's go get a beer. I gotta get a beer!'"
But the rest of every audience consists of wives, girlfriends, or women who somehow find themselves at the Luxor's topless "Fantasy" revue.
Cooper switches to a female voice to imitate their reaction to his 15-minute act: "Somethin' for me! I don't care if it's black or white or whatever right now."
"That's it. That's my job," he says, calmly taking his seat.
And so it has been, with a few gaps, since 2000 for Cooper, aka "Coop," aka "the only dude in 'Fantasy.' "
Cooper roars out at the 45-minute mark of the topless revue, dancing up a whirlwind as James Brown. Then he puts on eyeglasses and scrunches his face into Sammy Davis Jr.
At some point, he sheds his toupee to reveal a shaved head. But wigs will return when it comes time to do his Michael Jackson.
Somehow, he always wins them over. Arms come unfolded. Hostilities melt into applause.
"He's just born talented. He's a natural-born performer," says Anita Mann, the producer who has kept Cooper employed for the better part of 20 years, if you add up cruise ship revues and "Fantasy."
And now comes "The Coop Show," a full-length showcase at Planet Hollywood Resort's Sin City Comedy club. The late-afternoon revue gives Cooper a chance to stretch, and see if he has what it takes to make the next jump to solo headliner.
"He got a standing ovation every time he stood on my stage. Nobody else has ever done that in my room, ever," says John Padon, who runs Sin City.
Before he opened the Sin City club, Padon alternated the "Fantasy" variety slot with Cooper, doing stand-up in the show that runs seven nights a week.
"It's hard to work in a topless show because no matter how good you are, you're still the uninvited guest," he says.
Padon first encouraged Cooper to adapt his act to the stand-up format for Sin City, then gave him a 5:30 p.m. time slot to develop the "The Coop Show" in a low-risk setting.
"Fantasy" is "sort of my traditional show now," Cooper says, "and then I get to come up here and cut loose and go crazy."
"The ladies are the show in 'Fantasy,'" he adds. "That was my frustration: 'I got more to show!'"
"The Coop Show" begins with the James Brown bit, and ends with a Michael Jackson in white-face and the Tina Turner drag segment Cooper used to do in "Fantasy." In between though, there are riffs on The Notorious B.I.G. or Tupac Shakur.
"I'll do some white people now," he quickly assures the crowd, launching into a speed-rapping Eminem, then Tom Jones with a wig and crotch-stuffing towel.
He doesn't worry too much about the accuracy of an impression. "That's too much pressure on yourself," he says. When you have fun with it they just enjoy the intention. People enjoy a show."
Cooper is backed up by stage foil "D.J. Double-D" (Dar Brzezinski, another "Fantasy" friend) and surrounded by hatstands full of prop jackets, hats and wigs. He's set up to do more than two-dozen characters, even if he only gets to eight or 10 in a given show.
"It's kind of like Carrot Top with a prop. I gotta have it," he says. "I gotta sell that dance, I gotta sell the impressions. I gotta have tons of wigs, I gotta have hats."
Two shows on the Strip, one as the star, once seemed a distant dream for a dancer who did a stretch dealing blackjack, albeit as a Michael Jackson-costumed "dealertainer" at the Imperial Palace.
The Alabama native grew up in Louisville, Ky., where he ran track and attended the Youth Performing Arts School, figuring he might one day "dance behind Michael Jackson, Paula Abdul that kind of thing. I figured I was going to be a big dance star in that sense."
One day the arts school's principal told him to show up at 5:30 a.m. the next morning. "He took me down to where they were auditioning for summer stock theater and slapped a number on my chest. I was underage so he said, 'Don't talk to anyone, just give 'em your name and dance.'"
Cooper found himself doing "South Pacific" in Galveston, Texas, and then, via a castmate, working the "Playboy Girls of Rock &Roll" revue in Lake Tahoe.
By 1993, though, he was discouraged and ready to seek more conventional employment. Las Vegas was a tough nut to crack, if only because at 5-foot-8 and change, Cooper was too short for most casting calls.
He showed up for one audition at the late Henry LeTang's dance studio, then found himself steered into another one across the hall. It was for Mann, who both agree has become like a parent.
"He's like one of my children," she says. "But I give him tough love. It's positive reinforcement."
It was the next year, in one of Mann's cruise ships revues, when a tape broke and Cooper had to filibuster for six minutes.
"I just got the microphone and started talking," he remembers. "I didn't really have any jokes at the time. I had a half of a Sammy Davis, I didn't have any music."
But they laughed at least some of the time, and a new door opened. "The Coop Show" reveals an act born on its feet, feeding on crowd work.
When an audience member yells up "Do Seal!" Cooper pretends to be thrown. But he winds up, hums the opening harmonies of "Kiss from a Rose"… then flops to the floor and barks like a seal.
He's got 'em now. They're ready for his riff on white people dancing, his Barack Obama, Kevin Hart and Cher. The latter, he explains, was discovered after he burned his mouth on a Hot Pocket.
"When you're this talented," he tells the audience, "You just find it yourself."
Contact reporter Mike Weatherford at mweatherford@reviewjournal.com or 702-383-0288.