November 28, 2008 - 10:00 pm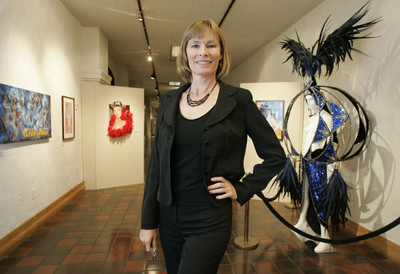 No leather and lace.
All feathers and grace.
"What today's showgirl is and the original showgirl is not the same, and that's one reason I wanted to put this in historical perspective in a museum," says former showgirl Lou Anne Chessik. "I have nothing against pole dancers and strippers, that's a whole other trade, but they've kind of taken the name 'showgirl.' "
Chessik's taken it right back.
Baubles, bangles and beads — and an array of paintings, photos, artifacts and mixed-media depictions of sexy costumes, sumptuous headdresses, elegant accessories and a Bob Mackie outfit that transforms the female form into a cage on legs — comprise the Las Vegas Showgirl Art Competition Exhibition at the Nevada State Museum.
"Those costumes, some of those headpieces weighed 25 pounds," says Chessik, founder of the competition/exhibition and one-time cast member of "Lido de Paris," "Enter the Night" and "Jubilee!" from 1979-91. "We were lifting weights just to have the strength to carry those costumes."
After arranging a cast/crew reunion at the Stardust in 2006, Chessik was inspired to further celebrate the once-dominant, pre-Cirque world of Vegas showgirls and created the competition that was promoted through schools and the Las Vegas/Reno arts communities. "I realized we were becoming history," she says, "and I wanted to keep that excitement alive."
Prizes were conferred on the artists, including students from the College of Southern Nevada, University of Nevada, Las Vegas, and most notably, the Las Vegas Academy of International Studies, Visual and Performing Arts, whose interpretations graduated to the exhibition. Their creations join the works of showgirl-turned-professional painter Terry Ritter and costumes and accessories borrowed from the collection of former showgirl Karen Burns.
Bowing last year at the Reno Nevada Historical Society, the traveling tribute since has been showcased at the Water Street Gallery in Henderson, the Fashion Outlets mall in Primm and a second showgirls get-together at The Orleans.
It's now settled into the Nevada State Museum for a run through mid-August.
"I knew the potential of it," says Thomas Dyer, the museum's exhibits manager. "In Las Vegas, the showgirl is an icon. When I told a couple of people that we had the showgirl exhibit coming in, they said, 'In a museum?' But what better place than a state museum to put these people up on a wall? And we're not putting racy things in here."
Racy? No. Sexy? Can you say — as folks did in the yesteryear of showgirl chic — "hubba-hubba"? "Va-va-va-voom"? Or, in more contemporary Paris Hilton-speak, "That's hot"?
Among the exhibit pieces, Ynnez Bestari's "The Sensuality of a Showgirl" depicts a red feather boa-draped woman, piercing green eyes made mysterious by her gaze off into the distance, her mouth an alluring pout. Ritter's pastel-toned "Toe Shoes" presents her subject with arm elegantly outstretched, exuding a demeanor of dignified sexuality that stops short of haughtiness. Taking a comedic turn, a piece by James Bousema features a cartoonishly wizened old showgirl smiling up at memories of her younger, sexier self. And several photos snap the action from the long-running production, "Hello Hollywood, Hello," which greeted audiences from 1978-89 at the MGM Grand in Reno.
"When I go to Las Vegas Academy, they think we're really vintage and cool," says Chessik, who, clad in a G-string and rhinestone bra in "Hello Hollywood, Hello," balanced on the wings of a moving replica of a jet. In her Academy visits, Chessik brings along feather-and-rhinestone-studded costumes and showgirls serving as models to inspire the student artists, who are encouraged to create back stories for their artwork. One striking painting portrays a showgirl backstage, puffing on an inhaler. "That's not your traditional showgirl," Chessik says about this imagining of one seriously sexy asthmatic. "That is about a dancer who had asthma and beat the odds. People love that one."
The exhibit recalls warm memories for Chessik, who cherishes her showgirl past and the production-show traditions that remain — albeit with a reduced presence in what's become Cirque City — at Bally's "Jubilee!" and the Tropicana's "Folies Bergere."
"A lot of people don't realize the commitment and dedication. We were trained ballet dancers. The way ('Jubilee!' producer) Donn Arden created the shows was that he wanted small-breasted women. If you look at ballet dancers, they're usually small-breasted and he wanted that look. But even when you were dancing topless, you didn't feel topless," she says, referring to showgirls outfitted in feathers, bracelets and headpieces reaching dizzying heights.
Elsewhere in the eclectic exhibit, ethereal sensuality suffuses Heather Herman's intriguing "Hypnotica," showgirls shoring up costumes, applying makeup and indulging in pre-performance primping. Among the artifacts, the glammiest getup is famed designer Bob Mackie's "Blue Cage" costume from the "Jubilee!" finale, its stunning headpiece circling down and around to the waist, earning its name by nearly imprisoning the dancer in pure elegance.
"We have these unique and cool histories that no one else has," Chessik says. "Who would've thought they would be in a museum?"
Leave it to Vegas to put history in a G-string.
Contact reporter Steve Bornfeld at sbornfeld@ reviewjournal.com or 702-383-0256.
Preview Las Vegas Showgirl Art Competition Exhibition 9 a.m.-5 p.m. daily Nevada State Museum, 700 Twin Lakes Drive in Lorenzi Park $3-$4 (486-5205)