10 best things to do in Las Vegas this weekend — Aug 25-27
August 25, 2017 - 2:03 pm
Fight weekend is finally here in Las Vegas.
Raise the stakes a bit by placing a bet on the big winner. A new website lets you bet a beer against your buddy on who you think the victor will be.
Henderson launches its inaugural "Last Friday" street festival this Friday with a performance by James Torme.
Expect downtown to be overrun by zombies. The Fremont Street "Fear the Walking Dead: Survival" attraction is having its grand opening next week. But you can brave an escape this weekend.
Here are your top picks for what to see, eat and do this weekend in Las Vegas.
Grab a bite
Umami Japanese Fusion Restaurant is small enough to be cozy, yet contemporary enough to be sophisticated. The Grand Canyon Roll ($14) is as an exquisite celebration of the restaurant's name, a Japanese word used to describe a savory, earthy flavor that falls between the basic salty, sweet, sour and bitter sensations. Read the full review here.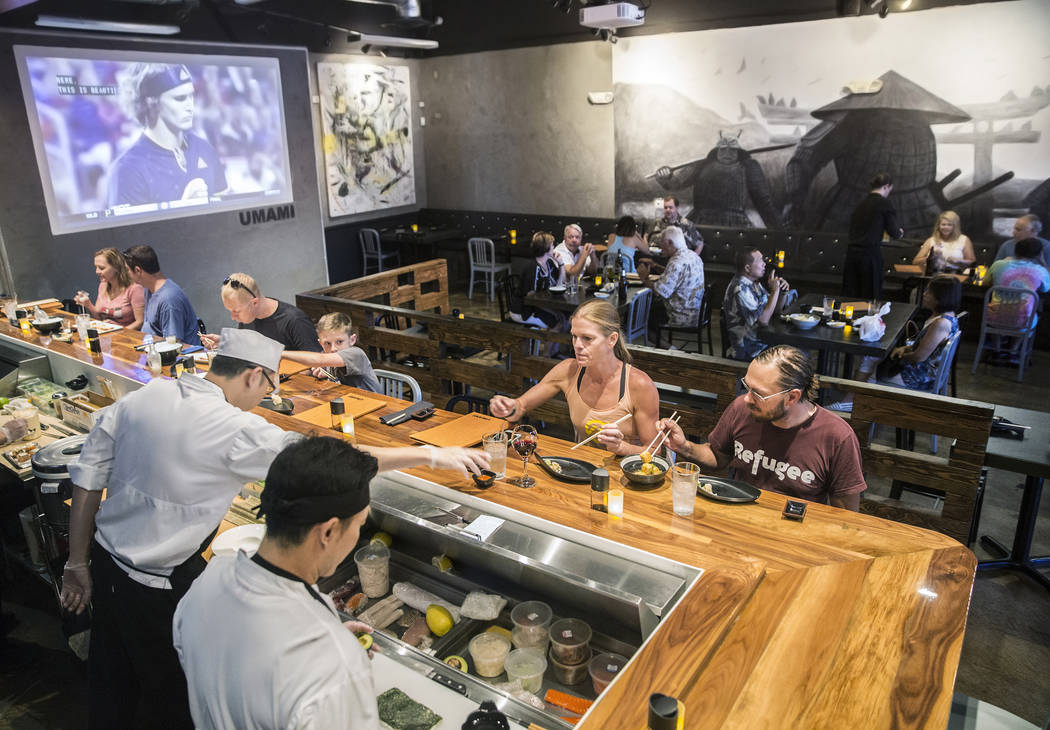 Dinner guests enjoy their meals at Umami on Saturday, Aug 12, 2017, in Las Vegas. Benjamin Hager Las Vegas Review-Journal
Get a drink
The Alto Bar at Caesars Palace takes the Jack and Ginger to a premium level by using high-proof Maker's Mark as the main spirit, and Domaine de Canton ginger liqueur as the primary mixer. It also boasts a touch of fruity sugar, with everything smoothed out by egg whites. Learn how to make it yourself here.
Rock out
As much as any band of its day, Yes bridged the yawning gap between the progressive and the populist, crafting dense, yet digestible albums that both musos and mainstream rock fans could dig.
But here's where the story gets interesting. There are two bands with current and former members of the group out on the road, playing the Yes catalog in a less-than-friendly musical rivalry. And they're both hitting Vegas within days of each other.
See Yestival with Yes, Todd Rundgren & Carl Palmer's ELP Legacy at 7 p.m. Saturday at The Joint. See Yes featuring Jon Anderson, Trevor Rabin, Rick Wakeman at 7:30 p.m. Thursday at The Smith Center.
Read more about Yes and Yes here.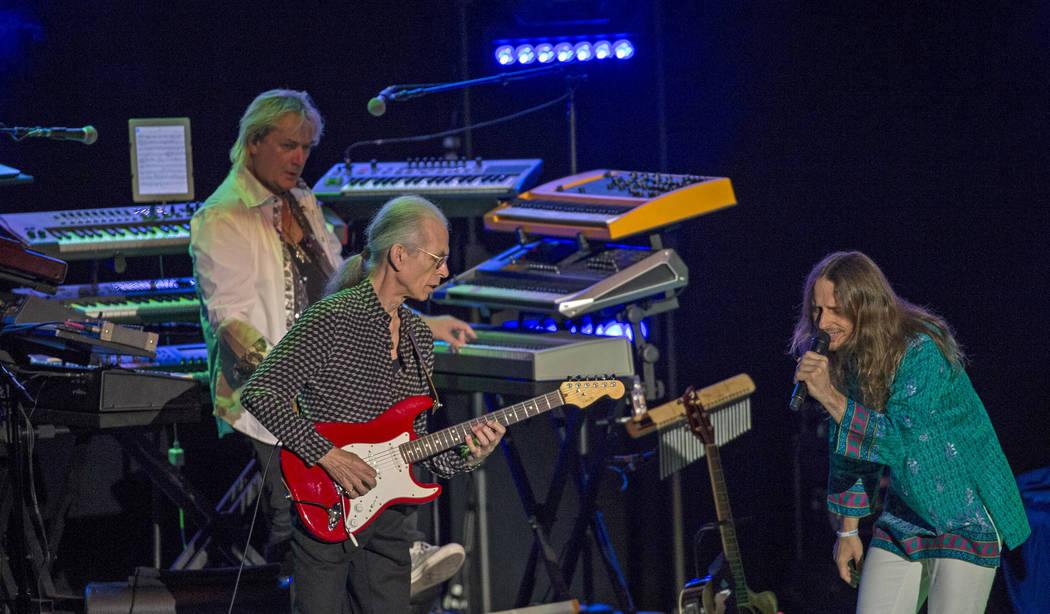 Lead vocalist Jon Davison (R), guitarist Steve Howe (C) and keyboardist Geoff Downes of rock band Yes. Reuters Mario Anzuoni
See a show
As "Zumanity's" resident biker character, Brandon Pereyda performs 10 shows a week, 470 shows a year, in New York-New York's Cirque du Soleil show. A few months after joining the production, Pereyda developed his signature chain routine. "They wanted me to create something that was special and unique to 'Zumanity' that hadn't been seen before, so I went to the drawing board and designed an apparatus for the show," he explains. Read more about Pereyda's chain routine in "Zumanity" here.
Catch a movie
"Death Note" is a relatively brief 100-minute movie, but the sleek, stylish supernatural thriller has all the warning signs of an impending tweetstorm. Following a strong gust of wind and a thunderclap, the sky opens up and spews forth a leather journal with "Death Note" inscribed on the cover. The Death Note has dozens of rules including Rule 1: The human whose name is written in this note shall die. Watch "Death Note" on Netflix. Read more here.
Stay in
Can't believe your best friend thinks McGregor is going to defeat Mayweather, but don't want to take his cash by betting against him? Why not just keep it friendly by betting a beer at a local pub? Good Bet recently received approval to begin accepting social wagers on sporting events, as long as the bets are limited to gift cards, and not cash. The company is taking single-beer bets for this weekend's fight, and even covering the cost for the loser so nobody is out of pocket. Read more here.
Floyd Mayweather Jr., left, and Conor McGregor Frank Franklin AP
Tiki Bar
Tiki culture had disappeared from Las Vegas but came roaring back thanks to Frankie's Tiki Room, which is approaching its ninth anniversary, and The Golden Tiki, which just marked its second. Frankie's Tiki Room opened in December 2008. P Moss, owner of the Double Down,hired tiki icon Bamboo Ben to do the interior, which is covered with bamboo matting, jungle and rainforest artifacts and much, much more.
Frankie's Tiki Room
The Golden Tiki came along in summer 2015. The Golden Tiki isn't as much a bar as it is a backstory — Disneyland in miniature, or at least the Enchanted Tiki Room writ large.
Head downtown
The Fremont Street "Fear the Walking Dead: Survival" attraction has been open for about two weeks, and next week cast members and producers of the television horror-drama series will attend the official grand opening party. Plenty of zombies and military vehicles will be on hand for staging the perfect undead selfie. The event will be at the base of the Slotzilla zip line tower, just off Las Vegas Boulevard. See other downtown events here.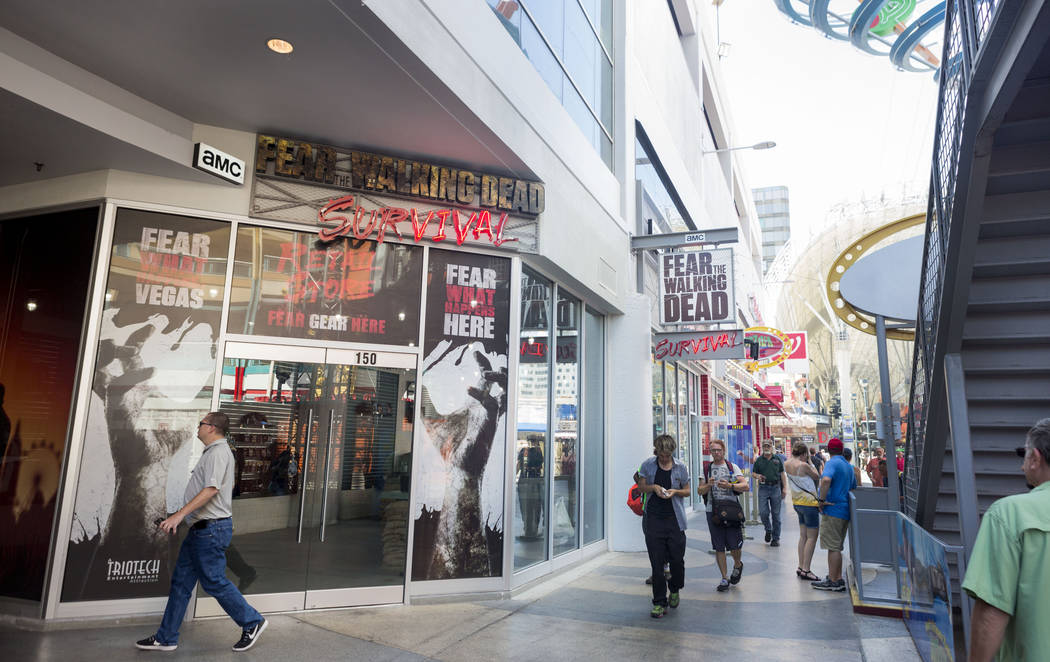 The new attraction, Fear the Walking Dead: Survival, located on Fremont Street Experience in downtown Las Vegas. Elizabeth Brumley Las Vegas Review-Journal
Last Friday
Subtitled "Just Add Water Street," the free Last Friday event runs from 7 to 10 p.m. Friday on Water Street in downtown Henderson. (A special VIP section with free food and drink, which begins at 6 p.m., is sold out.)
With an inaugural "Best of Vegas" theme, James Torme provides a bridge between Southern Nevada entertainment, then and now, performing at City Hall Plaza and accompanied by a "best of Vegas super-band," he notes in a telephone interview from an East Coast rehearsal. Read more about Henderson's Last Friday event here.
Singer James Torme headlines Henderson's first Last Friday, Just Add Water Street, themed "Best of Vegas." James Torme
See the mermaids
Mermaids swim among the fish and interact with kids watching from the outside at the Silverton aquarium. These mermaids also twirl, flip, dance and do other fun stunts. See them perform the free show daily.