6 facts that emerge when Dave Grohl interviews Lionel Richie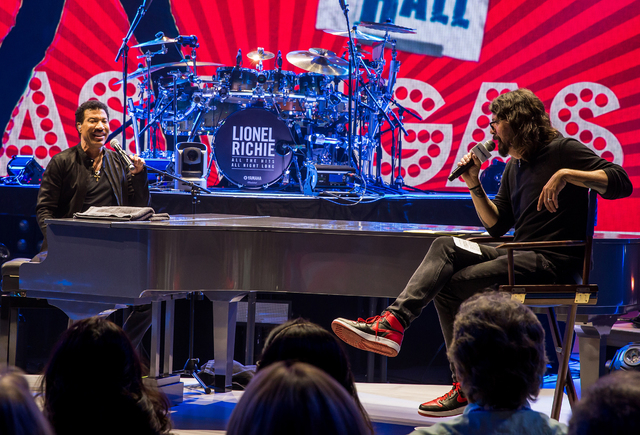 The late-night talk show field is more crowded than ever, but should a vacancy come up …
Who doesn't like Dave Grohl, the nicest/coolest guy in rock, and his band Foo Fighters? And Grohl's SiriusXM interview with Lionel Richie could serve as an audition tape.
Grohl interviewed the pop legend on the Axis theater stage at Planet Hollywood on Thursday for the "SiriusXM Town Hall with Lionel Richie," which will air Friday at 4 p.m. Pacific time on SiriusXM Love and via satellite on channel 17. (It also can be accessed through the SiriusXM app and at siriusxm.com.)
The two had a genuine rapport, which stems back to Grohl breaking his leg before last year's Glastonbury festival, and reciprocal giant gift baskets of muffins, explained on the broadcast.
"Your music was the soundtrack to my life," Grohl said, showing how far-reaching Richie's Top 40 hits were.
A few other Richie facts that emerged, or re-emerged, in the wide-ranging chat:
1. Tennis great Arthur Ashe talked Richie out of pursuing a tennis career. Ashe worked with the 19-year-old at a tennis camp and convinced him that while he had promise, it would take too long to get him up to speed with competitors who had too great a head start on him.
2. If he hadn't become a musician, or a tennis player, Richie had entertained notions of becoming an Episcopal priest. That ended, he said, the first time someone screamed while he was playing in a band.
3. The Commodores were the first band he was ever in. And the group picked its name out of the dictionary.
4. An audience member acknowledged Richie's songs as the soundtrack to, um, amorous activity and asked, "What music sets the mood for you?"
Expanding the breadth of the answer, Richie said that any song with vocals automatically puts him in critical-listening mode, and he's suddenly "not with the one I love."
So, "when I chill," he said, it's usually to the sounds of classical guitar.
5. "Hello" started out as a joke. Producer James Carmichael walked into Richie's house and found him at the piano. "Hello, is it me you're looking for?" Richie vamped.
"Finish that song," Carmichael demanded.
6. What does he like about this new Vegas gig? "It's easy here," Richie replied, acknowledging no pun tying the answer to one of his biggest hits. Richie did name "Easy" as "probably my favorite song," and one he never tires of singing.
Richie performs Wednesdays, Saturdays and Sundays through May 18, then returns for another batch of shows in September.
Read more from Mike Weatherford at reviewjournal.com. Contact him at mweatherford@reviewjournal.com and follow @Mikeweatherford on Twitter.