A milestone week for The Monkees, then back to business
September 15, 2016 - 3:52 pm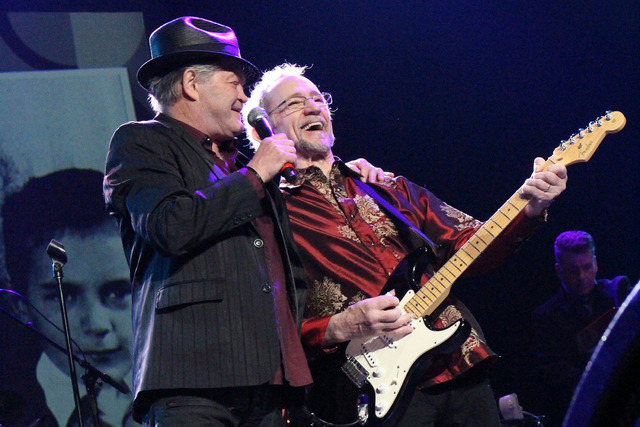 It's a milestone week for The Monkees. Monday was the 50th anniversary of their TV show debuting on NBC. Friday is Michael Nesmith's proclaimed final show with the band.
But Saturday?
After Nesmith's swan song at the Pantages theater in Hollywood, Mickey Dolenz and Peter Tork will be out at Primm's Star of the Desert Arena, doing what they've always done: sustaining a pop band that seemed one of the least likely to sustain.
Look at it Dolenz's way, which is backward. The new Monkees album "Good Times!" debuted at No. 14 on Billboard's album chart in May. Their first new studio album in 20 years was the group's highest-charting since 1968.
So Dolenz says he counted backward from 1966. "The equivalent would have been an act from 1916 getting a top-20 record in 1966. That would have been Al Jolson or Enrico Caruso." (Neither of them lived until 1966.)
Nesmith, 73, went on to an eclectic career as a film producer and home video distributor. He toured with the group again from 2012 to 2014, in a show of solidarity after the death of Davy Jones. But on Facebook he wrote of Friday's show, "I see the specter of the multiple Sinatra retirement/farewells — and this seems like the perfect time for me to step off, sit down and shut up."
"I guess he's kind of like our Neil Young," Dolenz says, likening Nesmith to Young's occasional reunions with Crosby, Stills &Nash, who have carried on regardless. "I will always love singing and playing with him. He's always welcome. But he's always marched to the beat of a different drummer."
But Dolenz, 71, says he's happy to carry on under an implied contract with the audience: As long as the 10 essential hits are covered, he and Tork, 74, have wide latitude to do album cuts, solo tunes or even "Johnny B. Goode," which Dolenz says was his audition song for the TV show.
Fans would have a hard time objecting to "Good Times!" songs, because the album sounds like it could have come out in 1966.
Some of the songs did originate in the old days. Jones has the lead vocal on "Love to Love," thanks to a rescued '60s demo of him singing the Neil Diamond tune.
The title track is a garage-bounding demo by the late Harry Nilsson from early 1968. "We just never got around to finishing and releasing that one," Dolenz says. "When I heard that, I realized I could do a duet with my old friend Harry Nilsson. And he was a very dear friend. I'm godfather to one of his children."
Other songs were commissioned by Rhino Records from younger rockers they knew to be fans. Ben Gibbard of Death Cab for Cutie wrote the wistful "Me &Magdalena" for Nesmith. Rivers Cuomo of Weezer offered "She Makes Me Laugh."
The producer was Fountains of Wayne's Adam Schlesinger, whom Dolenz already knew for his work on the Tom Hanks '60s-pop movie "That Thing You Do!"
"I ran into Tom at a party one time and he said, 'I made a movie about you guys,' " Dolenz recalls with a laugh. "People were saying even at that time it sounds like The Monkees."
The Monkees having a "sound" at all is in a sense amazing. The four members were cast for the TV show and didn't even get to play on their early records, due to time constraints.
And so they became "The Pre-Fab Four." But Dolenz doesn't think they would be viewed so harshly in the "Glee" era.
"They can all do it, they can all sing and dance and perform," he says of its cast. "It was cast like a musical. It wasn't manufactured; it was cast. If you understand the genetics of it, it all makes a lot more sense."
So does the show's lingering appeal.
"The show was about the struggle for success," Dolenz notes. "On the TV show, we never made it. It was always the struggle for success. Which I think was an important element. And that was intentional. … It spoke to a lot of kids who were in their garages and basements trying to be the Beatles."
The show also lacked a father figure. The producers eliminated a fatherly manager after early episodes didn't fare well in test screenings.
And then there was the hair.
"They were scared of it (at NBC)," he says. "The only time you saw long-haired kids on television at that time, they were being arrested."
Dolenz is asked if it's a coincidence that "The Monkees" debuted the same week as the ultimate cult-TV hit, "Star Trek."
"I don't know," he says, then decides, "It's more than that. You surround yourself with talented people and then you work hard.
"You can't reduce this stuff. The whole becomes greater than the sum of its parts. … We just caught lightning in a bottle."
Read more from Mike Weatherford at reviewjournal.com. Contact him at mweatherford@reviewjournal.com and follow @Mikeweatherford on Twitter.
Preview
Who: The Monkees
When: 8 p.m. Saturday
Where: Star of the Desert Arena, 31900 Las Vegas Blvd. South, Primm
Tickets: $20-$50 (702-386-7867)