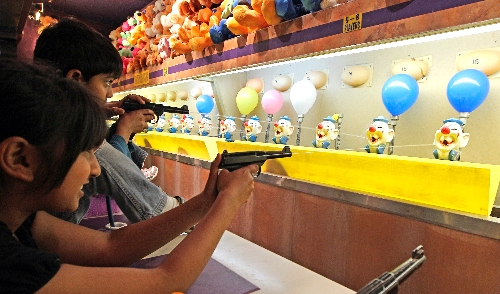 After going through a brief family phase, the Strip is back to being an adult Disneyland.
But the people in New York-New York's arcade on a recent Saturday didn't get that memo. They danced furiously to music on the "In the Groove" game, tested their reflexes on "Time Crisis 2," played basketball and rode the roller coaster.
The scene is much the same at the other end of the Strip, where visitors and locals alike spend entire afternoons in the midway at Circus Circus or the Adventuredome, acting like kids. And many of them are kids.
Indeed, overall visitorship has been down and gaming revenue has declined for the past few years, but the arcade/theme park business has remained fairly steady.
"The good news is, we were flat, but now the (guest count) is actually up 3 (percent) to 4 percent since the same time last year," says Tom Nolan, vice president of theme park operations for Adventuredome at Circus Circus, 2880 Las Vegas Blvd. South. He also oversees the midway. Both areas have arcades featuring a variety of games.
Last year, 3.7 million people visited the theme park, Nolan says. That's not bad compared to 2005, their most successful year, when 4.5 million guests visited. Many visitors include families with young children. While it's difficult to say how many of those visitors actually played in the arcade, it remains a popular attraction for guests, Nolan says. Management makes sure to bring in hot games, such as "Dance Dance Revolution," while offering retro arcade games, such as "PacMan."
"Air hockey is … a big revenue generator," Nolan says, adding that whole families have been known to take over a table and play each other for hours.
In 2003, one of the original family-friendly resorts, Treasure Island, reduced its arcade to roll out a sexy new look and name. Now, a few games sit in a small area next to the hotel's pool entrance. It doesn't see much action, says a hotel worker who asked to remain anonymous.
Several Strip resorts, including Luxor and MGM Grand, reduced or eliminated their arcades in recent years. But others, such as Excalibur, New York-New York and Circus Circus, continue to maintain theirs as a bona fide amenity.
Excalibur's arcade, the Fun Dungeon, has dozens of carnival-style and arcade games with a medieval flair. There also are several 4-D rides, including "SpongeBob SquarePants 4D."
"Even though Las Vegas has shifted away from some of the family attractions, there's always a niche market for the arcade," says Greg Goll, spokesman for New York-New York, 3790 Las Vegas Blvd. South.
The Coney Island Emporium features about 160 arcade games, most of them electronic. Emporium management maintains a warehouse with dozens of games that are rotated regularly, Goll says.
The arcade remains popular with families who have young children, teens and adults, he says.
"They come because it's a unique attraction on our property," Goll says. "You may have families that come in that don't want to experience the casino … there's quite a few experiences for them to have up in (the arcade) ."
Contact reporter Sonya Padgett at spadgett@review journal.com or 702-380-4564.