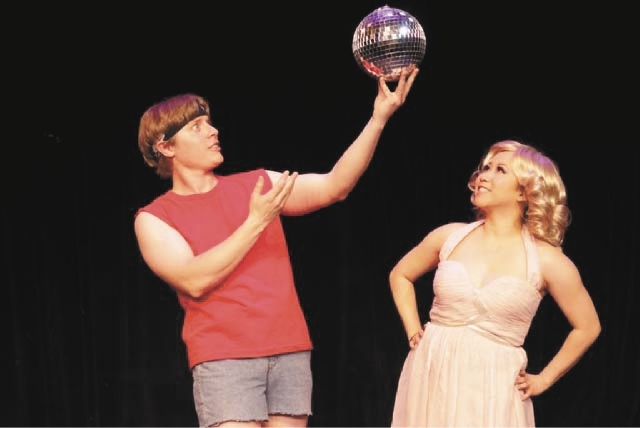 "It's like children's theater for 40-year-old gay people," says a muse in "Xanadu," the 2007 hit Broadway musical comedy written by Douglas Carter Beane with music and lyrics by Jeff Lynne and John Farrar and based on the 1980 cult film staring Olivia Newton-John and Gene Kelly.
Only the Las Vegas Little Theatre production directed by Walter Niejadlik with musical direction from Toby McEvoy is like bad children's theater with singing and dancing only a mother could love.
Venice Beach chalk artist Sonny Malone is about to end it all over his dissatisfaction with his wall mural of the Greek muses.
From Mount Olympus, the muse Clio takes pity on him and descends disguised as Kira, a roller blader. Sonny is inspired by Clio/Kira to create a roller disco from an abandoned theater called Xanadu.
The theater is owned by a greedy Los Angeles real estate developer who initially rejects Sonny's idea until he is visited by Clio, disguised as his old love, Kitty, in a flashback that helps him to see the gentrification potential in the project.
Meanwhile, two of Clio's evil sister muses, Melpomene and Calliope, jealous of the favoritism shown to Clio by Zeus, plot her downfall by arranging for Clio and Sonny to be struck by Eros' arrows — a forbidden love (Jon Strickland makes an adorable winged demi-god).
Appearing before Zeus' throne, Sonny challenges Zeus to a fight to win Clio. Zeus blesses their love and all is right in Xanadu, where "true love and the ability to create and share art" live forever.
Christine De Chavez plays Clio/Kira, a role that is intended as a spoof of Olivia Newton-John, who played the part in the film. But a spoof isn't funny if the actor doing the spoofing cannot recognizably imitate the subject being spoofed.
De Chavez cannot sing the Olivia Newton-John hits featured in the show. Her attempt at an Australian accent falls too short even to be considered a spoof; it's just bad.
Later, when she channels Kitty, she also is unable to affect a Southern accent. One wonders why Niejadlik even had her try.
Michael Drake as Sonny also cannot sing the show's songs and seems miscast as an '80s dude running around in surf cut-offs — wrong hair, skinny legs.
Both actors wobble when performing even the minimal skating moves demanded of them by Niejadlik and Edith Wiggins' amateurish choreography (which often consists of the cast standing still and making semaphore gestures).
Ditto the rest of the cast. Like the show's two leads, the other cast members are capable comic actors who deliver on the very funny script, but can't sing the show's well-known songs.
Are all the actors who can sing and dance already performing at Super Summer Theatre?
The only actor who comes close to singing and acting well is the dependable LVLT veteran Brian Scott who is double-cast as Danny Maguire, the hard-hearted real estate mogul, and Zeus. He is funny in both roles and has a suave speaking-singing voice.
Fellow LVLT veterans Gillen Brey and Penni Paskett are also comic standouts as Melpomene and Calliope — Paskett literally chews the scenery. Their singing, not so much.
Paskett is also responsible for the show's hilarious camp costumes. The mythological creatures in the Pantheon scene are particularly funny.
Toby McEnvoy capably directs the show's live band — blessedly more musically talented than the cast — and director Niejadlik deserves acknowledgement for opting for live musicians over a canned soundtrack. He set a lively pace with an appropriately camp sensibility.
Certainly, the cast was enjoying themselves and from the robust laughter it was clear the audience was too, but this is a musical comedy, so it just doesn't work if the cast can't sing.
review
What: "Xanadu"
When: Thursday-Saturday through July 28
Where: Las Vegas Little Theatre main stage, 3920 W. Schiff Drive
Tickets: $25 (702-362-7996)
Grade: D