Bingo gets gay twist at monthly Circus Circus event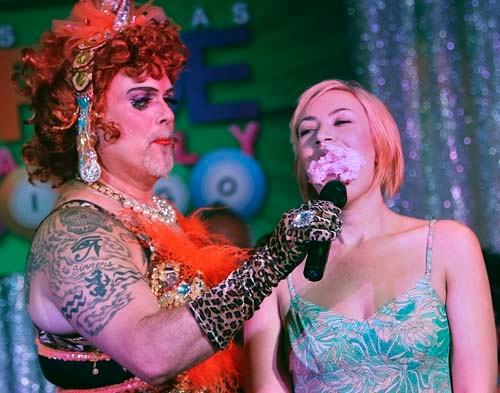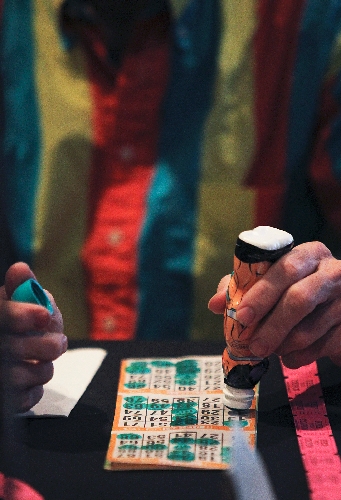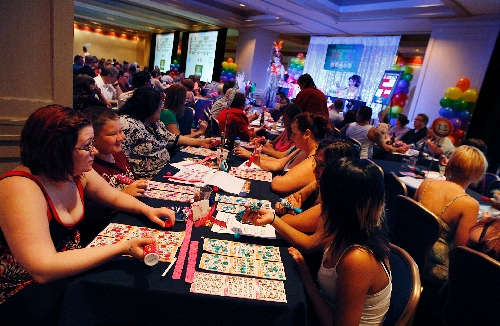 Aletha Stainbrook learned an important life lesson while playing bingo recently: Watch what you say when a drag queen is in charge.
Stainbrook, 24, was just a nameless face in a crowd of about 300 people playing Pride Family Bingo – aka drag queen bingo – on Wednesday at Circus Circus. Until she put her foot in her mouth. She yelled "Bingo!" when she didn't really have one.
Stainbrook, who is blond, was confused. Bingo isn't really her game.
The flub vaulted the Las Vegan to instant celebrity status after Norma Llyaman and Diana Prince, the two drag queens calling the game, pulled her onstage. They decided to make an example of Stainbrook, show the rest of the crowd what happens when you "bingo" prematurely.
"Are you diabetic?" Llyaman asked as she ripped open a bag of cotton candy.
Luckily, Stainbrook is a self-proclaimed sugar lover, because Llyaman shoved a fistful of pink, fluffy cotton candy in her mouth and made her say "chubby bunny" into the microphone. This is what it sounded like: "mumpfee mumpfee."
She looked even funnier than she sounded, like some crazy dentist crammed her mouth with a bushel of pink dental cotton. But Stainbrook said she was happy to be the butt of a good joke. It was for a good cause. And she forever has an only-in-Vegas story to tell.
"I got free cotton candy. And now I get to say a (drag queen) shoved cotton candy down my throat," Stainbrook said.
Bingo packets consisting of 11 games are $10 each, and all proceeds raised from Pride Family Bingo are donated to the Southern Nevada Association of Pride Inc., the nonprofit that produces the local gay Pride festival and parade.
Wednesday's festivities were the first in what will be a monthly themed event at Circus Circus. July's theme was the circus, which explained the leopard print outfit worn by Llyaman and the stuffed monkeys she showed off to the crowd.
The inaugural event was a red carpet affair, with Chippendales dancers Kyle, James, Jaymes and Jace greeting guests and posing for free photos outside the ballroom turned bingo hall. The smell of prime rib and nachos wafted through the air, tantalizing players to visit the buffet, laden with moderately priced snacks, before the games started.
Nearly every hotel department participated in organizing the event, said Ernie Yuen, Circus Circus banquet and catering manager.
Yuen, who also is president of the Pride association, started Pride Family Bingo in 2002. For six years, the gay-friendly Hamburger Mary's on Paradise Road hosted it. The restaurant closed about four years ago and, except for one attempt to hold it at the gay and lesbian center, Pride bingo has been homeless.
Circus Circus, an MGM Resorts property, wanted to get involved with the lesbian, gay, bisexual and transgender community, Yuen said. He needed a place to host the nonprofit fundraiser so he asked his boss. The answer was "yes."
Supporting and hosting the event was a natural extension of their corporate diversity initiatives, said Jackie Zlatanovski, the hotel's vice president of marketing. It was also an opportunity to show off the changes Circus Circus has made over the past couple of years, including new carpet, wallpaper, new restaurants and more.
Diversity is a core value of the company, said Scott Voeller, MGM Resorts International vice president of brand strategy and advertising. The LGBT segment has become a lucrative market for the company since it started cultivating it in 2000, he added.
Several MGM Resorts properties donated room packages, show tickets, restaurant gift cards and other items to be used as bingo prizes. Cash can't be awarded during a fundraiser bingo, Yuen said. Local businesses also donated items, including The Cupcakery, which gave a year's supply of cupcakes. Prizes were worth about $200 each.
The fact that a Strip casino hosted a gay-friendly event was not lost on bingo players. Many took it as a sign that the rainbow dollar is increasingly important to local casinos. With Pride bingo, Circus Circus joined a growing list of Strip properties that have reached out to the local LGBT community with pool parties, nightclub events and vacation packages. Today, five MGM Resorts properties wrap up Fabulous 2012, a three-night event billed as "a gay celebration, Las Vegas style." In its third year, the event included special room rates, discounts on entertainment, dining and shopping, and access to clubs, bars and gay-themed activities, Voeller said.
"We're moving in the right direction for equality," said Michael Weihn, who sat with several friends during Pride bingo, all longtime members of the Las Vegas gay community.
The evening went well, Yuen said, with the exception of a couple of snags. The turnout was greater than expected, so the bar line was long. Next time, they will have two bars, he said.
And the games, which were supposed to start at 7 p.m., were delayed.
"Drag queens aren't very organized," Bryan Zeitlin said as he waited for instructions, dauber ready to mark his bingo card. "But they're pretty."
Finally, the hostess called out the first bingo pattern, kicking off a night full of inside puns and silly, kid-friendly jokes.
"This one is going to be a straight bingo," Llyaman said, indicating that people would have to fill their cards with a single vertical line. There were groans and a smattering of boos from the players. Don't tell a mostly gay crowd to do anything "straight."
Pride Family Bingo will be held on the first Wednesday of every month through December (Aug. 1, Sept. 5, Oct. 3, Nov. 7 and Dec. 5). The Aug. 1 theme: disco.
Contact reporter Sonya Padgett at spadgett@reviewjournal .com or 702-380-4564. Follow @StripSonya on Twitter.
PREVIEW
What: Pride Family Bingo
When: 7 p.m. first Wednesday of the month through December
Where: Grand Ballroom at Circus Circus
Admission: $10 per packet (11 games)
lasvegaspride.org/ events.html