Blue Man Group adapts to new digs at Luxor
November 23, 2015 - 10:32 am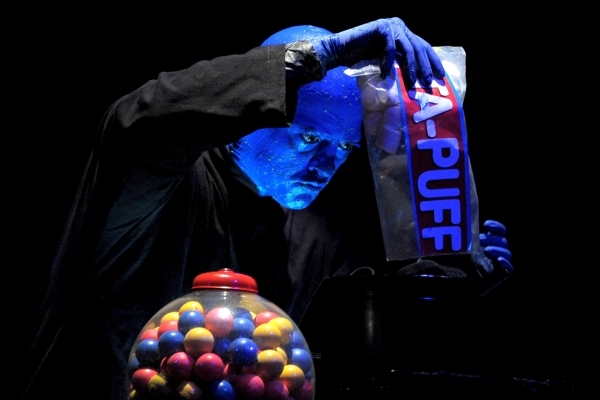 A Blue Man can catch a marshmallow in his mouth just about anywhere.
And that's been an adaptive skill in Las Vegas, where the Blue Man Group became a 15-year institution but carved those years among three casino theaters.
The cobalt chrome domes make almost a full circle this week as they reopen at Luxor, where the Las Vegas journey began in early 2000 (Shows through Tuesday are considered previews, before the official opening night Wednesday).
The original "Live at Luxor" was downstairs, in the theater now used by Criss Angel. The new Blue Man show is on the pyramid's second level, in a smaller theater originally built for the break-dancing Jabbawockeez, who have moved to the MGM Grand.
Both moves were musical chairs set in motion by MGM Resorts International demolishing the existing theater at the Monte Carlo — the Blue Man's most recent home — to make way for a 5,000-seat concert hall.
"It certainly wasn't our choice to move, but we're happy with the opportunity that it represented," says Jack Kenn, general manager of the Las Vegas production. "Once you get in the situation, you certainly get inspired by the surroundings."
The 800-seat theater is the smallest of Blue Man's four Las Vegas venues and in some ways takes the group back to the original off-Broadway production performed by the three founders (Matt Goldman, Phil Stanton and Chris Wink) and the material that still makes up roughly the first half of every Las Vegas show.
"You can see the Blue Men's faces without having to look at them on a video screen," Kenn says.
But on the other hand, "We've absolutely learned a lot in 15 years." And one of the things they've learned? "This is Vegas and it has to be spectacular."
The challenge was "to completely rethink how we get a spectacular experience into a more intimate space," he adds. "We've successfully done it in our other cities (so) we had some history on how to do that."
Those who saw the Jabbawockeez in the same space might be surprised at what the blue dudes have done to the place.
When Kenn first saw the dance troupe, he thought, "Wow, these guys are really close! How are we going to get all our stuff in here?"
But it turns out, "they sort of had a rehearsal room behind the stage … . We pushed further back into the backstage area, really squeezed our backstage area to get more playing space. We didn't take down any walls. We just took more of the space that was there to be theatrical performance area, versus backstage area."
Some of the PVC contraptions that test the Blue Men's musical proficiency are now built into the set instead of rolling on- and offstage.
The New York-based troupe didn't find out the Vegas show was moving until early summer, but it already had scaled down its Monte Carlo act in March. Dropping some of the spectacle, such as a scene featuring assembly-line robots, was "a move back to a more character-centric show and getting the Blue Men even more in your face," Kenn says.
The show is "a constant reminder of who we are and where we came from," he adds. "We're always cautious to say it's a new show, because we don't feel like we have an old show."
— Read more from Mike Weatherford at reviewjournal.com. Contact him at mweatherford@reviewjournal.com and follow @mikeweatherford on Twitter.
Like Neon Las Vegas on Facebook: