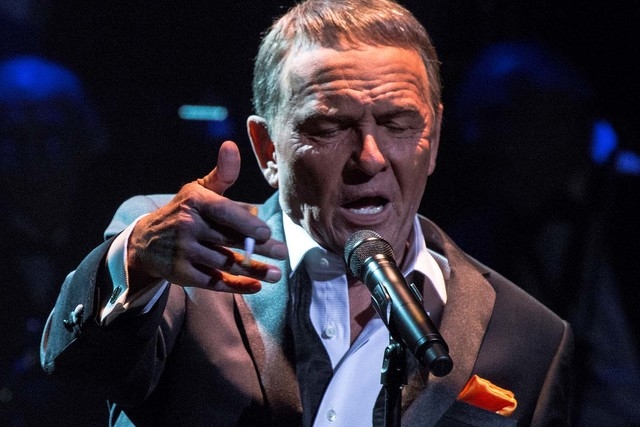 Johnny Mathis request No. 1
The supporting evidence says it was probably Nov. 30, 1983.
"This was the greatest evening, or one of them, in my life," Bob Anderson says.
The singing impressionist was at the top of what was then a still-thriving lounge scene, working a cozy-but-prestigious 60-seat lounge at Steve Wynn's Golden Nugget in Atlantic City.
Frank Sinatra was in the main room. Anderson had been put on high alert that "the old man's coming in" after the show. One night passed, then two. No Chairman of the Board.
By the third night, "I'm sitting at the bar bummed out, man," looking like the cover of Sinatra's "No One Cares" album.
Then he looks up in the mirror behind the bar "and I see a little ant pile coming through the casino and I look in the front (of the lounge) and there's 11 empty seats.
"And sure enough they come walking into the lounge for the late show. Sinatra stopped right behind me and puts his hands on my shoulders. 'You know I wouldn't have missed it kid.' "
The Sinatra pack included Sarah Vaughan, Diana Ross, Johnny Mathis and Dean Martin, who used the stage as a footrest.
Anderson did his best impressions, from Tony Bennett to Sammy Davis Jr. Martin was so tickled he "started talking to me as if I were Sammy."
His confidence growing, he did his Dino bit, then his Sinatra. "They loved it. They were really a great audience."
Then Diana Ross says, "Hey baby, can you do Johnny Mathis?"
Anderson had seen Mathis do "Over the Weekend" on the "Mike Douglas Show," so he was ready for that one too. "I do the first chorus and he gets up out of his seat and sang the whole song with me."
At the end of it all, Sinatra said the magic words, "C'mon, sit down over here." And later, "We're gonna go get something to eat. You want to go with us?"
Some nights you just can't lose. But your host can.
On the way to the restaurant, Sinatra and Martin stopped at a blackjack table. The dinner never happened because of a dispute at the card table, and eventual Division of Gaming Enforcement charges against the Golden Nugget, claiming Sinatra and Martin got testy after insisting on a hand-dealt game instead of the state-mandated shoe.
Johnny Mathis request No. 2
Sometime in 1994 or 1995 at the late, lamented Vegas World. No show business royalty in the audience. Just Stephen Eich and his friends, "drunk in the back: 'Would you please sing Johnny Mathis?' "
In one sense, Eich was just another of the countless people who would "just come back to Vegas on and off and just check out where Bob was."
On the other hand, Eich was the longtime managing director of Chicago's Steppenwolf Theatre Company. He first saw Anderson around 1986 — near the end of his long run at the Top of the Dunes, where he had reigned since 1977 — because Steppenwolf alumnus Dennis Farina was shooting the "Crime Story" series in Las Vegas.
As both a fan and a theater pro, Eich is now uniquely qualified to aid the impressionist's most ambitious venture in years, "Frank — The Man. The Music."
Anderson is setting aside the cabaret act of impressions that served him well, but with diminishing returns, since the early 1970s. He had the good sense not to attempt impressions of Michael Jackson or Bruno Mars. But that resulted in a mostly aging fan base. In 2002, Anderson moved his base of operations to the seniors vacation mecca of Branson, Mo.
Any return to the Strip had to be big.
And so, "Frank," a full-length Sinatra impression, in elaborate makeup with a 32-piece orchestra, launches Saturday in the Palazzo Theatre that most recently hosted the production show "Panda!"
"What a daunting task to take on Frank Sinatra and even pretend that you can be him," Eich says of the production he is directing.
"There has to be some theatricality to it to take it to where we want it to go. Otherwise it's just another guy doing an impression of Frank Sinatra," Anderson says of recruiting Eich for the venture, which is financed through investors Anderson assembled as Hoboken Productions.
Still, the theatricality here is subtle, says Eich, who describes his role as "kind of another eye." This isn't Hal Holbrook doing "Mark Twain Tonight."
"He's not talking about Ava Gardner or Kennedy, he's talking about the music," Eich explains. "We wanted it to be humble and we want it to be authentic, and we didn't want it to go into the hack kind of shows that, with all due respect, you've seen people do here. Bob's met Sinatra. Sinatra admired what Bob did. There's nothing but respect in this."
Audiences will nonetheless see more pace and production design than in the May showcase that sold Venetian officials on its viability. The orchestra helmed by veteran arranger Vince Falcone is parked on a supper club set, and there are side visits to a saloon and a Capitol Records recording session.
But much of it rests on the still-trickiest part, the elaborate prosthetic makeup designed by Kazuhiro Tsuji, who usually works in film, not theater. It's the part Anderson and Eich are the least enthusiastic talking about.
"We're finding a way to make it really work for him. Make sure he can sing through it with no impediment," Eich says.
Anderson says it's a necessary battle. "Listen. I'm the first one to say I don't think I'm the draw in this show, I think Frank Sinatra is. They want to see a Sinatra thing. So if I come out and I don't look like Sinatra, they're gonna get up and split."
The makeup isn't the only challenge. Anderson has done short-burst impressions of Sinatra for his entire career, but a full-length show is another story.
"Doing him is the toughest impression there is to do," he says. "First of all, he doesn't have anything to grab onto in his voice. Tony Bennett's up in the sky here," he says slipping into Bennett's trademark hipster rasp. "Robert Goulet is at the bottom," he says in deep baritone. "Dean Martin is such a caricature of himself," he adds in the voice of tipsy Dino.
"But Frank Sinatra was right down the middle. Nothing you could grab onto and make your voice sound like Frank Sinatra." One reason why "every other major star would all say he was the best."
So, this ambitious, expensive venture all rides on Anderson's ability to look and sound like a one-of-a-kind legend. No pressure there.
But Anderson says he is trying to apply a Sinatra-like "nice 'n' easy" zen to it all.
"I'm going to go out and enjoy it. I'm going to go out and have a good time. … I'm going to try to be as relaxed as I can and just be Sinatra having a good time in some nightclub saloon somewhere with a band."
Contact reporter Mike Weatherford at mweatherford@reviewjournal.com or 702-383-0288.
Preview
"Frank — The Man. The Music."
8 p.m. Tuesdays-Saturdays, opening Jan. 24
Palazzo, 3325 Las Vegas Blvd. South
$71.50-$176 (702-414-9000)