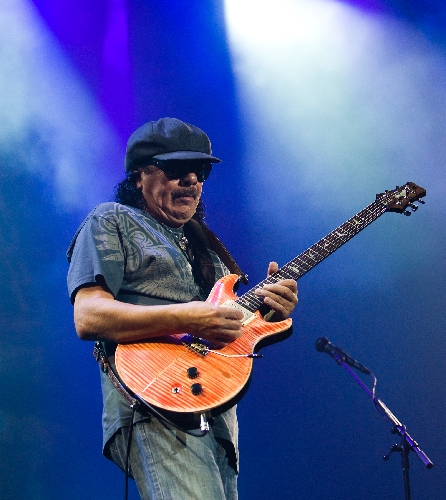 Carlos Santana says he feels better than ever as a newlywed married to drummer Cindy Blackman, who performs with him on tour and at his Hard Rock Hotel gigs.
"Married life is fantastic," he says. "With respect to my family and my ex, I don't think I have ever felt so alive and free, and invigorated.
"I'm 63, but I feel like I'm 14 going on my first date, playing hide-and-seek and spin-the-bottle and all that stuff."
Santana and Blackman wed in December. Then off they went on the road, performing recently in New Zealand, where he chose to play tennis with her over other available excursions, including bungee jumping and getting tattoos.
"I feel really grateful to find a person that has the same or similar passions of Miles Davis and Wayne Shorter, Tony Williams and Herbie Hancock," he says.
"We love the same things. It's never boring."
All he has to do to feel her energy is to look in her eyes.
"And then I feel gravityless, and ageless, and stressless, and issueless," he says and laughs joyfully.
He believes romantic happiness happens only when people accept their willingness to be vulnerable.
"If you're not into being vulnerable, you can date all you want to in computer dating, but you're not going to get" anywhere, he says.
He also has something else deep to say, to blow your mind a little.
"You attract who you are — not what you want or what you need."
Whoa. That's a tasty thought.
"People make a lot of money with computer dating, but it's a deception, because you're always going to attract who you are — not what you want or what you need."
Santana wraps up a Hard Rock residency with shows Wednesday, April 22-24, 27, 29-30 and May 1.
When people go and hear his band, it will make them better at sex, he thinks.
"The energy of timbales and congas and guitars and Hammond organ is very conducive to the spiritual, sensual orgasm," he says.
"Santana music helps you to arrive faster at reaching a … totality in emotions and sensations."
Some people might think he's being "gross" by saying so, he says.
But sex is like food, a necessary "gift from God," he believes.
"If you're not having it, you're not a happy person. It's part of being alive. It's part of your constitution. If you deny any of those things, then you're a really frustrated, angry Catholic," he says, laughing again.
He especially thinks women who listen to Santana "open up" and tear down their "Great Wall of China" fears.
"Love is open. Fear is a fist," he says. "You can't shake hands with a closed fist, man."
"When you're in a state of grace, or totally in love, or engulfed with romanticism — all of a sudden, there are different priorities. That's what we like to do to elevate music."
As always, he says his music is "the sound of collective consciousness" that aims to remind listeners at concerts they are "significant and meaningful."
"You already have it (inside you). Just sit down, take a deep breath, and you'll feel it," he says. "All you need to do is get (to the concert). We'll do the rest."
Doug Elfman's column appears Tuesdays, Thursdays and Fridays. Contact him at delfman@reviewjournal.com. He blogs at reviewjournal.com/elfman.