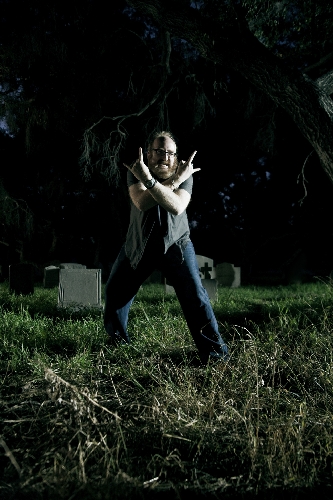 Maybe you've been unsettled by all the dead birds falling out of the sky around the world. You're not alone. The comedian (and metal-music nerd) Brian Posehn wrote on his Twitter page:
"Not sure what to think of all the dead birds and fish, other than how METAL it is."
That's hilarious, so I asked Posehn — who performs stand-up today at Sunset Station — to assess the "metal" mettle of the past three presidents.
Is President Obama "metal"?
"No, not at all," Posehn says and laughs.
"(Bill) Clinton was metal, because he didn't give a (expletive). Clinton was Pantera. We had Pantera in the office for eight years, and nobody knew it, except for me."
What about George W. Bush? If Bush were a metal band, what band would he be?
"Nickelback!" Posehn says, and laughs at his own joke, because seriously, that's funny.
"I think that's pretty on-the-nose," he says.
OK, but what band is Obama?
"Hmm," Posehn says. "God, that's a tough one. What band is Obama? I'm not that impressed by Obama, really. I wanted him to do great."
"Oh," he says. "He's a sellout. He's Fall Out Boy!"
GAY SANTA
You know Posehn's voice and face from three TV shows in particular. He was mail clerk Kevin on "Just Shoot Me." He wrote for and co-starred in HBO's "Mr. Show" with David Cross. And he played a gay man in a gay relationship on the canceled "The Sarah Silverman Program."
I ask, "Do you miss being gay on 'The Sarah Silverman' show?"
"Definitely," he says. "It was like a family from day one," because Silverman hired friends for the main roles.
"Sarah makes me laugh harder than anybody I know. We were laughing sometimes when we weren't supposed to be. People would have to come shoosh us, because we were just being friends and being jackasses" on the set.
Posehn, who's married to a woman and has a kid, didn't portray the typically extravagant gay character.
"If you watch TV, they (gay characters) are always broad, and they have nice apartments, and they take care of themselves," he says.
The main gay characters on "Sarah Silverman" were "big schlubs," he says.
He and his TV husband were fat, messy, into football and video games, smoked pot and talked with no lilt.
For the first few episodes, even some crew members on the show didn't know Posehn and actor Steve Agee were supposed to be a gay couple, but thought they were just buddies.
Posehn hoped the Gay & Lesbian Alliance Against Defamation would give them an award of some sort, but he never heard from GLAAD.
However, the gay channel LOGO named "Sarah Silverman" "the best show you're not watching," and reran episodes after they had run on Comedy Central.
The feedback Posehn got from gay people was incredible.
"There are (gay) guys that look like me, because I've had them come up to me and say how happy they are to be represented on TV," he says.
"I was in San Francisco, and I finished this stand-up show, and this guy comes up, and he looks like me. He's heavy. He's balding. He's got facial hair and glasses.
"He goes, 'Hey man, I play video games, I smoke pot, and I listen to heavy metal — and this is my husband.' And he points to this guy that looks like Santa Claus."
And, naturally, a few guys came on to Posehn.
"I've had the guys disappointed that I'm married to a lady — or at least feign disappointment."
NOW HE'S A CARTOON ROBOT
Posehn's newest gig on TV is doing the voice-over for robot hero Octus on Cartoon Network's "Sym-Bionic Titan."
"Friends with little boys are calling me going, 'Oh dude! My kids and I are watching your show. I didn't know you were on it.' "
Posehn has done lots of animation voice-overs, for "Mission Hill," "Aqua Teen Hunger Force" and "Out of Jimmy's Head."
"Titan" is just a cartoon, maybe, but it flashes moments of great beauty and the unexpected laugh, largely thanks to writer-director Genndy Tartakovsky, who also helmed "Powerpuff Girls," "Dexter's Laboratory," "Samurai Jack" and "Star Wars: Clone Wars."
"If you're into animation at all, that guy is one of the best guys working," Posehn says.
"When it first started, I was like: It's kind of a kid show. But the episodes just got better and better. The scripts have been great."
Also, since Posehn's Octus character is a robot, he is metal! Actual metal.
Although on the downside, Octus is not gay, bearded like Santa or high on pot.
Doug Elfman's column appears Sundays, Mondays, Tuesdays and Fridays. E-mail him at delfman@ reviewjournal.com. He blogs at reviewjournal.com/elfman.
Preview
Brian Posehn
8:30 p.m. today
Club Madrid at Sunset Station, 1301 W. Sunset Road
$23 (547-5300)