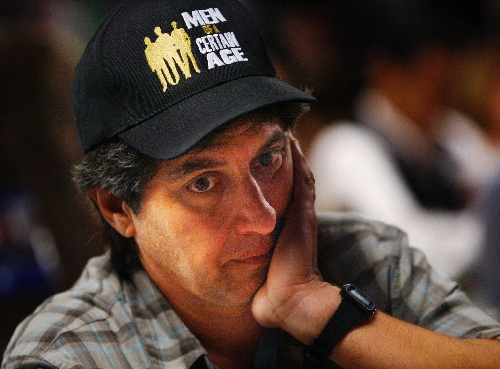 When Ray Romano was younger, he gambled so much, he ended up going to Gambler's Anonymous. He still makes wagers, but mostly in his head. He calls them "mind bets."
"When I golf," he says, "I'll make a mind bet of a certain score. If I don't beat it, I can't watch TV that night. Or for two days, I can't watch TV or golf."
Mind bets are terrifically rewarding, he says.
"It's like I've got a million dollars on the round when I'm standing over that putt."
He also plays craps with other people's money, specifically with the cash of comedian-actor Jon Manfrellotti — who opens for Romano today and Saturday at The Mirage.
"Jon gives me money to gamble for him. So I'm kind of a surrogate gambler."
And Romano plays in Vegas' World Series of Poker, with the ante supplied by sponsors. This year, TNT put up $10,000 to sponsor him, to promote his TNT show, "Men of a Certain Age."
"It was weird. I was wearing a 'Men of a Certain Age' hat (at the World Series of Poker) a week before we got canceled."
Yes, that's right. Raymond's TNT dramedy got axed this summer — immediately after the show won TV's highest honor, the Peabody Award for broadcasting excellence.
Romano says he and show co-creator Mike Royce have worked "24-7" for the last four weeks, trying to convince another network to run "Men of a Certain Age."
But it's not going to happen, he says.
"Networks — especially like a Showtime or an AMC — they want their branding. They want to create the show. They don't want a show that's been brought to them, because where's the creative credit in that?
"And our show is budgeted a little too high for some of those smaller networks," he says.
He's not bitter at TNT.
"TNT was good to us. They let us do our thing," he says. "TNT welcomed us when other networks didn't."
"Men of a Certain Age" just couldn't fight low ratings anymore.
"Who am I to say, 'Even though you're losing money, you should still have it on?' It's easy to say when it's not your money."
So that's that.
Romano, 53, is eager to start a new project. He was miserable during the four years after "Everybody Loves Raymond" went off the air.
He compares working in TV to the toils of Sisyphus, the Greek mythological king who rolled a boulder up a hill every day only to see it roll down afterward. But he says being Sisyphus is a good thing.
"I'm less miserable doing a show than not," Romano says. "It zaps every ounce of energy you've got, and it's frustrating. It's pushing the rock up the hill. But at least you're doing something.
"I wish they would start the Peabody Network. We could find a home" there, he jokes.
For now, he's back in Vegas doing stand-up. If you know his stage material, you know Romano has joked for years about marriage and married sex.
Well, he and wife Anna will celebrate their 24th anniversary in October. I asked him why he never divorced, as so many men do (especially celebrities) when sex fades.
"You can't let sex be the sole reason for getting married. Not that it goes away, but the shine comes off of it after a while. You can keep it alive. You can reshine it. But there's gotta be more" to a marriage, he says.
When "Everybody Loves Raymond" was about to debut in 1996, he teased Anna that she should be grateful for being married to him. He told her that he and Kevin James were coming to Vegas to celebrate the premiere of "Raymond."
"She was home with the kids in Queens — three little kids. The last thing she wants to hear is, 'I'm gong to Vegas to celebrate.' "
She was not super-happy about it.
"She was giving me a little lip."
He "playfully" kidded her, "Hey, do you realize you're talking to a guy who's got a show debuting? Millions of people are going to watch me tonight. Do you realize who you're talking to right now?"
Anna quipped, "You're still the dick I married."
Romano laughs when he retells that story.
"That's what has kept it real the whole time. As long as you realize you're the dick she married, it'll work out," he says. "Every morning, my wife gives me clean clothes and an apple, and I'm happy."
Now that "Men of a Certain Age" is gone, though, Anna wants to use their free time to travel to other countries. That doesn't sound awesome to him.
"So that's why I've got to get another job quick," he jokes. "Otherwise, I'll be flying all over the place."
Doug Elfman's column appears Tuesdays, Thursdays and Fridays. Contact him at delfman@reviewjournal.com. He blogs at reviewjournal.com/elfman.
Preview
Ray Romano
10 p.m. today and Saturday
Terry Fator Theatre at The Mirage, 3400 Las Vegas Blvd. South
$95.49-$117.49 (702-792-7777)