Comedian's personal debts tied to closure of long-running Flamingo show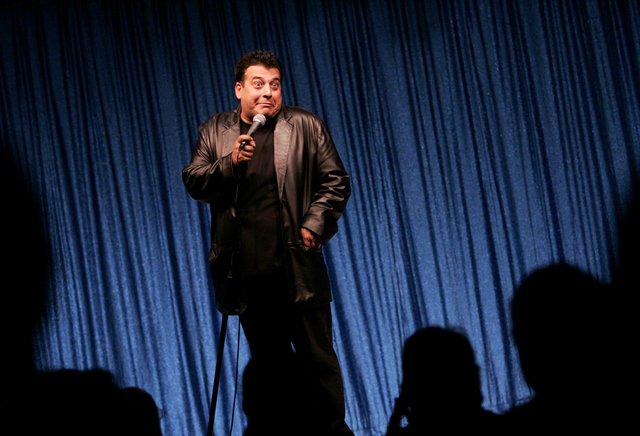 Comedian Vinnie Favorito's long-running show at the Flamingo came to an end last weekend, following an employee's complaint related to a history of litigation involving personal loans.
The insult comedian who worked off the cuff, personalizing each show with audience interaction, had headlined Bugsy's Cabaret at the Flamingo since August 2008, and before that at the adjacent O'Shea's since late 2005.
Caesars Entertainment confirmed Favorito's show closed Saturday, but had no comment on the reason. "We have enjoyed having Vinnie entertain audiences at the Flamingo for the last ten years, and we wish him the best of luck on his future endeavors," Caesars Entertainment said in a statement.
"Caesars and I both agreed it was better to move on and I think they understand financial problems do occur," Favorito said by email Wednesday.
"(W)e all go through things," Favorito said in lightly punctuated email exchange. "I didn't do drugs I didn't kill anyone I had financial issues and once the IRS puts a hold on you its hard to take care of other things."
Favorito was not a direct employee of the Flamingo but, like many performers on Caesars Entertainment properties, performed as a tenant through an outside producer.
Favorito's producer, Bill Voelkner, said Tuesday that the show closed because he received a letter from Caesars Entertainment giving two weeks notice. He said he had no plans to move the show and declined further comment, saying "I am no longer involved with Vinnie."
A Flamingo employee confirmed Tuesday that she had complained to the hotel's human resources department within the past month. In 2013, Loralee Main-Ford received a judgment from Henderson Justice Court confirming Favorito owed her $7,567.
Favorito said by email he has repaid $1,000 of that "and told her (I) had to fix IRS first and she chose to put it out there."
Main-Ford confirmed that he had repaid $1,000, but said she took her complain to the hotel's human resources department because she learned Favorito was asking other employees for money.
"I wish I would have done it a long time ago. It's really sad what he's done to people," Main-Ford said. "At this point I'm not the bad guy. He owes a lot of people money."
Asked if a gambling addiction contributed to his financial woes, Favorite responded by email, "It's Vegas most people gamble here yes I've gambled since I'm a kid but my mistakes came when I tried to look for shortcuts for the IRS. Bottom line is I have a family that I love and decided to get my life on track legally and that is what I'm going to do.
"But one thing I do know is whatever property I reopen my show on is going to do very well," he added of having met with four properties about reopening his show.
Personal injury attorney Edward Bernstein is among those who have gone to court for unpaid loans. Bernstein loaned Favorito $15,000 in 2012, with an agreement that Favorito would pay it back in two months, plus another $10,000 from the comedian's merchandise sales.
Bernstein said Tuesday that Favorito said he was using the loan to buy equipment to generate on-the-spot CDs of his shows. Bernstein said he had been paid back some of the money each month through garnishments.
"I don't know if I'm going to get paid back now," Bernstein said Tuesday after being told the show had closed.
Court records show the late Caren Petrella sued Favorito in 2013, claiming he owed her more than $60,000 she had loaned him between 2009 and 2012. Petrella (also known by her married name of Caren Righetti) died in June at age 81, her attorney's office confirmed Wednesday.
Michael Tague, a neighbor of Favorito, says he is still owed $60,000 after loaning the comedian $109,000 since 2006. Tague said Wednesday that for 18 months he was receiving $1,000 a month from Voelkner before Voelkner ended the payments without explanation.
Tague said he believes $20,000 of the money he loaned Favorito was used to pay down the loan from Patrella.
Richard E. Dural also won a default judgment against Favorito in District Court last year for three personal loans adding up to $15,000, plus an agreed additional amount, interest and attorney fees totalling $20,783. Another court document from June 2014 stated Dural had recovered $176 from CD sales.
Andy Walmsley, a production designer whose credits include "American Idol" and "America's Got Talent," said Tuesday he loaned Favorito $5,000, but was able to get repaid by Voelkner after threatening to put up a billboard about the problem.
"As far as debt goes one way or the other it can and will be fixed," Favorito said by email. "People can be bitter and I totally understand. But this is why I'm starting with a clean slate.
"The best thing is my fans they are reaching out to me every day and I love them for that. I have already been in meetings and by May I will reopen on another property and won't look back because my following is so loyal."
Read more by Mike Weatherford at bestoflasvegas.com. Contact him at mweatherford@reviewjournal.com.