Comedy daredevil joins the roster of 'America's Got Talent' alumni on the Strip
October 24, 2016 - 10:32 am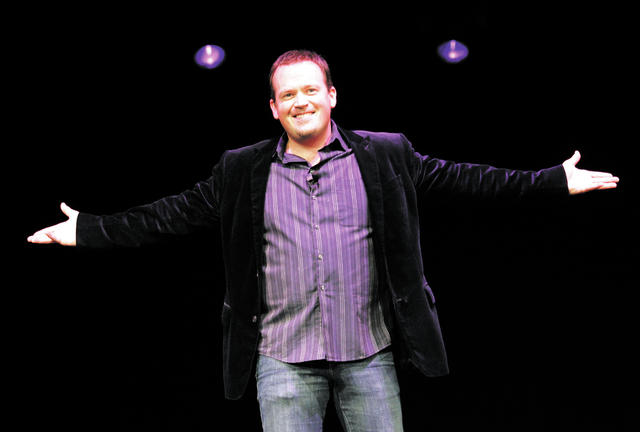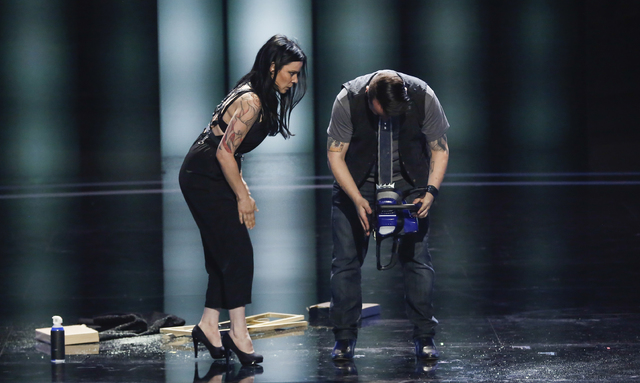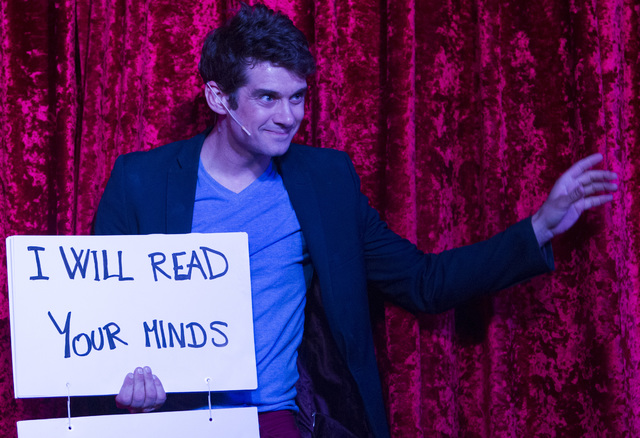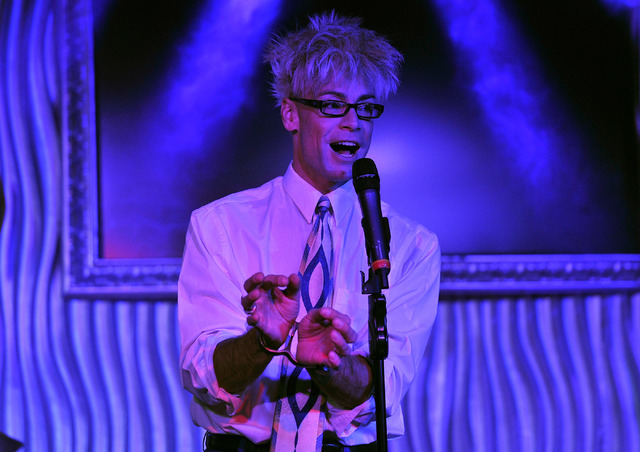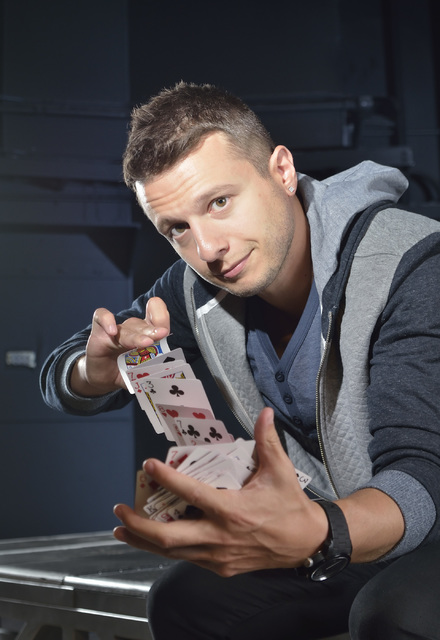 When AmberLynn Walker accidentally shot her partner Ryan Stock in the neck with a flaming arrow on live TV, NBC executives were understandably concerned.
"They were telling me to get into an ambulance. They had psychiatrists talking to Amber," he recalls.
But all the couple wanted to do was see the footage, to figure out what went wrong after four rehearsals earlier that day.
After all, Stock routinely "got shot with stuff" as the star of a Discovery Channel show called "Guinea Pig." He can take a punch, or a Taser. A flaming arrow is rubber-tipped, so it merely "hits hard and bruises," he explains.
Once they could breathe easy knowing "Amber didn't mess up," she says with a laugh (the notch holding the arrow broke and sent it sideways), the two started to realize how many people were watching the footage, which is now up to 5.6 million views of the official version alone.
"We went, 'OK, this might not actually be a bad thing,' " Stock says.
"My mom calls and goes, 'This is the best thing ever!' " Walker adds with a laugh.
It can't hurt the new "Comedy Daredevil" show at Hooters Casino, which does offer dangerous but repeatable stunts — "If the show goes right, there's no blood," Stock says — but retains the Canadian duo's chemistry.
"They're really engaging as performers," "Talent" producer Sam Donnelly notes. "Unlike a lot of these more sideshow acts, they have a lot of fun banter. It wasn't just gross-out, there was another element to them. I think what works on our show is when things have another layer."
The new show joins these "America's Got Talent" performers currently on the Strip, listed in order of their appearance:
Nathan Burton: After competing on the Wayne Newton-hosted "The Entertainer," the comedy magician serendipitously opened his first solo-billed magic show just as "Talent" debuted in the summer of 2006. He still works afternoons at the Saxe Theater in the Miracle Mile Shops at Planet Hollywood. ""It definitely helped me in the beginning when I didn't know what I was doing," he says. "It definitely sold me a million dollars worth of tickets."
Terry Fator: The Mirage's ventriloquist was booked into the Las Vegas Hilton by the time he was named the Season 2 winner in 2007. Fator probably could have self-financed a Las Vegas show before "Talent" but wasn't desperate. He had told himself, "I don't want to have to climb my way up the ladder in Las Vegas, because I'd already climbed my way up in corporate (shows) and in fairs. … I just was tired of having to do that," he explained in 2007.
Recycled Percussion: The comedic acrobats and drummers settled on the Strip as part of a packaged revue of "Talent" winners from Season 4 in 2009. They have forged on in several venues and are currently at the Saxe Theater at Planet Hollywood's mall.
Murray: Comedy magician Murray Sawchuck lost to fellow Las Vegan Michael Grimm in Season 5, but the real breakout star turned out to be young "popera" singer Jackie Evancho. Murray opened a solo-billed magic show seven months later and currently performs in the Sin City showroom at Planet Hollywood.
Mat Franco: The magician's 2014 victory came with the bonus of a big launch for his Las Vegas show, thanks to a tie-in NBC special, "Mat Franco's Got Magic." His show at The Linq survived a brutal year for Las Vegas entertainment.
Piff the Magic Dragon: The British comedy magician lost to ventriloquist Paul Zerdin in Season 10 but outlasted Zerdin on the Strip, adding extra irony to billboards and a Penn Jillette voice-over branding Piff as "the loser of 'America's Got Talent.' " "America is a country built for winning. England is a country built on losing. We love it," Piff explains. "But over the last year people have come around to it." Piff performs Mondays through Wednesdays at the Flamingo, then hits the road for the rest of his week.
Xavier Mortimer: Despite a fairly poor showing compared to Piff and Paul Zerdin in Season 10, the French mime and magician charmed audiences enough to land in the small Planet Hollywood theater he shares with fellow alumnus Murray.
Read more from Mike Weatherford at reviewjournal.com. Contact him atmweatherford@reviewjournal.com and follow @Mikeweatherford on Twitter.
RELATED
'America's Got Talent' has been a boon to Las Vegas, but it's a two-way street