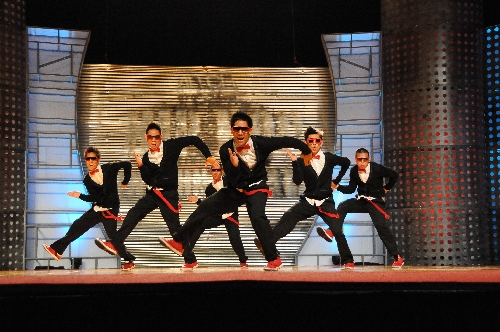 Imagine the Olympics — the world-class athletes, the fans in the crowd waving their countries' flags, the awarding of gold, silver and bronze medals to the winners as their national anthems play.
Now, imagine all of that, but back it all up with a hip-hop soundtrack and replace the soccer players or distance runners with dance crews decked out in their street-flavored finest.
That'll give you an idea of what Sunday's World Hip Hop Dance Championship finals at the Orleans Arena will be like.
Scheduled to participate are dance crews from 36 countries, as well as crews from the United States that earlier this week earned spots in the world championships by winning medals during the U.S. finals in Las Vegas.
Among those U.S. medalists are The Prodigy, a Las Vegas crew of 7- to 12-year-olds who Tuesday won the gold medal in the event's Junior division, making them the first Las Vegas crew to win a U.S. championship. At noon today, they will compete in world preliminaries at Red Rock Resort in hopes of making it to the world seminfinals on Friday and then the world championship on Sunday.
This year marks the world event's 10th anniversary and the fourth year that Las Vegas has been the host city for the championships. Howard Schwartz, co-creator of the event, said last year's slate of events drew about 5,000 fans.
One key to the continuing popularity of both the championships and hip-hop/street dance itself is the diversity of the art form, Schwartz said.
The crews that will compete in this weekend's world finals have already won competitions in their own countries, he said. In many cases, the crews have incorporated into their routines touches of their own countries' dance styles.
That is "what's so fun" about watching the world championships, Schwartz said.
"Dancers will spend up to a year just creating and fine-tuning their routines. So when they get here, it's not just something that's thrown together. It's something they've worked very hard on for a very long time."
Medals tbe awarded to first-, second- and third-place winners in three age divisions.
"This is very popular entertainment worldwide and, amongst the hip-hop dance culture, to win it means so much for the dancers," Schwartz said.
The competition's international nature also helps to heighten the emotional significance of winning a world championship title, Schwartz said.
"It's very much like the Olympics of hip-hop. To see these kids stand on that riser and have it be announced that they just won the gold medal, and Boogaloo Sam or another icon (of hip-hop dance) places the gold medal around their neck as their national anthem plays, is something that's extremely special, and everybody in the audience gets choked up."
Sunday's world championship finals will mark the climax of a weeklong series of events that includes last weekend's U.S. championships, as well as: "Urban Moves" workshops at Red Rock Resort, 11011 W. Charleston Blvd., Saturday and Sunday where the public can learn from noted choreographers and performers; "World Battles" in popping, locking and all-styles Saturday at Red Rock Resort; and the World 3-on-3 B-boy/B-girl battle Saturday at Red Rock Resort.
Also scheduled during Sunday's world championship finals is presentation of the 2011 Living Legend of Hip Hop award to Randy Jackson, executive producer of "Randy Jackson Presents America's Best Dance Crew."
"We present this award to a man or woman who has done much to elevate street dance and music in its growth and ability to go beyond where it was," Schwartz said.
Past honorees include MC Hammer, Boogaloo Sam, Toni Basil and Don "Campbellock" Campbell.
Although many viewers probably associate Jackson with his judging duties on "American Idol," Schwartz said that, through the MTV series, Jackson has raised the profile and heightened the popularity of hip-hop dance in America.
Also scheduled for Sunday's world championship finals are performances by Poreotics, the California-based group that won the Adult division gold medal at last year's U.S. championships, and the New Jersey-based ICONic Boyz, a crew of dancers ages 10 to 13 who, Schwartz said, have "become almost (Justin) Bieberesque in their success."
Full information, schedules and ticket prices can be found at the event's web site (www.HipHopInternational.com)
Contact reporter John Przybys at jprzybys@review journal.com or 702-383-0280.
Preview
What: World Hip Hop Dance Championships
When: 7:30 p.m. Sunday
Where: Orleans Arena, 4500 W. Tropicana Ave.
Tickets: $25-$59.50 (284-7777 or
HipHopInternational.com)