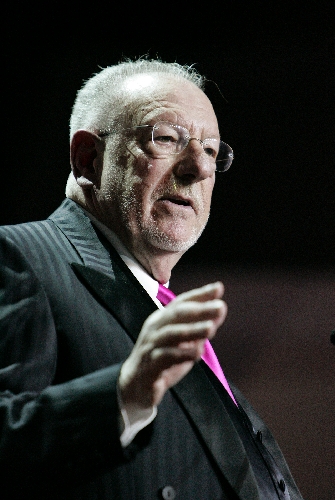 DJ-producer Deadmau5 on Monday announced a year residency at Encore Beach Club and XS nightclub, starting Jan. 2.
Kim Kardashian has been announced as the celebrity host for New Year's Eve at Tao. And Fergie will launch the new 1 Oak club at Mirage, taking over the vacated Jet space.
So this is interesting: Deadmau5 (Joel Zimmerman) might not be a household name to those of you who avoid the Strip. But he's bigger news than Kardashian by far.
On the Strip, he and DJ-producer Kaskade (along with many other DJ-producers) are the new kings of clubs. They can rake in more dough (often six figures) than Kardashian (the faded royalty of clubs) and other more famous people, because club revelers pour into hot spots to see DJ-producers, more than they do to see TMZ faces accused of faking their own marriages.
Recently, when Deadmau5 played XS, people ponied up $20,000 for floor tables. And there's a complicated tale about a rich guy who offered Deadmau5 $100,000 to spin one Bon Jovi song.
Deadmau5 is a massive producer of his own hits, most iconically "Ghosts N Stuff," plus two collaborations with Kaskade: "Move For Me" and "I Remember."
He can at times come across as a tortured soul.
"i feel like i've had the best highs in life," he wrote on Twitter this weekend. "even too high. being happy making millions happy. and the lowest lows. nothing in between."
The 30-year-old Canadian made the announcement on Facebook, saying he was "so glad" to have a residency in Vegas, "my second home."
The Wynn already has a comic video commercial running at RollingStone.com, portraying Deadmau5 at a Wynn job fair, then failing as a dealer and lifeguard, and making snow angels on golf course sand.
"All of the Sinatras and Rat Packs are now DJs," Rolling Stones quotes Deadmau5 as saying. "I've heard Vegas is going to be the next Ibiza (Spain), but it's its own thing. Here it's all about flash and show and lights."
OSCAR ON 'NIGHT COURT'
Our Vegas mascot, Oscar Goodman, announced Monday that he'll be filming a TV pilot for "Vegas Night Court with Oscar Goodman," starting Friday.
The show is being produced by the people behind "Judge Judy" and "Pawn Stars."
Oscar will preside over "real" cases, supposedly, on a court onstage at the Las Vegas Hilton in the Elvis Presley Showroom.
First of all, when I heard the words "Night Court," the theme song from NBC's sitcom of the same name popped into my head. So please, Oscar, use that theme song! Maybe even try to get Harry Anderson and John Larroquette to drop by?
Second of all, Oscar will have a martini at the beginning of each show. Bravo.
Obvious questions: How will producers find cases to stage? And will admission be ticketed, free, or what? Answers are still up in the air.
SIGHTINGS
"Extra" co-host Maria Menounos put on a scant outfit to perform Saturday at the Pussycat Dolls Burlesque Saloon at Planet Hollywood. Norm Clarke reported this Monday, but it's worth repeating today just so you can see this photo of the entertainment journalist who has interviewed presidents. … Pauly D went to club Haze on Saturday and headed Monday to Deuce Lounge at Aria, both times with TV cameras following him.
Doug Elfman's column appears Tuesdays, Thursdays and Fridays. Email him at delfman@reviewjournal.com. He blogs at reviewjournal.com/elfman.