Ex-'Seinfeld' star Jason Alexander explores stand-up comedy – with hair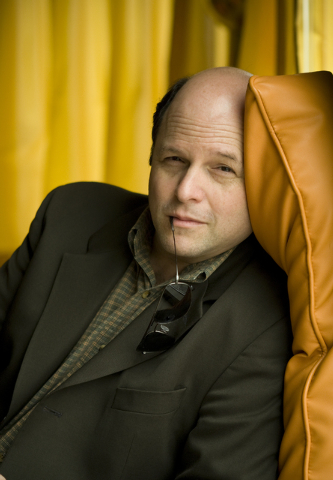 Sure, Jason Alexander could have phoned up Jerry Seinfeld for some stand-up advice.
Plenty of other big-name comedians too, any number of them with more experience behind the comedy club mic than the actor whose pre-"Seinfeld" background was in theater.
But when Alexander decided to become a stand-up comedian, he had some good reasons to ignore the resources at his disposal.
First, Seinfeld's voice is pretty unmistakable.
"If Jerry helps me, I'm going to come off sounding like Jerry," says the guy who sat across the diner table from him for nine TV seasons.
"When I'm doing a theatrical piece or a film, there's a whole team of people you collaborate with. But the very nature of stand-up is that it's you. It's your sensibility, it's your personality, it's your priorities," he says. "If you start batting it around a table like a writer's room at a sitcom, it's not going to come out as you."
Plus, Seinfeld doesn't sing or play the piano.
Alexander says he will stretch the definition of stand-up in the long-form showcase called "An Evening with Jason Alexander and His Hair," which settles into Harrah's Las Vegas for a four-week run starting Friday.
"Some of it is biographical, some of it is observational, some of it is character-based and some of it is interactions with the audience," he says. "It's a little more of a variety show than just your standard, straight stand-up show."
Locals may recall Alexander giving this Vegas thing a run a couple of times before. Perhaps the city is irresistible to a guy whose chief passions are poker and magic.
But in 2010, it was a high-concept vehicle with Alexander in the guise of Donny Clay, a not-so-trustworthy motivational speaker. The parody of a Tony Robbins seminar was a groundbreaking idea on the Strip, which also made it very hard to explain.
If you see Garth Brooks' name on a billboard, "you know what you're in for," he says. "If you see Jerry Seinfeld, you know what you're in for. But if you see 'Seinfeld's Jason Alexander' … OK, I'm with you so far … 'as Donny Clay' … well now your head is exploding. We had a very hard time explaining what our show was in a way where the audience could grasp it."
Alexander loved doing the shows though. His first love is theater — he hopes to be in a Broadway show he can't yet talk about this fall — but didn't want to commit to the grind of eight shows per week while his two children were growing up. These live shows for casinos and corporate audiences seemed the perfect compromise.
Finally, his agent asked, "Why do you have to be a character?"
And Alexander gave an honest answer about going out under his own name. "I'm afraid. I don't want to go out here and say, 'It's me, I'm a stand-up comic now.' It's a very high bar, and I just don't feel I could be competitive there."
His agent's reply: "I'm not gonna accept that as an answer."
"And he started booking me for corporate gigs," until the material and Alexander's comedic voice both became "killer good" last summer.
Some of the "Donny Clay" material is carried over, however, along with the fact that Alexander wears a toupee (hence, the title).
"Most people know me as George," the 54-year-old says of the TV character he will always be synonymous with. "They're going to expect the George persona, or expect me to talk about things George would talk about. I had to get them off that."
Casting directors have the same predispositions, so Alexander started wearing a hair piece after he lost a couple of film roles. "I got rankled by that," he says. "I put on some hair to rattle them, and I started having fun with it. It became a way to change the audience's impression. … They don't know what it's going to be, but they know it's not George."
He says the stage show isn't entirely Jason Alexander either.
"The truth is the real me would not be getting up on a stage to do stand-up. The real me would rather be talking about cultural issues and politics and things that are a little weightier."
But he hasn't earned that liberty as a comedian. Again, he wasn't a stand-up in his pre-"Seinfeld" days, but landed Broadway roles in the musical "The Rink" and in Neil Simon's "Broadway Bound" in the early '80s.
"I am thought of in New York as a chameleon actor. That's what I want to go back to. I don't want to do something obvious."
Not even a high-strung, George-like role like the con man Max in the Mel Brooks musical "The Producers," which Alexander did in Los Angeles. "By the way, when you get a little older? Those hurt," he says. "They take a lot out of you."
Contact reporter Mike Weatherford at mweatherford@reviewjournal.com or 702-383-0288.
Preview
Jason Alexander
9 p.m. Friday-Sunday
Showroom at Harrah's Las Vegas, 3475 Las Vegas Blvd. South
$39.99-$125 (702-777-2782).