Exhibit and shows are bringing Elvis back to the former Hilton
February 26, 2015 - 3:35 pm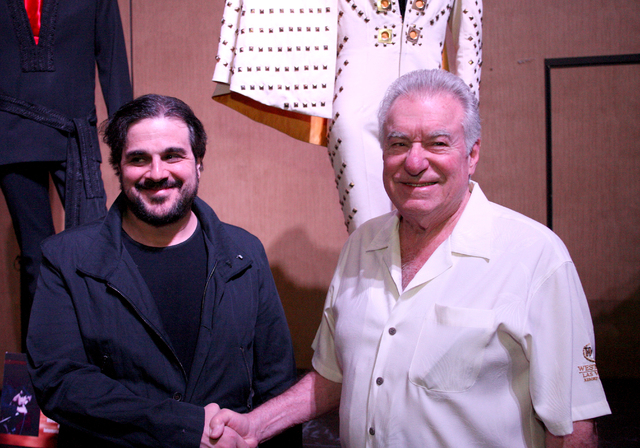 Proclaiming "Elvis is as much a part of this building as these walls are," Westgate Resorts chief executive David Siegel on Thursday launched a partnership with the keepers of Graceland to bring an Elvis Presley exhibit and themed shows to Westgate Las Vegas.
The first permanent exhibit outside of Presley's Memphis homestead will occupy 28,000 square feet of exhibit space in the convention area of the former Las Vegas Hilton, where Presley performed from 1969 through 1976.
The main showroom also is getting a face-lift to reopen, concurrently with the exhibit, on April 23. "The Elvis Experience" will be the first in a series of Graceland-produced shows to play limited runs in the venue. Renamed the Elvis Presley International Showroom, it will restore some of the booth seating taken out during a remodeling in the early 1990s.
The exhibit will carry a $22 ticket and will rotate artifacts with Graceland, where more Elvis-related memorabilia is stored than displayed due to space limitations, said Joel Weinshanker, the managing partner of Graceland Holdings.
The exhibit also will focus on Presley's Las Vegas years. After Presley opened The International Hotel (which later became the Hilton) to sell-out crowds in July 1969, his manager, "Colonel" Tom Parker, "renegotiated the deal on a huge tablecloth," Weinshanker said. "We're bringing the tablecloth."
The famous cutout sign advertising "Elvis Presley In Person" when he played the New Frontier in 1956 was on display behind the podium at Thursday's media event. The cutout will be displayed along with billboards and other outsized items which "from a space standpoint wouldn't fit (at Graceland), but we have ceilings five times the height," Weinshanker said.
Elvis Presley Enterprises also will operate a wedding chapel onsite.
"The Elvis Experience" features tribute artist Martin Fontaine and will have 24 musicians and eight singers to replicate an early-'70s Elvis show at the Hilton.
Beyond that limited run, "We're actively in production on four or five different shows," Weinshanker said. "Every show that we're doing will be done in Las Vegas first going forward."
Weinshanker's Authentic Brands Group acquired Presley's intellectual property rights and the operation of Graceland in 2013. It was a previous rights holder, Robert Sillerman's CKX Inc., which partnered with Cirque du Soleil for the ill-fated "Viva Elvis" show at Aria in 2010.
"Everything that we do is (based on) 'What would Elvis want?' " Weinshanker said. "I keep on feeling that if they would have asked themselves that question, that show would have never happened."
Thursday's media event was timed to fall on the same day as a 1969 publicity event in which Presley signed his contract to play the International and took a hard-hat tour of the property.
Many of the comments from Siegel, Westgate's president and CEO, and Mark Waltrip, the chief operating officer, compared their makeover of the former Hilton to the recent news that the Riviera would be demolished to make way for an expansion of the Las Vegas Convention Center.
Noting that Westgate resisted the same offer, Siegel said the hotel has "the greatest bones of any property in Las Vegas. It would have been a crime to have knocked it down as some people had planned to do."
It will take "a lot more money and a lot more effort to keep it open and keep all these people employed, but it's well worth it," he added.
It helps to be an Elvis fan. Siegel talked of owning the hotel as "my destiny" and of seeing Presley for the first of many times in 1970.
"I would sit there worrying about whether he was going to get sweat on me, because we were that close to his face," said the entrepreneur, who was profiled with his wife, Jackie, in an acclaimed but disputed 2012 movie documentary, "The Queen of Versailles."
Ironically though, "I never asked the Colonel to take me backstage, never met him. If I had a picture, it would be bigger than the one you see behind me," Siegel said of the 1956 sign.
Contact reporter Mike Weatherford at mweatherford@reviewjournal.com or 702-383-0288.