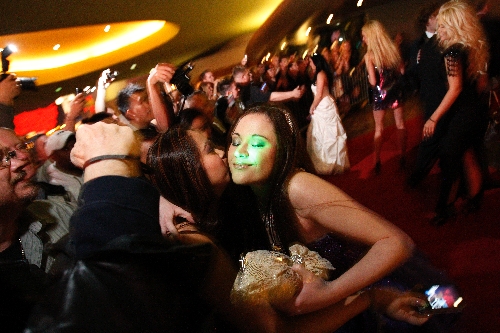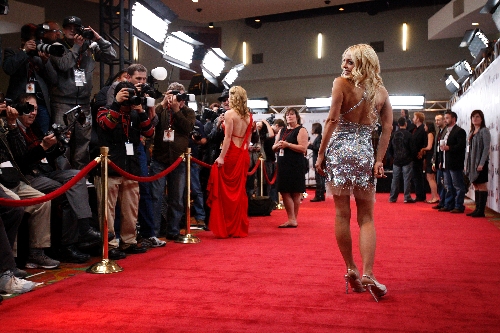 An unexpected thing happened at the porn awards this weekend. All these women porn stars kept telling me about their deep love for sci-fi TV and video games.
Raven Alexis, a stunning Las Vegan, stood before me in a custom latex red gown (tasteful), propped up on crutches (she fractured her hip, whoops!) and told me computers have become her "second passion."
"I play a lot of 'World of Warcraft,' " Alexis said with a glorious smile that radiated like a summer's morn, spreading across a field of daisies and … sorry, I got distracted.
But how did Raven Alexis — co-winner of Saturday's "Fan Award for Wildest Sex Scene" — get turned onto computers?
"I generally spend time working on my website and making movies," she said.
Aha. So working on a porn site and working at a computer video game go, apparently, hand-in-hand.
"It's the secret pastime of the adult industry," Alexis said. "We have to nerd out. Our regular life is so crazy, we have to go in a totally opposite direction."
If you're wondering if Alexis was just saying this to pique the gaming interests of male fans, wonder no further:
"What's up with all the 8-year-old kids" playing "World of Warcraft" online, she griped. "I'm like, 'Shouldn't you be reading or something!?' "
If you are a gamer, you will recognize that rant for what it is: The true lament of a real player.
The porn stars I talked to don't toy with offbeat games, but with big-budget mainstream titles.
" 'Call of Duty: Black Ops' is the best," said Tiffany Tyler, a PlayStation 3 player. "I love the zombies."
As if you don't know: The zombie level of "Black Ops" lets you portray dead presidents Kennedy or Nixon while slaying zombies at the Pentagon. It's rad.
New adult film actress Ela Darling, whose motto is to make "Pretty Porn for Smart People," did not lionize the zombie level of "Black Ops." However, she was a zombie bride in Vegas on Halloween 2009.
On Saturday, Darling was shaking with nerves, due to walking her first red carpet at an Adult Video News Awards at the Palms.
But she found comfort in making the acquaintance of like-minded actresses.
"A girl named Paris Kennedy is a huge 'Battlestar Galactica' geek like I am and also into 'Buffy,' " Darling said, shivering with anxiety.
"So here is this gorgeous amazing porn model — and total geek. It's awesome," she said.
Since "Buffy the Vampire Slayer" is my favorite all-time TV show, I quizzed Darling to judge her "Buffy" loyalty.
"I re-watched 'The Body' (episode of 'Buffy') last week. I cried my eyes out," she said.
Test, passed.
Bailey Jay, named "Transsexual Performer of the Year," attested that fantasy TV is a great escape.
"I watch paranormal TV shows, like 'Ghost Hunters' and SyFy channel, and 'The Twilight Zone,' " Jay said, nearly betraying the girly delicacy of her hair bow and fluffy faux-fur boots.
"I used to party and hang out with girls," she went on. "But all guys try to (bed) me, and all girls try to get under my skin, so I just stay home, play board games and watch SyFy."
Some adult actors are too involved with their online personas to do much more than squeeze money out of computers.
Look at Eric John. He's a porn star and former Boeing executive who married porn star Vicky Chase at the Adult Entertainment Expo last year.
The two of them don't have much time for TV or games. They spend their days broadcasting live images to paying customers.
"We're broadcasting 14 hours a day," said John, known for satirizing Principal Belding in "This Ain't Saved By The Bell XXX." "We're jamming all the time."
Other actors get as far away from computers as possible.
Jack Lawrence — you may remember him as the professor in "This Isn't Gilligan's Island"; Ralph Mouth in "This Ain't Happy Days XXX"; and Lt. Dingle in "Reno 911: A XXX Parody" — is a longtime race car driver who is training again for a 25-hour, guerrilla endurance racing. He drives a rear-wheel, 1,000- horsepower car.
"It's pretty quick," he understates.
Quite a few other stars, Jesse Jane among them, spend their spare time just being parents.
"I'm always at some sort of practice," Jane said. "So I'm at football practice, or baseball practice, or …"
As a result, Jane (who co-won the "Fan Award for Wildest Sex Scene") digs sports. Before Saturday night's red carpet, they could barely tear her away from the Palms sports book, where the close Jets-Colts game was coming to a close.
"I can't go to the red carpet yet. I'm watching the game!" she said.
Of course, many of porn's macho men live up to the manlier clichés of dorkiness.
"I'm like a 16-year-old boy. I play video games. I read comic books," Tee Reel told me.
Tee Reel, co-star of "Pop Goes The Weasel," also works in real estate. He's starting to direct movies, as well.
"I do a lot of things — and a lot of people!" Reel said.
But he wants to make something perfectly clear. Foremost, he is a porn star.
"It is awesome. Having sex with people, and getting awards for it? And money?"
Yes, that must be a dreadful life.
Doug Elfman's column appears on Mondays, Tuesdays and Fridays. Contact him at 702-383-0391 or e-mail him at delfman@reviewjournal.com. He also blogs at reviewjournal.com/elfman.
2011 AVN Awards red carpet