Frankie Moreno's personality slow to emerge in new Planet Hollywood showcase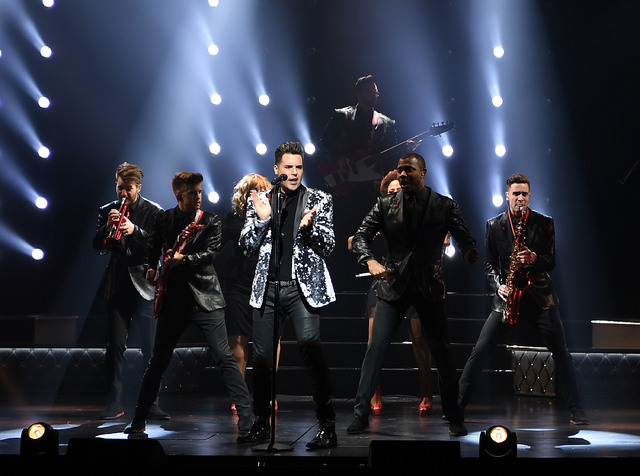 Hey, this new Frankie Moreno guy at Planet Hollywood seems like he could use an opening act. How about, maybe, Frankie Moreno?
The challenge of a locals' favorite trying to grow his audience is that ticket-buyers come in with different levels of familiarity.
The old fans, the ones from the lounges and three years at the Stratosphere, know the Moreno we meet in the middle part of the show. The one who hits up the crowd for a shot of Crown Royal, then sits at the piano to build up a jazzy run with drummer Matt "Peanut Butter" Belote, or does a piano-harmonica duet with himself.
Because they (along with your reviewer here) know this guy already, they aren't so puzzled by the new show's flashy opening: a fancy-jacket Moreno and his choreographed band strutting through a James Brown-sounding original, "I Gotta Have It."
This investment in Moreno as a bigger name on the Strip is followed by another punchy original, "Cinderella Story," and then a cover of the Elvis Presley classic "Suspicious Minds." All of it's a decent start to a show by someone already famous.
But newcomers? You can't help but wonder how long it takes them to assemble the pieces. And Moreno is a complicated one to piece together. He's a good singer, but not one with an instantly identifiable voice. A strong songwriter, but chameleonlike, with a goal to be wide-ranging and accessible.
His real gift, the thing that sets him apart from the pack, is his showmanship. Moreno is an old-school entertainer who forges a bond with his audience and makes it feel like part of a private club. He eventually gets us to that place in this stiffly produced show, but it takes awhile.
If he can't be his own opening act, maybe Moreno and director Vincent Marini can reshuffle the deck. Once he has more clearly defined himself midway through, you wonder how the early numbers would play if you could rewind and watch them again.
Regardless of where they fall, the original songs land with Bobby Darin swagger and hooks that tend to work their way into your head, with some fun visuals to showcase them.
The mobile video panels create a drive-in movie sequence for "Moonlight Matinee," and a sports car lingers for a pop-up dance by Lacey Schwimmer of "Dancing With the Stars" fame. (She turns up again for "The Way You Make Me Feel," and keeps the band in motion as choreographer.)
Later, the screens create a virtual cathedral and host a video solo from a short-skirted female violinist who stands in for Joshua Bell on the duo's version of "Eleanor Rigby" (from Bell's duets album "At Home with Friends"). Sorry Josh, this is Vegas.
An acoustic breakdown has become a concert cliche, but here it's a welcome one, and as close as we come to the band interaction of the old lounge days. If bassist brother Tony Moreno hasn't been restored to full sidekick status, we get a good sense of team play from a new trio of backing singers: Markevius Falkner, Crystal Robinson and Ashley Roberson Kellough.
The title "Under the Influence" refers not just to Moreno's stage boozing, but an attempt to trace his original songwriting to classic covers. It's a great idea, explained to the audience but never fully tied together.
Moreno's '40s-retro "Tangerine Honey" rolls right out of "That's Life" in an awkward Sinatra segment. But his piano sit for Bruno Mars' "When I Was Your Man" is a verbatim cover that seems out of step with the evening's adventurous spirit, and too recent a hit to be influencing Moreno's songwriting.
And Moreno just can't help but let the Vegas showman in him take over "Bridge Over Troubled Water," something Elvis could more easily get away with.
But the bigger lesson is that there is, or at least should be, more than one kind of showman.
"I think that's the way Frank Sinatra liked to sing it," Moreno says when he drops to one knee for "That's Life." Hmm. Sammy, maybe. But Moreno's somewhere in the middle: the guy's guy, the ladies' man, but one who breaks a sweat for you.
And by the end of it — the piano-acrobat Jerry Lee Lewis homage that carries over from his days at the Stratosphere — we are happy to know him. Or to have found him again.
Read more from Mike Weatherford at reviewjournal.com. Contact him at mweatherford@reviewjournal.com and follow @Mikeweatherford on Twitter.
Review
Who: Frankie Moreno "Under the Influence"
When: 9 p.m. Tuesdays-Sundays
Where: Planet Hollywood, 3667 Las Vegas Blvd. South
Tickets: $59.63-$96.33 (800-765-3000)
Grade: B+