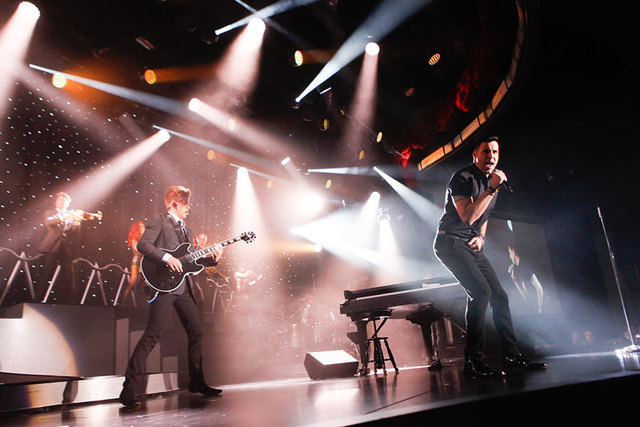 Frankie Moreno has a noble goal for 2015.
"I just want to do what nobody's doing, and I want to do it bigger and better as much as I can," says the singer-songwriter who is banking on this to be his year. "Because if you don't, why bother?"
But Moreno also is a good example of why it's hard to predict the Las Vegas entertainment scene much into a new year.
He's now represented by Jay Z's Roc Nation management, and says a PBS concert show will be "in constant circulation" among affiliates to increase his national profile. There will be new music recorded here in town with producer Pat Thrall.
But Moreno ended his three-year run at the Stratosphere two weeks ago. At this writing, he said at least three casinos offer viable options for a new Las Vegas home. But as the year wound down, he wasn't yet ready to declare which of them he hopes to be performing in by late March, after touring in January and February.
When he returns, Moreno hopes to capitalize on his national breakthrough on "Dancing with the Stars" and his involvement with Lacey Schwimmer to feature "Dancing" alums and/or ballroom segments in whatever show comes next.
But there are a few things you can plan for:
■ By this time next month, Cirque du Soleil should be rolling out a "refreshed" version of its adult-oriented "Zumanity" at New York-New York. The new "Zumanity" won't involve guest hosts such as last year's NeNe Leakes, however.
Most of the Las Vegas Cirque shows are getting visited one by one for makeovers. Next up is "Love," which probably won't be ready by year's end, but is working toward its 10th anniversary in the summer of 2016.
Cirque will again stage "One Night for One Drop" on March 20, this time in the "Love" theater at The Mirage. The fundraiser for Cirque co-founder Guy Laliberte's foundation to promote water conservation and clean water initiatives pulls together volunteer performers from all the Las Vegas-based shows, and closes down regular performances that night.
■ Veteran impressionist Bob Anderson goes into full latex makeup and fronts a 32-piece orchestra for "Frank — The Man. The Music," debuting Jan. 24 in the Palazzo Theatre recently vacated by the Chinese revue "Panda!"
■ Recycled Percussion closed at The Linq on Christmas Day, but producer David Saxe says he soon will bring the clattery quartet into the fold of the Saxe Theater he operates at Planet Hollywood Resort (moving "B — A Tribute to the Beatles" over to the V Theater in the same Miracle Mile Shops).
The concept will evolve to become bigger and more encompassing than the just-closed show, which is basically a more technologically enhanced version of the same act Recycled toured colleges with for years before settling in Las Vegas.
Saxe says he is encouraged by the success of his left-of-center "Zombie Burlesque" and is developing a new show with the tentative title of "That's Just Wrong," bringing us the finest in sick humor.
■ Late December also saw the quiet arrival of "Piano Man" as an afternoon show at the V Theater. The tribute show is a combined salute to Billy Joel, Elton John and Barry Manilow.
■ "Sexxy" is set to open Sunday as a topless revue in the Shimmer Cabaret at Westgate Las Vegas. It features Jennifer Romas, a veteran of Las Vegas dance shows who recently choreographed a number for the movie comedy "Think Like A Man Too."
■ "Defending the Caveman" closes at Harrah's Las Vegas on Jan. 18 and hopes to reopen at a new venue within a week. At this writing the contract had not been signed. But the one-man comic monologue is planning a Broadway revival, and plans to use Las Vegas to phase in script and scenic changes in preparation.
"Menopause the Musical" is leaving the Luxor this month, and may end up taking over the "Caveman" slot at Harrah's.
■ David Copperfield should finally complete the formal relaunch of his MGM Grand magic show this year, but we would have said the same thing last year. The master magician is also a perfectionist who won't pull the trigger on a new marketing campaign until all the new illusions are to his liking.
■ The most outrageous show concept so far floated for the new year is not the reported, but apparently homeless venture featuring a holographic Liberace, courtesy of a firm called Hologram USA.
No, the honors go to "The Duck Commander Family Musical," a "Duck Dynasty" spinoff in talks with the Rio to open as soon as next month. It sounds about as likely as "The Love Boat" musical that never opened, only this one has the producer of "Jersey Boys" behind it.
■ It's the rebirth of a historic venue, even if it doesn't come with new shows. The Riviera's historic Versailles showroom is set to reopen in March with "The Rat Pack is Back" and "MJ Live," two shows that are vacating the Rio in a move unrelated to whether the "Duck Dynasty" thing ends up there or not.
■ The Colosseum at Caesars Palace teams up country superstars Reba McEntire and Brooks &Dunn for 12 shows starting June 24.
If little of this sounds like the next big thing, let's circle back to Moreno with some words of wisdom for the new year.
"This is a city that's supposed to be electrical," he says. "We all talk about Frank Sinatra and Elvis Presley … why now is that all we want? When those guys came in, they didn't tell Elvis, 'We want a Perry Como show.' "
The golden age of Vegas "found this thing of people coming and doing their music, their way, and blew it up with giant fireworks," he says. "And then we pulled the plug on it, and said, 'From now on, we want everyone to be like them.' And then all of a sudden it's tribute acts.
"Just let there be great talent," he says.
Amen.
Contact reporter Mike Weatherford at mweatherford@reviewjournal.com or 702-383-0288.