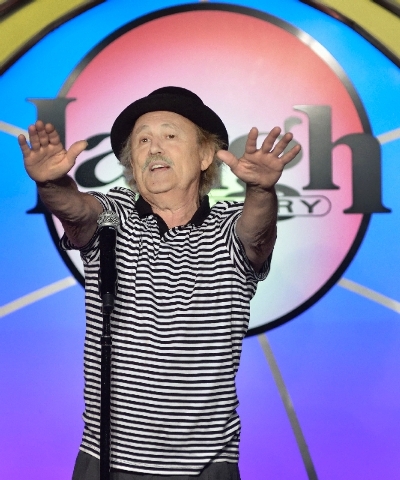 Hey, was that…? Did he just…?
Yep. Look up quickly enough at the Tropicana's Laugh Factory and you spot the signature derby hat snaking its way in and out of the cocktail tables in front of the stage.
"I was all around the room to see if you were talkin' about anything that damn important," he says by way of introduction, after climbing up to take the microphone.
The face comes into focus under the hat. It's him all right, the guy you first saw smashing watermelons in the 1980s. The lines in the face now bear witness to hard years of financial woes and, he tells the audience, four heart attacks.
But Gallagher isn't here to tell you about his problems. He's here to tell jokes. And yes, a lot of them are actual joke-jokes, complete with a drummer behind him doing rimshots.
He's not sure why jokes (versus "monologue") became a bad thing in modern comedy, he says after the show. He'd rather hear a good joke than some comedian telling you how messed up he is inside.
If Gallagher, who turns 67 on July 24, ever changes his mind and decides to do that, I'd get in line to hear it. This is not a normal life, based upon periodic news. Remember the whole thing about him trying to sell his entire act to his brother? Or a 2005 episode in Laughlin, where an audience member told police the comedian slapped him?
"It's lonely being the smartest guy in the world," Gallagher tells us, more than once, in an hour of stand-up. "As you can tell, I'm going to solve the world's problems."
You may not believe that, but you can't deny he owns the stage. Or that in all those years of keeping crowds waiting for the Sledge-O-Matic fruit splattering, he came up with hours of stand-up material to tide them over.
Will enough people care without the smashing finale? (It takes too long to clean up here.) Gallagher and producer Bill Caron will find out. They hope to make an open-ended run of this 7 p.m. time slot, recently vacated by Roseanne Barr (she's coming back, but not for a while), before the separate Laugh Factory lineup.
If Gallagher doesn't give you the diversity of a club lineup, you do get a sampling of comedy genres.
There's a mild dose of topical-political humor: We're an indecisive country that voted for Barack Obama "because he's a spoon-fork. We'd like to have a black guy, but let's just try a half of one."
Then there are absurdist, self-contained one-liners in the school of Steven Wright or the late Mitch Hedberg. Gallagher even name-checks Wright — "Well I came first!" — when dropping lines such as "What makes Teflon stick to a pan?" or "Why should a bankruptcy lawyer expect to be paid?"
And there's a whole lot of bodily-function humor, which you would hear in any comedy club on any night. The location of the prostate — why couldn't it be on the elbow for easier access? — or bathroom trips in the middle of the night.
Even if this isn't confessional humor, we learn Gallagher "can't poop. And in a town full of buffets, I'd like to have that option."
Don't forget the crowd banter. Or a mock-showdown with the audience, in the Carrot Top vein of indignation. Gallagher's set shifts and wanders, but he covers all the bases.
More than once, he mentions that "God's got a terrible sense of humor. … It seems like God's pilin' on here."
It does indeed, for a comedian who made and lost millions. But you've got to hand it to him. Life may have taken away his sledgehammer, but at least he's still laughing at God's jokes.
Contact reporter Mike Weatherford at mweatherford@
reviewjournal.com or 702-383-0288.
Preview
Gallagher
7 p.m. Sunday-Friday
Laugh Factory at the Tropicana, 3801 Las Vegas Blvd. South
$38.95-$71.95 (702-739-2411)
Grade: B-