'Game of Thrones' composer loves heavy metal — not to mention dragons
Updated March 23, 2017 - 6:21 pm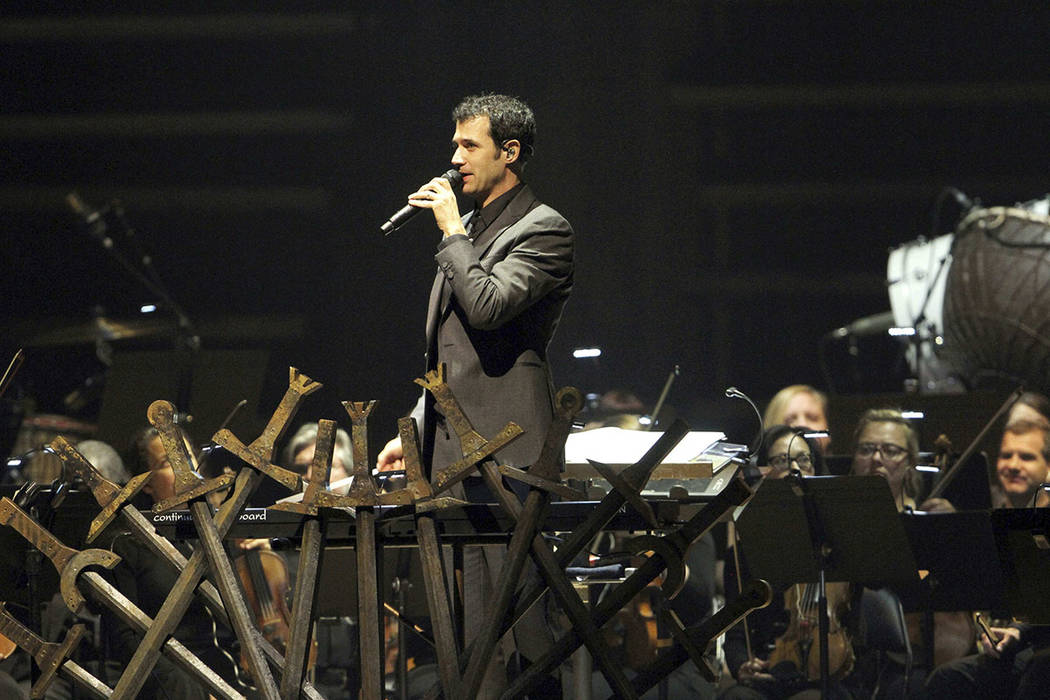 Heavy metal dudes only wish they could rock a dragon like Ramin Djawadi.
And if they think they are denying the "Game of Thrones" composer his moment of arena rock glory, they've been too long in the Iron Islands.
"I was big into Metallica and Rage Against the Machine, all these metal and rock bands while always still maintaining the film and classical music (interests)," says Djawadi, composer for the HBO hit.
"I did a lot of rock music and it helps me break out of the box and utilize instruments in a different way," he continues. "I see it with the orchestra, too. When they play some of my music they have a smile on their face, because sometimes they notice and say, 'This is not necessarily the classic approach, but it's fun to play.' "
It helps explain why Saturday's "Game of Thrones: Live Concert Experience" is staged in a circular setup in the MGM Grand Garden arena, with side stages and thrusts to let cellists and violinists step out for solos amid real fire and video dragons.
Las Vegas is early to whatever you call this new trend of film music performed live. Djawadi's "Thrones" concert will be followed April 21 by his mentor, Hans Zimmer, at the Park Theater. "La La Land in Concert," which is set to premiere in May in Los Angeles, doesn't yet have a Las Vegas date, but Djawadi tells us why he's a big fan of that score, as well as what to expect from his corner of this new genre Saturday.
On Justin Hurwitz's "La La Land" Oscar for best original score:
"When I saw the film I was immediately on the edge of my seat, like 'Wow, this is just beautiful.' I love his use of jazz, because many times nowadays in scores, there's not many jazz elements in there anymore. I love the way he blends the jazz and the show tunes.
"I went through Berklee (College of Music), which is primarily a jazz school, so I love jazz." But on "Thrones"? "I don't think we'll push into that direction any time soon."
On how to build on previous arena concerts Las Vegas has hosted for "Star Wars" and "Lord of the Rings" soundtracks.
"I never saw any of those shows, and I on purpose didn't watch them, because I had this idea in my head of what I wanted to do and I didn't want to be influenced.
"I always said that if we do this, let's do something that's never been done before and redefine this medium of entertainment. It's instrumental music most of the time, and I wanted to reach out to a broader audience with what we're doing with pyro and all kinds of stuff happening onstage. I was hoping to reach a younger audience that also enjoys going to rock concerts.
"If you don't have any (film) footage I was afraid it would get boring. But I also wanted to make sure the focus is on the music, and we never get carried away and start watching the show and forget there is live music there. That was a balance that was very important to me."
On how melodies emerge from the six hours of music (and counting) he has composed for "Thrones":
"It's important. You want to identify a movie or show with a theme. I grew up in Germany, and there these pop songs that had these hooks, like '99 Luftballoons' (by Nena) or a-ha's 'Take on Me.' You hear that melody and that's a hook you can sing. And that's something that really influenced me. It's not only the classical music, it's those pop songs that are just hooky, that I still get excited about when they come up."
On revealing on National Public Radio that the "Thrones" theme came to him in the shower, and that professional film composers don't always write the notes down — at least not right away:
"That's how these melodies just come to me usually. Many times at night or when I wake up in the morning, I feel like that's when the outer influences — the noise and the radio and people talking — have all kind of faded. You just wake up fresh, and that's when I start hearing things.
I used to scribble them down on a little piece of paper really quick, but now with the phone, technology is easy. I just sing it. Or I have instruments everywhere in the house, so I'll grab an acoustic guitar and turn on the phone and just play it in. Let it go, have breakfast, come back later and see if I still like it. Grabbing it in the moment is what I like to do."
Read more from Mike Weatherford at reviewjournal.com. Contact him at mweatherford@reviewjournal.com and follow @Mikeweatherford.
'GAME OF THRONES'
What: "Game of Thrones: Live Concert Experience with Ramin Djawadi"
When: 8 p.m. Saturday
Where: MGM Grand Garden, 3799 Las Vegas Blvd. South
Tickets: $39.50-$99.50. (888-929-7849)