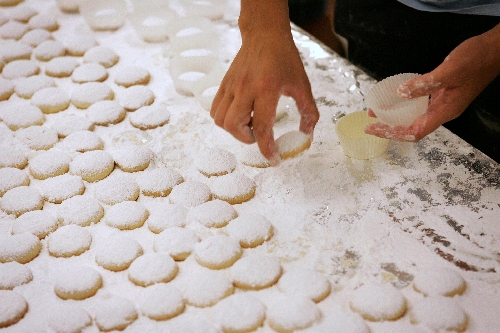 The dancing and other entertainment is a popular part of the Greek Food Festival, but there's a good reason the event — now in its 39th year — is not simply called the Greek Festival. And the members of St. John the Baptist Greek Orthodox Church have been working for months to fill in that middle word.
Marilyn Flangas, publicity director for the festival, which runs Friday through Sunday and is expected to draw as many as 30,000 people, said members started baking and freezing in late July. First up was baklava — because "it's the hardest to make" — and they didn't finish until last weekend.
The food is prepared by members of the church in a sprawling, commercial-grade kitchen. Members also provide the vast majority of the crew that labors to ensure that things run smoothly.
"We have everyone assigned to do something," Flangas said. "The three days are very busy for us. We love doing it because it's part of the community anymore."
The festival's culinary elements will include a dinner line, where a meal of lamb or chicken, pastitsio (often called "Greek lasagna"), dolmathes (stuffed grape leaves), rice pilaf and Greek salad is $14. If you buy an $18 coupon book, you'll get the meal plus an admission ticket, which normally costs $6.
There's also the gyro booth ("I work at that booth and we never stop," Flangas said), a taverna serving beer and wine (and of course, ouzo), the kafenion with various types of coffees, plus booths selling a la carte pastitsio, moussakka, souvlakia, Greek salad, Greek fries, saganaki, the popular Greek honey-covered doughnuts called loukoumathes ("a very popular booth," Flangas noted), various types of pastries — and even hot dogs and cotton candy for the kids, or anyone else who forgets why he or she is there.
Two live bands will provide music, and when they're not (maybe taking a break), a member of the church who plays the bouzouki will perform while strolling the grounds. There also will be performances by folk-dance groups, Greek clothing and art offered for sale, tours of the church and a torch run.
The torch run will begin at 2 p.m. Friday in the Red Rock Canyon National Conservation Area and end at the festival at 7 p.m. It will be traditional relay-style, culminating with the lighting of the flame to open the festival.
Performer Criss Angel will be a celebrity runner, beginning at 3 p.m. at Summerlin Community Park, 1800 Town Center Drive. Twenty soldiers from the Nevada National Guard, which lost three members in the recent Carson City IHOP shooting, also will participate. Entries are $200 per person and all proceeds will be donated to Nevada soldiers injured in Iraq or Afghanistan.
Free festival parking, with shuttle-bus service, will be available on Hacienda Avenue between Torrey Pines Drive and Jones Boulevard and on Torrey Pines between Hacienda and Tropicana Avenue. For more information, visit www.LasVegasGreekFestival.com or call 248-3896.
Contact reporter Heidi Knapp Rinella at hrinella@review journal.com or 702-383-0474.
PREVIEW
What: Las Vegas Greek Food Festival
When: 3-11 p.m. Friday and Saturday, and noon-10 p.m. Sunday
Where: St. John the Baptist Greek Orthodox Church, 5300 El Camino Road
Admission: $6 for adults, free for children 12 and younger and active-duty members of the military and their immediate families
LasVegasGreekFestival.com