'Impractical Jokers' show off their improv chops
August 28, 2015 - 8:40 am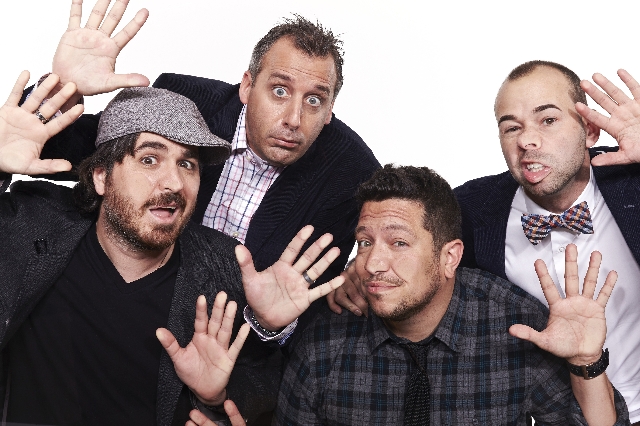 Be careful when you walk into the Hard Rock Hotel on Friday. Some guy may come up and start saying weird things to you or start going crazy or … oh, you're there for the "Impractical Jokers" show? Never mind.
The chaotic quartet is back in town Friday, though technically, you will be seeing an improv group called The Tenderloins and not their hidden-camera truTV show.
There must have been no bait-and-switch complaints, since the Jokers are back only 10 months after their last visit. In fact, it's the chemistry of the four friends that dates back to their improv days and makes the TV antics more than just hidden-camera punking of the innocent.
"Not a lot of people in comedy grew up together and have been friends for 25 years," Sal Vulcano told the Review-Journal last year of his long partnership with Joe Gatto, Brian "Q" Quinn and James "Murr" Murray.
"It is definitely a hook that we have that makes us unique, and it does give us that distinction that can set us apart."
Well, there are a couple of other factors, too. All comedians walk a metaphoric tightrope, but how many do that for real?
Let's just say fans skip this weekend's show at their own risk, because the Jokers plan to take to a real high-wire, five stories above New York City's South Street Seaport, for their "Live Punishment Special" on Sept. 3.
It marks the 100th episode of the show, which came after several failed pilots and development deals, before the troupe turned to "Candid Camera" for inspiration and decided, "Let's just make something that feels much more spontaneous and unscripted," Vulcano explained.
Read more from Mike Weatherford at bestoflasvegas.com. Contact him at mweatherford@reviewjournal.com.
Preview
What: Impractical Jokers "Where's Larry?" Tour
When: 9 p.m. Friday
Where: The Joint at the Hard Rock Hotel, 4455 Paradise Road
Tickets: $39.50-$200 (888-929-7849)