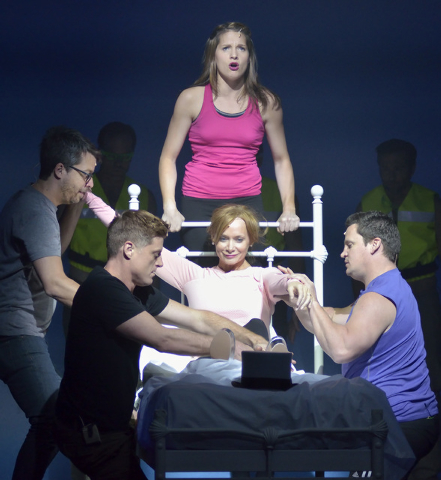 Jordan Bondurant graduated from UNLV's theater program, donated his car to a charity, and headed to New York to make it on Broadway.
Eight months later, he landed a solid part in a Broadway hit. But it's "Mamma Mia!" at the Tropicana.
"I thought about calling the charity back: 'Do you still have my car?' " he says with a laugh.
Getting cast to play boyfriend Sky on the Strip after working as a real estate agent on cold winter days in Harlem, "The irony was strong," Bondurant says. "It was not lost on my agents, I promise."
Bondurant's story isn't a bad metaphor for locals who are equally surprised to see "Mamma Mia!" back in town.
Everyone figured the show had its day — six years, actually, at Mandalay Bay. It was right to assume any encores for the romantic ABBA blockbuster would be one week at a time at The Smith Center for the Performing Arts, where the musical did in fact pull up in January.
But the Tropicana had a newly remodeled showroom combined with a bad-luck streak of entertainment choices since closing the venerable "Folies Bergere" in 2009. Management was looking for a sure thing, and overtures to the British producers led to Thursday's return of the enduring hit (performances until May 16 are considered previews).
Las Vegas has changed since the musical bowed out in early 2009, but "Mamma Mia!" returns almost exactly as it was: a full two-act, Actors Equity union production with live music.
Note the "almost." Three of the lead actors say the secret to sustaining this spandex gorilla in London, New York, Las Vegas and on the road is "letting each production have its own identity," says Sean Allan Krill, who plays male lead Sam.
Director Martha Banta travels the world to oversee each production, but "allows everybody to bring their own self to it, bring their own cards to the table," Krill says. "Every version I've done feels like its own singular show."
This cast balances newbies like Bondurant — who had never seen it live, only the movie — with veterans such as Krill and Christine Sherrill, who stars as Donna after a seven-year break.
"Sometimes you have shows that have been running so long," Bondurant says, a new cast member can feel as though he is "just put into the machine, just kind of a cog popped in, and it's not really fresh or fun to anyone. It's just kind of tough.
"What's so great about this, we were all rehearsing together and it was a fresh and new show to pretty much all of us," he adds. "It makes it like its own unique experience, like we're actually creating something as opposed to replicating."
Perhaps the bigger changes over time are on the other side of the stage, in the audience and its awareness level. The 2008 movie version came out during the stage show's final summer at Mandalay Bay, making the story familiar via DVD in a way it wasn't the first time.
Sherrill says her friends report the same phenomenon producer Judy Craymer relayed during a recent visit: children as young as 5 and 7 knowing the songs and acting out the movie.
These anecdotes invite the follow-up question: How do parents explain a plot that begins with a bride-to-be (Kimbre Lancaster) on a fanciful Greek island, trying to figure out which of three men is her dad?
To find the answer, she invites all three to the wedding. The guest list results in no small degree of stress for Donna, her once free-spirited mother now burdened with running an inn, when the ferry delivers Australian adventurer Bill (Steve Judkins), staid British businessman Harry (Trey Ellett) and, most of all, Sam, the American who fell out of Donna's life before either of them were ready to say goodbye.
Everyone loves a wedding story, especially a multigenerational one. "There's something in the story for everyone," Krill says. "There's new love, there's lost love, there's friendship and father-daughter and mother-daughter. … I just think there's something that everyone connects to."
And it's connected by the ABBA songbook, which proves surprisingly fit to tell the story.
"A lot of jukebox musicals don't do very well because there's not a lot of narrative in the songs," Bondurant says. But the ABBA catalog is full of "story-driven songs that really lend themselves to this show."
And for U.S. audiences, the Swedish pop quartet's 14 Billboard hits left room for less-heard songs — "Under Attack," "Our Last Summer," "Slipping Through My Fingers" — that sound even more like they were written for the show because they aren't competing with ABBA memories.
Most publicity images feature Donna and her two best friends (Mary Callanan and Alison Ewing) in their spandex disco suits and boots. That and a clap-along encore can leave the lasting impression of "Mamma Mia!" as nothing but a campy romp.
But the actors — and more than 54 million ticket buyers — have found something more there.
"If there isn't a true story there it wouldn't last," Krill says.
After giving up school teaching to try and make it as an actor, Sherrill won her first big role playing Donna's libidinous cougar friend Tanya. In the seven years since, she's become a Chicago star in productions of "Annie" and "Sunset Boulevard." Chicago Tribune critic Chris Jones called Sherrill one of the city's "leading women in musical comedy."
Coming back to "Mamma Mia!" as the more three-dimensional Donna, she has a whole new perspective.
"It might just be because I'm at that moment in my life — I have two boys who are leaving for college — but I feel this story and I understand why it's not just the music," she says. "I feel like if you're a mom, a daughter, or someone's best friend, this story is really meaningful and not just light and fluffy.
"I feel like this is a real story and that's why people are attached to the show."
An attachment that Las Vegas apparently can't shake.
Contact reporter Mike Weatherford at mweatherford@reviewjournal.com or 702-383-0288.
Preview
"Mamma Mia!"
7:30 p.m. Friday-Sunday, Tuesday-Thursday (previews until May 16)
Tropicana, 3801 Las Vegas Blvd. South
$53.90-$148.50 (800-829-9034)