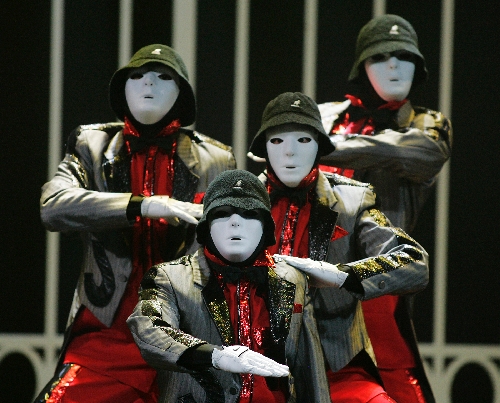 If you feel too stuffed and lazy to break dance after the Christmas feeding frenzy, you can at least watch other people spin on their heads.
The Jabbawockeez have had people wondering who is behind the blank-faced masks since they won the 2008 MTV competition "America's Best Dance Crew."
"At the time, all the crews were large, and it was kind of hard to focus on who to watch, because everyone was trying to outshine," one of the founders, Phil Tayag, explained.
"We were like, 'Let's just take away our faces so people can't tell who we are.' That way they have to look at the picture as a whole."
Now those masked men are the only ticketed hip-hop show on the Strip. But they are guaranteed to be there until some time next spring, when the theater is set to hand over to some other blank-faced dudes known as the Blue Man Group.
Contact reporter Mike Weatherford at mweatherford@ reviewjournal.com or 702-383-0288.
Preview
Jabbawockeez "MUS.I.C."
7:30 p.m. Sunday-Wednesday, 9:30 p.m. Thursday
Monte Carlo, 3770 Las Vegas Blvd. South
$62.70-$95.70 (730-7160)