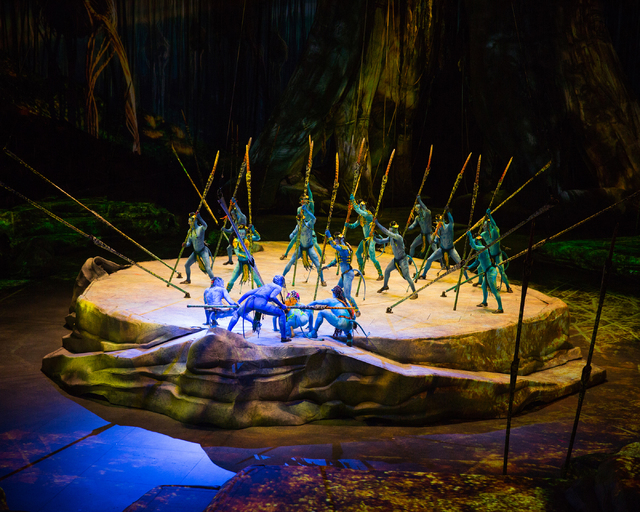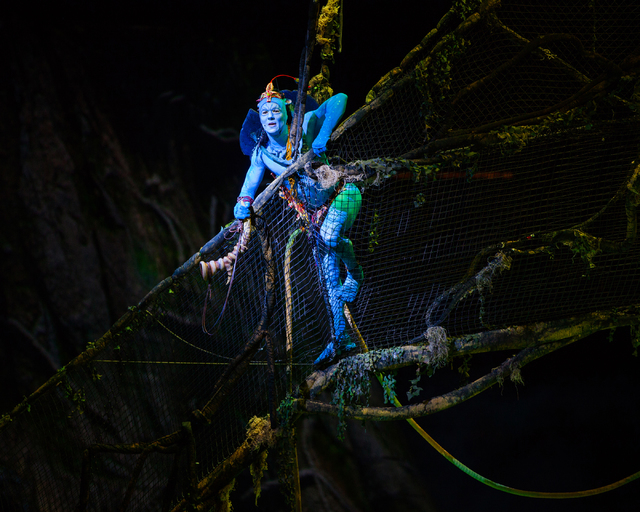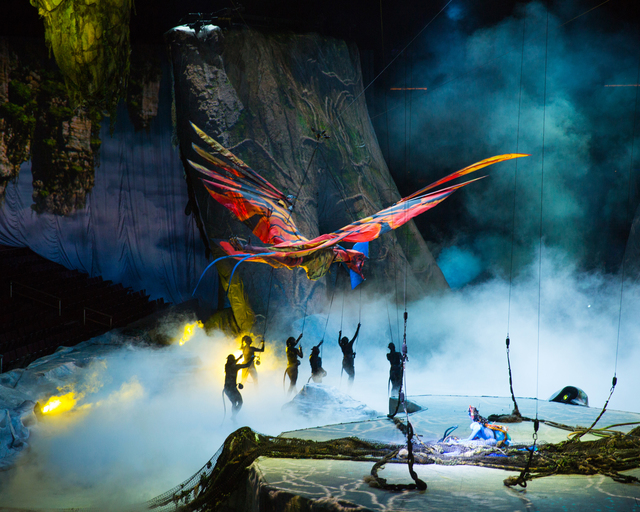 Two fantasy worlds, almost touching.
"Toruk — The First Flight" is the rare Cirque du Soleil touring show to land on the Strip, which already hosts six resident titles. (The last one was "Michael Jackson — The Immortal," five years ago.)
But "Toruk" is a prequel to "Avatar," so it would seem unfair to deprive Las Vegas of a tie-in to the highest-grossing movie of all time. "Toruk" has done "Avatar" proud on the road, pulling up in the No. 13 spot (right behind Paul McCartney) on Pollstar's ranking of 2016 tours, with a gross of $66.6 million.
Still, it makes sense that "Toruk" would roll into T-Mobile Arena — where it runs Wednesday through Jan. 22 — when "Ka" is on its annual vacation. The two shows share a lot of inspiration, and a little DNA.
Both take audiences on a narrated journey through an exotic fantasy realm. And "Avatar" director James Cameron is as big a Cirque fan as they come.
"In some aspects he's a big child," says Fabrice Lemire, artistic director of "Toruk." When Cameron would watch rehearsals of the live show, "I could see it in his eyes."
"He loves those collaborations and has a lot of respect for performers. I have never seen somebody with that reputation who is so down to earth," Lemire added.
"Ka" opened at the MGM Grand in late 2004. The $165 million spectacle was Cirque's first attempt at a narrative, the story of two separated twins and the adventures that reunite them. Though visually rooted in Chinese martial-arts fantasy, the saga is not located in any specific place or time.
"Avatar" had been in development for years before its 2009 release. Cameron has credited Cirque performers for inspiring the physical movement of the Na'vi, the indigenous people of the planet Pandora, who are colonized by human miners who interact with them through genetically engineered bodies.
Cameron told Jimmy Fallon on "The Tonight Show" that while he was developing his Fusion Camera System for the movie's 3-D, he called up Cirque and invited executives to "check out this 3-D technology. I want to shoot your shows."
The result was the 2010 feature "Cirque du Soleil: World's Away," featuring the Las Vegas-based productions. Cameron didn't direct it, but he did some the 3-D camera work himself.
"He would call us over after some of our stunts and say, 'Have a look at this,' and show us. He was really into it," recalls Peter Kismartoni, a "Ka" performer now in "Toruk."
Cirque executives were thus emboldened to ask if they could create a live arena show based on "Avatar." Cameron became a consultant on the arena show helmed by writer-directors Michel Lemieux and Victor Pilon, while continuing with his four — yes, four — "Avatar" movie sequels.
It's a partnership that makes perfect sense for "Toruk" artistic director Fabrice Lemire. "Cirque du Soleil was somewhat avant-garde and very much ahead of everything else 30 years ago. How do you stay afloat and still innovative 30 years later? There you have somebody like James Cameron," he says.
"It's a clever way to explore new direction and a clever way to reinvent yourself … to reach out to a new audience to also to explore a new artistic vision, while working closely with somebody who is creative."
"Ka" and "Toruk" are "both of the same flavor, I would say, with the narration and the storytelling," Lemire adds. "However, 'Ka' allows you a lot more freedom of interpretation around the narration. We don't. We really take your hand and lead you through the journey. As an audience, you watch a lot more like you are watching a movie or a play."
The creators wanted "Toruk" to tell a self-contained story that didn't require anyone to have seen "Avatar." And they didn't want to tackle the height difference between the Na'vi and the shorter humans, who come and cause problems in the film.
Instead, separate tribes of Pandora set off on a quest for talismans that will bring down the titular Toruk, a creature with a 40-foot wingspan brought to life by the show's puppetry. The action fills the entire arena floor, and much of the Pandora world is created through video projections.
The lead actors have live microphones, and were coached in the Na'vi language, as well as by a movement coach who worked on the film.
Those who think they've seen all Cirque has to offer "should not expect to see the most traditional Cirque du Soleil production, where the acrobatic stunts are at the forefront," Lemire says. "Absolutely not. It is a very different driving force. The acrobatics are there to support the storyline."
Read more from Mike Weatherford at reviewjournal.com. Contact him at mweatherford@reviewjournal.com and follow @Mikeweatherford on Twitter.
Preview
What: 'Toruk — The First Flight'
When: 7:30 p.m. Wednesday-Thursday, with additional performances through Jan. 22
Where: T-Mobile Arena, 3770 Las Vegas Blvd. South
Tickets: $39-$155; 888-929-7849
'Toruk' brings Las Vegas couple home
"Toruk — The First Flight" will take audiences to a strange new world, but two of its performers will visit a place they seldom see: their house in Las Vegas.
Performers Peter Kismartoni and Stacey Magiera are a couple who met at her Halloween party while working in different Las Vegas Cirque du Soleil shows and later ended up on the vertical wall of "Ka" together before hitting the road with "Toruk."
The two have visited 30 states, five Canadian provinces and eight countries while on tour.
"It'll feel amazing to be at my home and sleep in my own bed," Magiera says. "It'll bring back memories of when we used to work in Vegas."