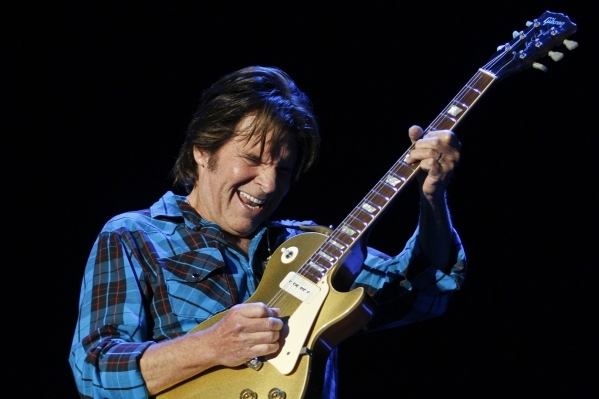 "Fortunate Son" is one righteously angry song. But John Fogerty named his autobiography and run of Venetian shows after his 1969 hit for a different reason.
"Because I am (fortunate)," he says.
More to the point, he's not angry anymore.
"I'm wise enough to understand that and actually realize I've got it made," says the 70-year-old rocker, who digs in at The Venetian for eight shows spread out from Friday through Jan 23.
"I'm very lucky and I know it," he adds. "I feel blessed that I was allowed to live long enough to actually enjoy all this."
Fans have been reaping the dividends the past dozen or so years. If you know just a few things about Fogerty, one of them is that he's the voice, guitar and songwriter behind Creedence Clearwater Revival, and Vietnam-era classics ranging from "Proud Mary" to "Have You Ever Seen the Rain?"
The other is that he was derailed from more than a decade of his prime years in the 1970s and '80s by legal battles with his Creedence bandmates, including older brother Tom, and Fantasy Records president Saul Zaentz, who controlled the Creedence catalog and publishing rights.
Fogerty long refused to perform Creedence songs live, opening the door for his childhood friends Stu Cook and Doug Clifford to play Las Vegas and elsewhere for 20 years as Creedence Clearwater Revisited, provoking still more litigation.
But the past few years have found Fogerty as busy as he's been since the Fantasy issues were laid to rest in the mid-'90s. He played the Palms in October 2014, as part of his "1969" tour, and the halftime show of the Orange Bowl on New Year's Eve. His autobiography "Fortunate Son" came out in October.
He even showed up on "The Voice" last May and says he was the one honored to be singing with 16-year-old Sawyer Fredericks, the eventual winner of the NBC talent show.
"I walked into that room and looked at him and he was a TV star so I was somewhat in awe, even though he's a youngster," Fogerty says. "I was thrilled to be there helping this kid who became the winner. That was just a great big kick for me."
In an upbeat phone call last month, Fogerty agreed there's an element of a victory lap and of making up for lost time to the past few years.
"For a while there I was calling it 'rope-a-dope,' " he explains. "Muhammad Ali was a little bit older, but he was still good. One time, I think after he regained the heavyweight championship, he said, "Well you know, I was not getting beat up for four years' — or whatever it was — 'so it's like I'm a younger guy.'
"That kind of made sense there for a while."
Fogerty says the book came when it had to. "I think the idea that the book even got written was because I was in a better place, you know? But now, with hindsight, I look at it and go 'Man, it's sure a good thing I didn't do this book 20 years ago.' I would have been so angry and all that sort of thing. Feeling like I had an ax to grind, I suppose.
"How can I say it? I've certainly lived through times in my life where I was that way, and it just doesn't look very good … . It's like your relative who comes to your Christmas party, but he's got some horrible story he's gotta lay on everybody, bring 'em all down."
Not that he didn't have stories to tell, detailed at length in the book: seeing his life savings disappear to an offshore entity in the Bahamas, signing over his artist royalties to get out of his Fantasy contract, getting sued by Zaentz for the smackdown song "Zanz Kant Danz" and for his solo hit "The Old Man Down the Road" allegedly sounding too much like the Zaentz-controlled Creedence song "Run Through the Jungle."
All of it had him "drinking enough to sink a battleship, and doing it with a vengeance," Fogerty writes in his memoir. He also writes of reaching the point where he couldn't even enjoy taking his youngsters to a re-release of Disney's "Pinocchio," because of Stromboli keeping the puppet in a cage and making money off the dancing puppet: "One for you, two for me!"
"I forgive myself a little bit because certainly, some really bad things happened," he says now. "But even so, how can I say it? I'm really glad I evolved past it, because life is way too wonderful to be stuck there."
Fogerty says his "saving moment" was meeting his third wife, Julie, whom he married in 1991. "When you fall in love with someone and think they're the most wonderful person in the whole world, which she is, you just give yourself over to that," he says. "The real thing everybody is looking for is love as far as I'm concerned."
Letting go of all that anger was "a process," he adds. "It didn't just happen overnight where I became a happy fella. God bless her for holding my hand and stickin' with it because I was certainly a piece of work."
Eventually, "There came a magical time … when I realized I hadn't thought about all that stuff for a while. It just wasn't in me," he says. "It seemed like before that, it was a daily thing, where the memories and the hurt and all that would pop up, and I'd grind on 'em. You know how we can play a tape in our head, and it's the same tape over and over?
"One day I realized, 'Gee, I hadn't thought about that in I don't know how long. And I was happy. I no longer felt the need to have to tell the story, I suppose. Even to myself."
Fogerty's zen does still seem a little tested when he's asked about some of his songs being so tied to the counterculture era, and the unrest of the '60s, they're almost a shorthand for movie soundtracks. He immediately mentions one ubiquitous exception.
The use of "Down on the Corner" in Walgreens commercials "wasn't my decision," he says. "No one asked me about that at all. I'm an older person and I suppose I should be flattered that the music is at least sought after, but I'll reserve talking about all that right now."
He is happy some of his songs have become modern-day standards and that not so long ago it seemed "almost impossible" for someone else to cover them.
"I have always been, shall we say, grateful that that landed on me and people have a great time singing along with a lot of my songs. Certainly 'Proud Mary.' "
Remaking that one with Jennifer Hudson for his 2013 duets album, "Wrote a Song for Everyone," stemmed from both of them performing at The Smith Center for the Performing Arts' opening-night gala in 2012.
"I think when you're young you're so full of whatever, you're going to set the world on fire, and you're kind of not looking around at other people so much," he says. "But when you're older it's just fun, these collaborations, sharing and trying different things."
And one of those is playing the Las Vegas Strip, something that would have seemed so like The Man back in 1969.
But now? Fogerty sounds like he does in the rest of the conversation, humble and happy.
"I really look at this as something to honor and to get good at it, to do your very best. To play in front of what I would say is a discerning and even unique audience, being in a place where they're surrounded by so many things to do," he says. "It's very worthy to get good at this."
Disclosure: The Review-Journal is owned by a limited liability company controlled by the Adelson family, majority owners of Las Vegas Sands, parent company of The Venetian.
— Read more from Mike Weatherford at reviewjournal.com. Contact him at mweatherford@reviewjournal.com and follow @Mikeweatherford on Twitter.
Like Neon Las Vegas on Facebook: