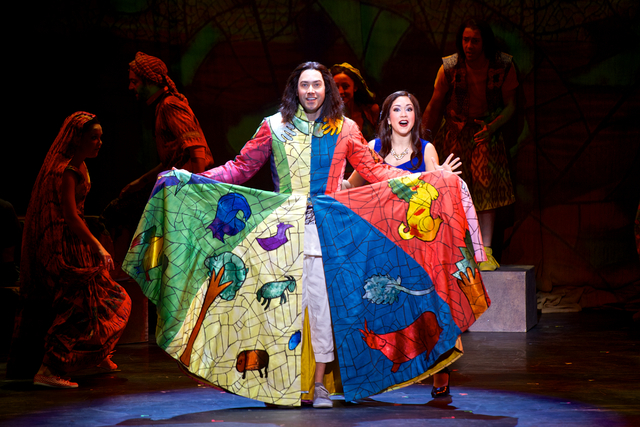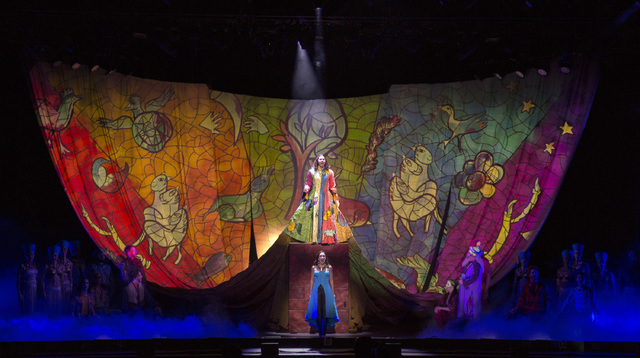 Before "Phantom of the Opera." Before "Cats." Even before "Evita" and "Jesus Christ Superstar."
In the beginning, there was "Joseph and the Amazing Technicolor Dreamcoat."
Composer Andrew Lloyd Webber's very first musical — which he and lyricist Tim Rice wrote when his younger brother's headmaster requested a "pop cantata" for the school's Easter concert — has proven remarkably durable since its 1968 origins.
The latest illustration of its staying power: a new tour, checking into The Smith Center's Reynolds Hall on Tuesday for an eight-performance run, headlined by husband-and-wife "American Idol" veterans Ace Young and Diana DeGarmo.
"Joseph" is one of the first musicals director/choreographer Andy Blankenbuehler — a Tony-winner for his "In the Heights" dances — performed, as a kid in Cincinnati.
It's also the first show he choreographed, as a high school junior, Blankenbuehler recalls in a telephone interview.
Young, who plays "Joseph's" title role, saw the musical as a youngster.
But DeGarmo, who as the show's Narrator recounts the biblical tale, can go him one better: As a girl, she sang with the children's choir featured in many productions. Twice.
"I grew up idolizing the Narrator," she says. "I've loved the show practically my whole life."
This new production has no children's choir and "at first I was a little bummed," DeGarmo admits.
That is, until she fully considered Blankenbuehler's "fresh new take" on the material, after which "you don't feel like you're missing out," she says.
When "Joseph" first debuted, "the music, at the time, was gutsy," Blankenbuehler says, citing the show's pop-rock score.
But the director/choreographer wanted to give this latest incarnation "a new vibrancy," he explains. "The language is more guttural and a little more hip-hoppy."
Webber even wrote a new duet for Young and DeGarmo to perform.
Working with the composer, Blankenbuehler was "excited to get to know the nuts and bolts of the piece," he says, "and look under the hood."
During the collaboration, he found himself wondering, " 'How did I get here?' "
But Blankenbuehler describes Webber as "a real pleasure and a real joy to be around."
Working on the current tour also gave the director-choreographer the chance to ponder "Joseph's" power to entrance audiences of all ages.
"More than many musicals, it's very accessible," Blankenbuehler observes. "It's easy to digest, but that doesn't make it simple."
Young cites "the diverse music — there's a different kind of genre for every song," he notes, all designed to appeal to audiences "from kids to their great-grandparents."
The musical's themes also help to explain its longevity and accessibility, according to Blankenbuehler.
"The show itself is about hope and second chances," he says. "Sometimes things go wrong, but if you believe in possibilities, you can always have that second chance."
In the case of "Joseph's" title character, things go wrong early, as soon as Joseph's father Jacob — who makes no secret of his preference for his younger son — gives him that amazing coat of many colors.
That triggers jealousy and resentment in Jacob's other sons, who sell their little brother into slavery.
Thanks to Joseph's ability to interpret dreams, however, he winds up in a position of power in the Egyptian pharaoh's household. And that, ultimately, proves fortunate for everyone in the family.
"It's a story about second chances and family and dreaming," DeGarmo says, calling it "a very inspiring story. People love having that happy feeling."
It's a feeling that lasts long after the show ends, she adds, because "in true Andrew Lloyd Webber style, he wrote such an amazing score, by the time you leave, you're going to be singing that music in your head for a week."
To Blankenbuehler, "there's something great about the kind of theater that's one number after another — all these different styles of choreography." And staging the show provided him with "a great reminder not to overcomplicate things."
For DeGarmo and Young — who met while performing in the 2009 Broadway revival of "Hair" — the "Joseph" tour also gives them a chance to meet audience members who watched them on "American Idol." (DeGarmo, who's also appeared on the daytime drama "The Young and the Restless," was runner-up to Fantasia Barrino in the show's third season; Young was a fifth-season finalist.)
"A lot of those 'Idol' fans might not see 'Hair' or 'The Young and the Restless,' but 'Joseph' is a very universal story and a universal show," she says.
Young likens the TV competition to being "the youngest sibling of the biggest family," where "you have to survive — but it doesn't prepare you to succeed."
Or to lead the cast of a touring musical, Blankenbuehler says.
"They're really ideal casting," he says of the couple, describing Young as "really like Joseph — wide-eyed and optimistic."
In addition, "they're both leaders," the director says. "They spend time with the company, as if they're all brothers and sisters. It's a great feeling to know you put together a great company."
And the company members — scheduled to be on tour through April — "definitely try to do activities together," Young explains. "When we get to a new place, we have a group activity." (At a recent Tucson tour stop, for example, everyone went on a 13-mile hike.)
There's just one problem, Young predicts: "We like to do activities, but with Vegas it never stops."
Even so, DeGarmo adds, "nobody's going to be sad to be in Vegas for a week."
Contact reporter Carol Cling at ccling@reviewjournal.com or 702-383-0272. Follow @CarolSCling on Twitter.
Preview
"Joseph and the Amazing Technicolor Dreamcoat"
7:30 p.m. Jan. 20-23, 2 and 7:30 p.m. Jan. 24-25
Reynolds Hall, The Smith Center for the Performing Arts, 361 Symphony Park Ave.
$28-$119 (702-749-2000, www.thesmithcenter.com)