Knights enliven days at Age of Chivalry Renaissance Fair
October 7, 2011 - 1:00 am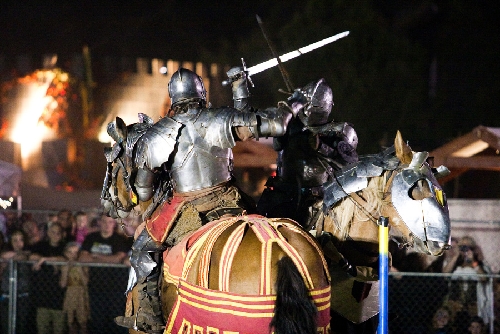 Why, as a movie title suggests, would you go back to the uncertain future when you can go back to a colorful past instead?
Every year, communities across the country turn back the clock to a time when there were no clocks (though they did have sundials) and knights and wenches roamed the earth.
Here, it's the 18th annual Age of Chivalry Renaissance Fair today through Sunday, relocating to Silver Bowl Park on East Russell Road — because of renovation at Sunset Park, its traditional home — and sponsored by the Clark County Parks and Recreation Department.
Yes, there's the usual medieval merriment throughout and on several stages: full-contact jousting, gladiator battles, strolling minstrels, contortionists, magicians, storytellers, jokers, jugglers, flame-eaters, belly dancers, trained parrots, and bow and arrow games, plus re-creations of 16th-century military encampments. Period food and the work of artisans are also part of the fun, along with a royal parade.
Headlining the main Royal Miller stage will be four acts: The bands Tempest and Lexington Field bring Celtic rock to the festival, while Wicked Tinkers honors Irish and Scottish traditions featuring the distinct sound of bagpipes. And the group called Mullaney sports a "neo-traditional" repertoire of Celtic favorites using a host of instruments, including violin, mandolin, tin whistle, guitar, bodhran, percussion and Irish tenor banjo.
Methinks My Lady and My Lord will give in to the medieval mojo.
The Age of Chivalry Renaissance Fair will joust with the public from 10 a.m. to 10 p.m. today and Saturday and 10 a.m. to 5 p.m. Sunday at Silver Bowl Park, 6800 E. Russell Road. Admission is $10 per day for adults and $5 per day for seniors and children ages 5 to 12. Children 4 and younger are admitted free. Three-day passes are $25 for adults and $10 for children 5 to 12 and seniors, ages 55 and older.
Call 455-8200 or visit www.lvrenfair.com for more information.